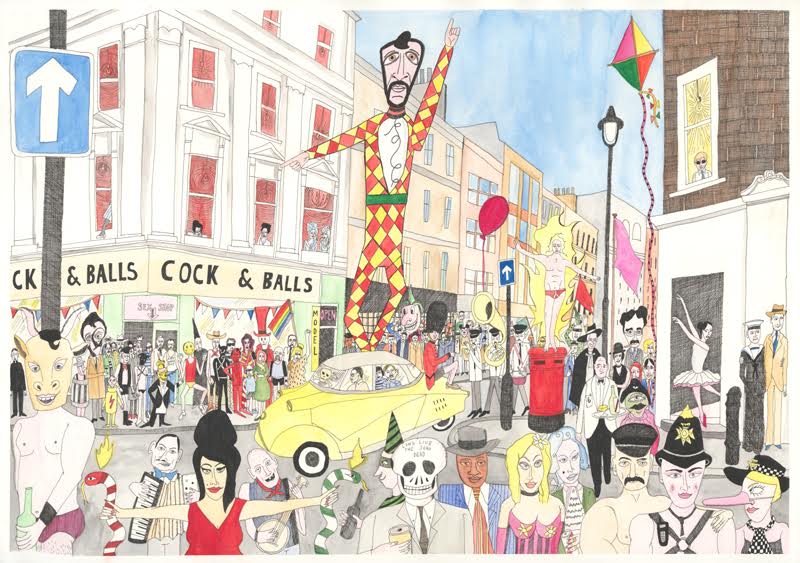 'Journeys To The Centre Of The Universe' is the final show in a four year project called 'Spiritus Soho' where Artist Robert Rubbish has produced a body of Artwork that explores the people and places of Soho's rich history. Robert, co-founder of Le Gun Collective and Magazine, has previously shown at Soho Radio, The Society Club and We Are Cuts.
Robert Rubbish has a strong association with The French House since he started frequenting Soho over a decade ago and feels 'The French' is one of the last bastions of Old Soho, an important community and social hub.
Soho is the inspiration for this body of work. Robert likes to think of these pieces as a drift through Soho's time and space fabric. The Spirit of Soho is represented by a beehived Serpent Goddess and the Artworks are inhabited by Sailors, Spivs, Dandies, Dilly Boys, Mermaids, a Minotaur, Twilight Daughters and a Sex Dwarf. Scenes are played out of the familiar backdrop of Soho streets, bars, clubs and classic cafes.
'Spiritus Soho' is a limited edition 58 page book featuring all the Artwork from all four shows of Rubbish's 'Spiritus Soho' project. Featuring text to accompany each of the chapter's exhibitions. The book's introduction is by British Noir Writer Cathi Unsworth.
'Spiritus Soho': Printed in England, full colour hardback A4 is available on the website and at The French House, priced at £20.
Robert Rubbish The French House 49 Dean Street, London W1D 5BG
http://robertrubbish.com/ RSVP: spiritus.soho@gmail.com
Exhibition Continues until June 31st 2018
12pm – 11pm daily
Categories
Tags