At the weekend, over 20,000 people flocked to the opening of the Kanal – Centre Pompidou, an offshoot of Paris's iconic art museum, housed in a vast warehouse in Brussels.
The brand new Kanal-Centre Pompidou modern art museum, built in a former Citroën warehouse, an imposing 38,000-square-metre 'glass cathedral' Art Deco building, is currently showing hundreds of works on loan from the Pompidou.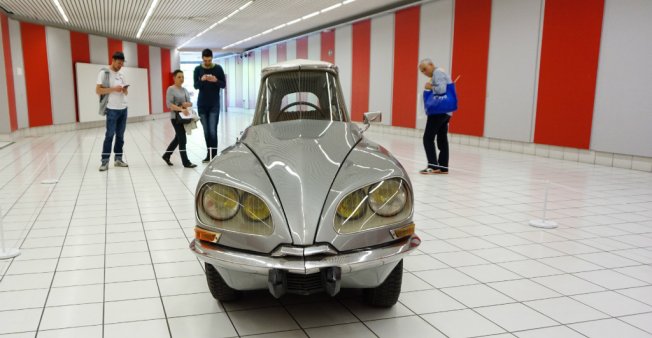 © Emmanuel Dunand, AFP | Mexican artist Gabriel Orozco's artwork at the Kanal-Pompidou Centre in Brussels on 5 May, 2018, during the public opening day.
The new museum will host several exhibitions until June next year, mixing visual arts, design, architecture and major installations and creations by Brussels-based artists, as well as performing arts. After renovations, the space will house a permanent museum of modern and contemporary art, set to open in 2022.
Over the next ten years, Kanal-Centre Pompidou will be run as a partnership between the Pompidou Centre, the Bruxelles-Capital region and the Kanal Foundation.
This is the second time the Pompidou centre has launched a museum outside France's borders. The first opened in Malaga in Spain in 2015; another is planned in Shanghai, China in 2019.
Categories
Tags