Internationally acclaimed artists Francis Alÿs, Jeremy Deller, Robert Gober, Antony Gormley, Roni Horn, Ilya and Emilia Kabakov, Taryn Simon, Wolfgang Tillmans and Rachel Whiteread are among the 37 artists who have given works to create a major new fund ARTISTS FOR ARTANGEL. The fund will allow the celebrated arts commissioning agency to continue to produce extraordinary works by artists in unexpected places in London, the UK and around the world.
A number of works given by the artists will be presented in a special exhibition opening in Cork Street in London on 7 June 2018 and be offered through an online auction from 8 – 27 June. New commissions by artists including Roger Hiorns, Douglas Gordon, Cristina Iglesias, Michael Landy and Susan Philipsz, are also being offered. The silent auction will culminate at a celebratory evening at Banqueting House in Whitehall on the evening of 28 June 2018, when a number of lots will also be auctioned live by Alex Branczik of Sotheby's.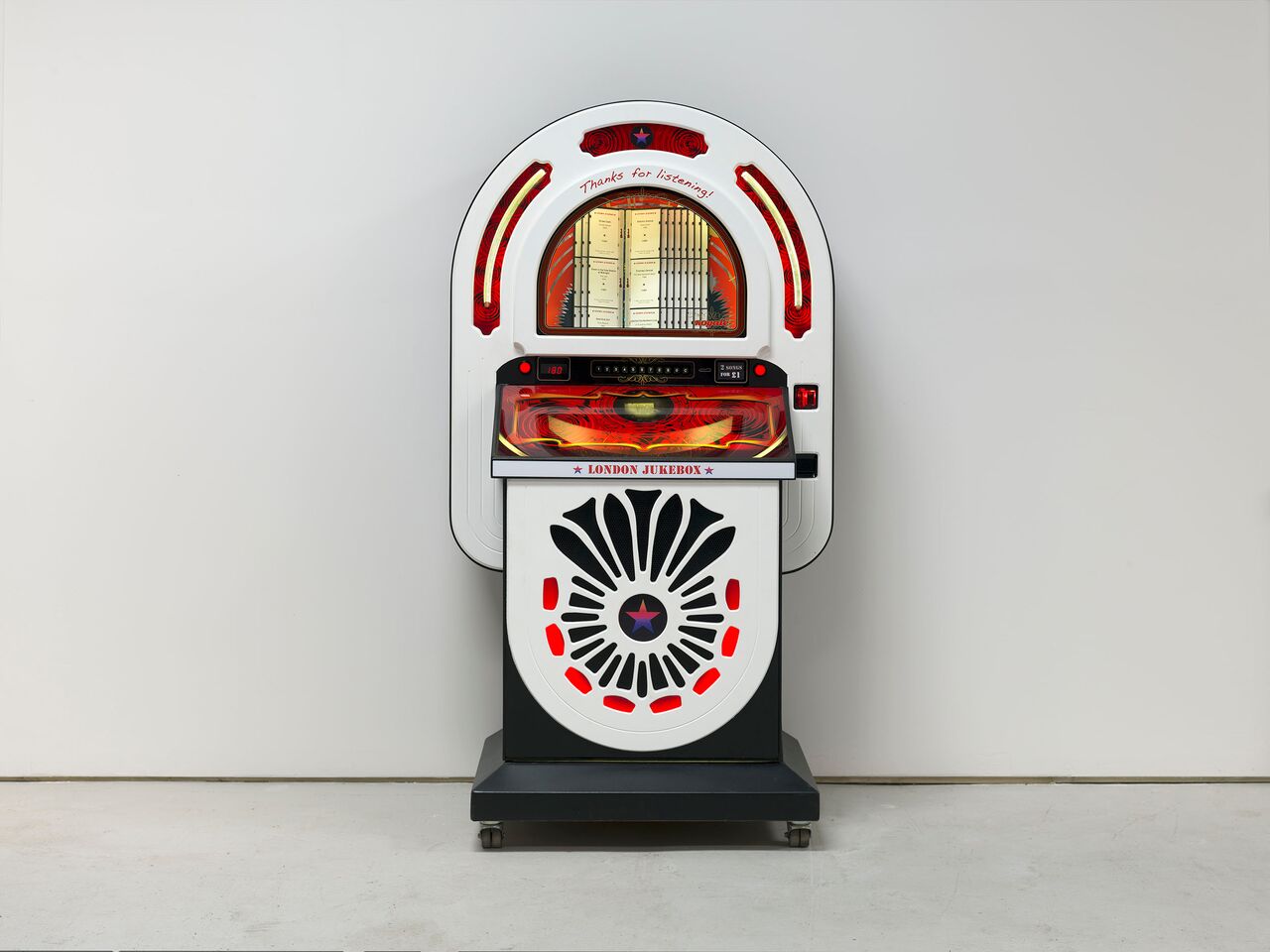 Susan Hiller, London Jukebox, 2008-2018. Customised jukebox with 70 songs selected by the artist. Photograph by Todd White.
Donated works include a sculpture with angel's wings from Ilya and Emilia Kakabov's 1998 Artangel commission The Palace of Projects; new sculptures by Antony Gormley and Rachel Whiteread; and Susan Hiller's London Jukebox, a classic American jukebox with 70 songs about London. There are also two 'war' paintings – Francis Alÿs' 9th Rgt Army Air Corpse diptych painted in Afghanistan; and an outstanding late work by Richard Hamilton. Work that featured in Inside: Artists and Writers in Reading Prison includes Vija Celmins' Night Sky, Steve McQueen's Weight sculpture with prison bed, Roni Horn's gold sculpture Double Mobius and Wolfgang Tillmans' Separate System self-portrait photograph.
Friends of the legendary artist Mike Kelley have come together to make a cache of new works secreted in a locked basement box, offered together with a mobile sculpture by Kelley of his 2010 Artangel commission Mobile Homestead in Detroit. Artists include Paul McCarthy, Tony Oursler and Jim Shaw, who formed 1970s proto-punk band Destroy All Monsters with Kelley in Detroit in the 1970s. The buyer gets the key to open the box.
The artists who have donated works have all worked closely with Artangel in the 25 years since James Lingwood and Michael Morris became Co-Directors: Francis Alÿs, Matthew Barney, Stephan Balkenhol, Janet Cardiff & George Bures Miller, Vija Celmins, José Damasceno, Jeremy Deller, Peter Dreher, Marlene Dumas, Brian Eno, Ryan Gander, Robert Gober, Nan Goldin, Douglas Gordon, Antony Gormley, Roger Hiorns, Richard Hamilton, Susan Hiller, Andy Holden, Roni Horn, Cristina Iglesias, Cameron Jamie, Ilya and Emilia Kabakov, Mike Kelley, Michael Landy, Charles LeDray, Christian Marclay, Juan Muñoz, Steve McQueen, Tony Oursler, Paul Pfeiffer, Susan Philipsz, Daniel Silver, Taryn Simon, Wolfgang Tillmans, Richard Wentworth, Rachel Whiteread.
The target for the new ARTISTS FOR ARTANGEL fund is £2.5m, giving Artangel the resources to nurture amazing ideas, back the boldest of visions and produce extraordinary new projects over the next decade.
Artists for Artangel 7 – 27 June 2018 Cork Street Galleries 22 Cork Street London
www.artangel.org.uk/artists-for-artangel
Artangel
Artangel produces and presents extraordinary art in unexpected places in London, the UK and beyond. For over 30 years Artangel has generated some of the most talked-about art of recent times, including projects with Clio Barnard, Jeremy Deller, PJ Harvey, Roger Hiorns, Michael Landy, Steve McQueen, Rachel Whiteread, and last year, Andy Holden and Peter Holden's Natural Selection and Artangel & Miranda July present Norwood Jewish Charity Shop, London Buddhist Centre Charity Shop & Spitalfields Crypt Trust Charity Shop in solidarity with Islamic Relief Charity Shop at Selfridges in London. Appearing anywhere from empty prisons to underground vaults, daytime TV to the sky at night, Artangel produces art that surprises and inspires and wouldn't be possible within the confines of a gallery.
The exhibition is in association with Cork Street Galleries, an initiative from the Pollen Estate. Additional support is from Martinspeed and Omni. Live auction support is from Sotheby's.
Artangel is generously supported by Arts Council England and the private patronage of The Artangel International Circle, Special Angels, Guardian Angels, and The Company of Angels.
www.artangel.org.uk
Categories
Tags