Russian-born Maria Kreyn and Heist gallery will present an exhibition of new and existing paintings and drawings, charting Maria's journey as an artist, each piece capturing an intimate moment.
"Intimacy's so awkward in this world of swiping" ran a recent Times headline. Thanks to technology, so many of us are anxious of intimacy now. It offers us a place to hide away from the risks. But what are we risking by hiding away, lost in cyberspace and what is happening to our sense of connection?
Maria Kreyn wants to get us back in the room, communicating, talking, looking at one another, and has captured a series of compositions, remixing the techniques of the Renaissance, Baroque, and Romantic eras of art history for the present day. A millennial eye with an old masters' hand, her paintings suggest that we need to turn towards, rather than turn away. In creating a body of work that captures intimate moments, she addresses the anxieties that come as a part of intimacy, and that in the end, it's the only way any of us can nurture healthy relationships. Kreyn's paintings are achingly real, blending the techniques of Old Masters to illustrate contemporary life residing within fleeting moments of time. Maria loved the classics. Her mother is a classical pianist, so she grew up making sketches, sitting underneath the piano, listening to Rachmaninov. As a teenager, she excelled academically and went on to study maths and philosophy at college. After a year or so of study, Maria gave in to her artistic calling, abandoning her Ivy League education to move to Norway to study as a painter's apprentice. Ever-drawn to the use of old tropes and stories, Maria observed the execution of the painter and his students before laying paintbrush to canvas herself.
When she did start to paint her own subject matter, she riffed on the old masters to tell her own stories, which she calls
"subtly ambiguous and open-ended, remaking them into new allegorical mash-ups."
Recognising her talent, her tutor sent her away to Reykjavik in Iceland, where he owned a stately building that was once a public library, encouraging her to paint in isolation, while residing alone at his home.
While there, she discovered much about intimacy – or the lack of. Driving out into the icy wilderness, Maria would paint landscapes outdoors, while the cold and winds, chapped her face and ravaged her hands. She would return to a grand, empty household, filled with antiques and relics of the past, only sporadically connecting with people living half a world away. Maria started painting about being connected and disconnected at the same time, capturing an ambivalence state of being that has become her metier.
After Reykjavik, her tutor sent her to a chateau that he and his wife were renovating outside Paris. Maria was duly instructed to continue to paint full-time, while liaising with the renovation team, although she
barely spoke a word of French. With limited human connection, with a silence and stillness that has informed her work, she focussed on her craft, creating the psychologically charged works which are now her signature. "Looking back, I did feel vulnerable," Maria says by way of explanation.
When asked why she chose classical painting, instead of a more contemporary, conceptual approach, she explains,
"I think the forms are really beautiful and it's the best way to create emotional resonance. There's no chronology in art. I'm as much a product of the future as I am of the past. A sense of intimacy is certainly something I aim to create. In a chaotic, increasingly technological world, I'd like to create a deep and complex private space that stirs the heart. Intimacy can be very ambiguous, can hold a lot of contradictory feelings, and so I try to capture that as well."
Maria explains that the sense of being connected and disconnected at the same time is a common through line in her paintings and drawings. With regards to her reinterpretation of women in the canon, she presents them as both melancholic and heroic, ambivalent in their intimacy. Women are centre stage, they are the narrators, empowered, even in their vulnerability. In 2016, her most famous painting, "Alone Together," inspired the storyline of the ABC series The Catch, appearing in each episode. The producers were so taken with the work that they wrote Maria into the show, so that she was a character in season one without actually appearing.
"The feeling of being alone together"
, she reasons,
"it's a struggle we've always had. We're still seeking the balance."
Maria Kreyn 'Polyphony' Private view :9 May 2018 Exhibition dates: 10th – 28th Welsh Chapel, 136 Shaftesbury Ave, London WC2H 8HB heist-online.com
Curator Heist founder Mashael Al Rushaid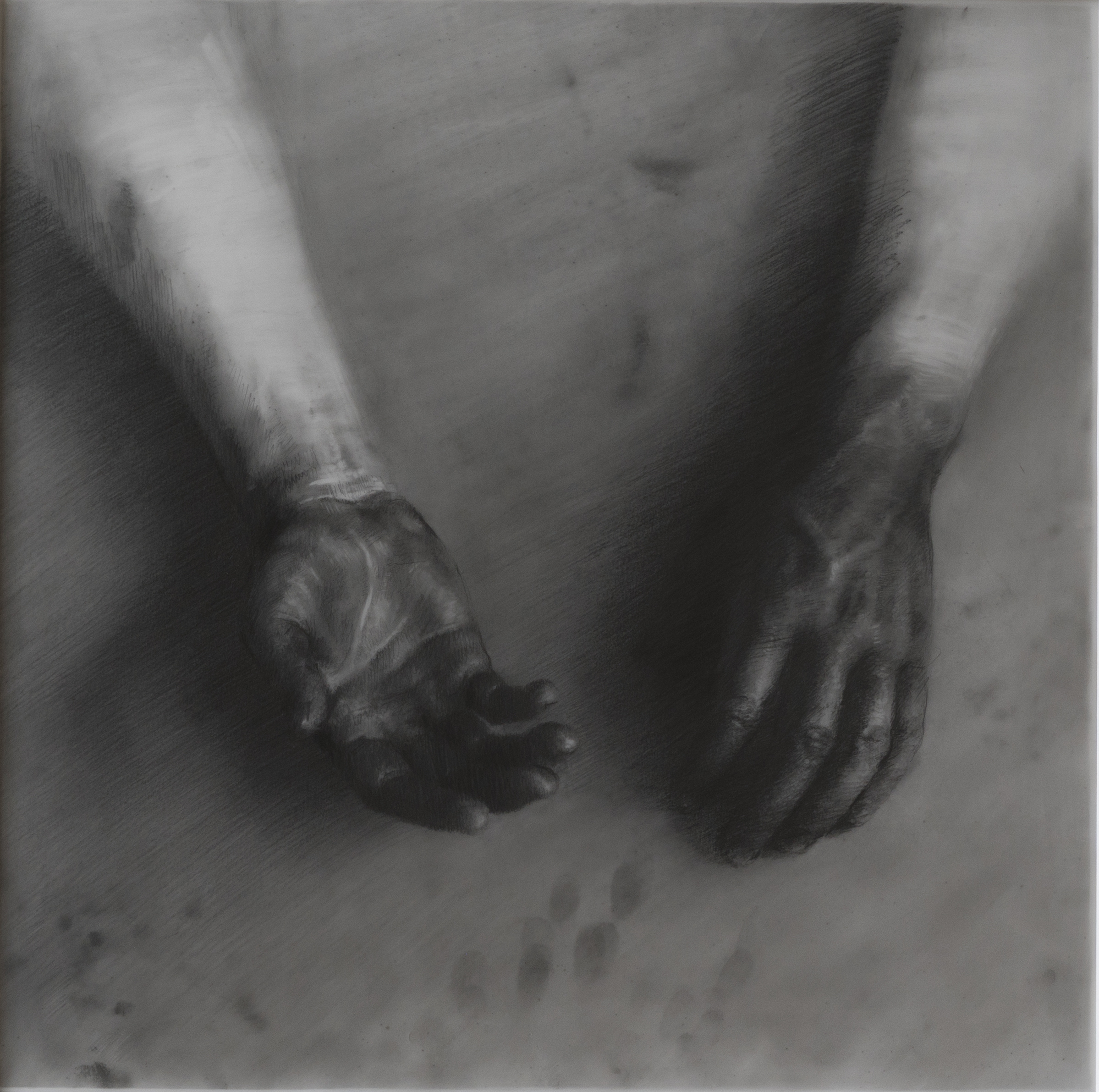 About Mark Westall