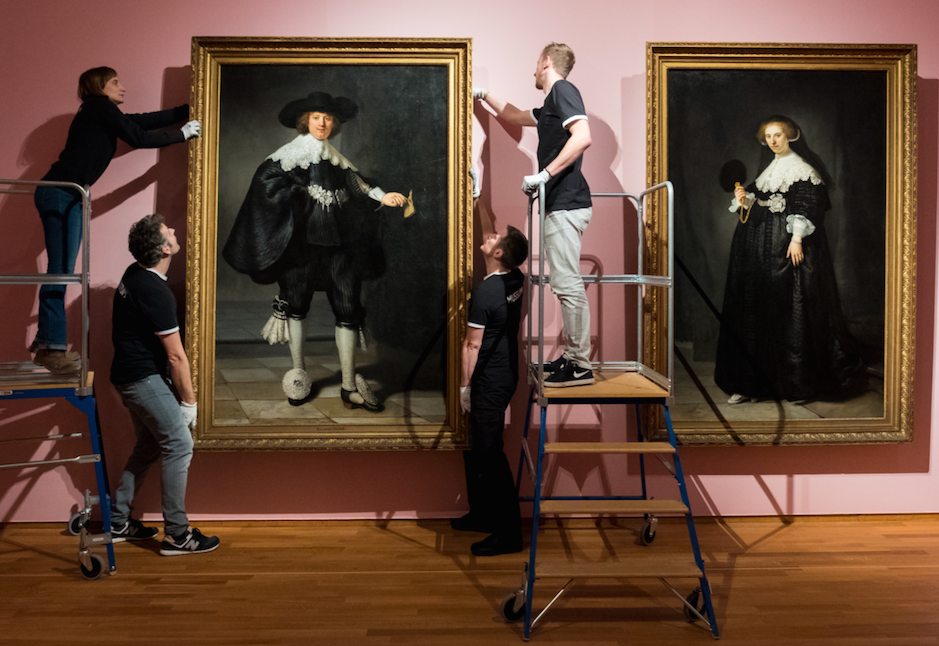 Marten Soolmans & Oopjen Coppit, Rembrandt's only pair of full length portraits will go on show for the first time after extensive restoration as part of Rijksmuseum's major spring exhibition 'High Society' (8 March – 3 June 2018). The paintings made headlines in 2016 when they were jointly purchased by the Dutch and French governments from the Rothschild family for €160 million. The restored paintings will travel to the Louvre in September 2018. (Photograph: David van Dam)
The Rijksmuseum, is presenting High Society. Over thirty-five life-size portraits of powerful princes, eccentric aristocrats and fabulously wealthy citizens by the great masters of art history, including Cranach, Veronese, Velázquez, Reynolds, Gainsborough, Sargent, Munch and Manet. The centrepiece will be Rembrandt's spectacular wedding portraits, Marten Soolmans and Oopjen Coppit which will be shown for the first time following their restoration. Never before has there been an exhibition dedicated to this most glamorous type of portrait: life-size, standing and full length. Loans have come from museums and private collections from all over the world including Paris, London, Florence, Vienna and Los Angeles.
Most of the people portrayed are very lavishly dressed, giving the exhibition an overview of four centuries of fashion: from the tightly cut trousers and doublet from 1514 to the haute couture of the late nineteenth century. Some of the subjects portrayed, however, are wearing fancy garments in an antique style. Another is wearing a kilt, yet another is not wearing trousers and one is almost completely naked. Remarkably, those portrayed often have dogs with them. One man is accompanied by a lion. One couple have their children with them. The backgrounds can be richly decorated interiors, often with columns and/or curtains, or a summer or winter landscape. One man is standing in front of an imaginary landscape with palm trees, while another is adopting a flamboyant pose in front of the Colosseum in Rome.
High Society celebrates the acquisition of Rembrandt's spectacular wedding portraits of Marten Soolmans and Oopjen Coppit by the Netherlands (Rijksmuseum) and France (Musée du Louvre) in 2016 from a private collection. The wedding couple is the only couple that Rembrandt ever painted life-size, standing and full length (1634). The paintings are on display in the exhibition for the first time since their restoration – completed at the beginning of 2018. The High Society exhibition is the overture to the Year of Rembrandt in 2019, during which the 350th anniversary of the death of the artist will be extensively celebrated.
8th March to 3rd June 2018 The Rijksmuseum
Categories
Tags