eBay has partnered with Chicago-based contemporary artist, Hebru Brantley, who has created an exclusive, signed and numbered print in a limited edition of 230 to benefit Breast Cancer Research.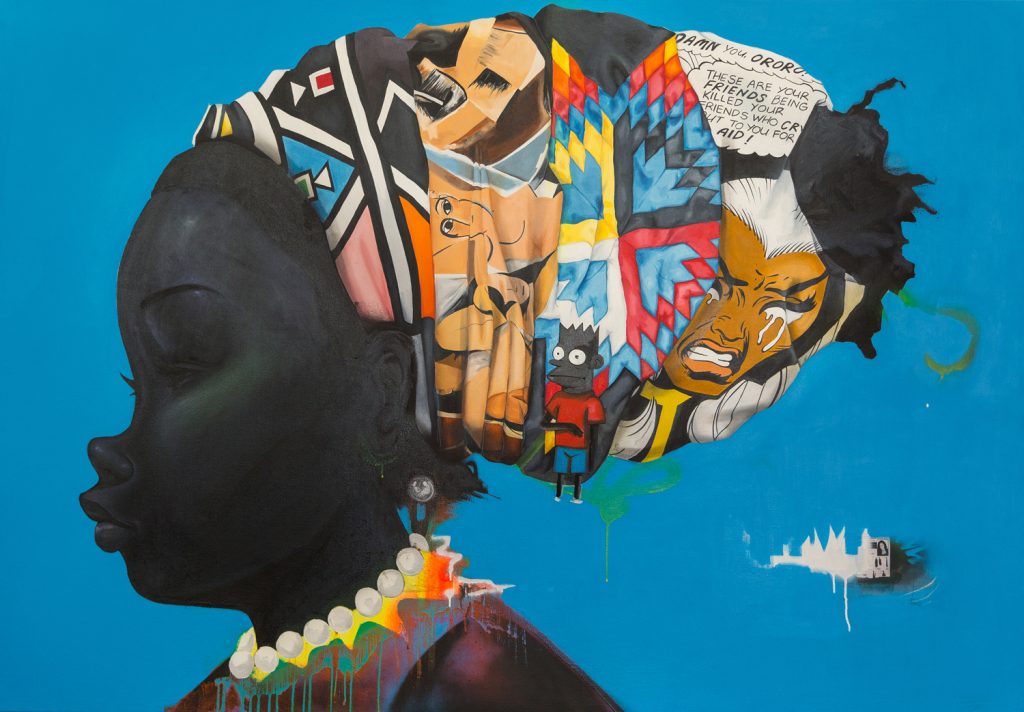 The exclusive prints are on sale on eBay for Charity at the fixed price of $350 (Buy It Now) with 70% of the proceeds supporting the Breast Cancer Research Foundation (BCRF). Additionally, there will be limited quantity of Artist Proofs (20) at the fixed price of $450. The sale will begin on International Women's Day, March 8 and run through March 18, 2018.
Hebru Brantley's works are collected by Jay Z, Beyonce, and Rahm Emmanuel. The sale is an exciting opportunity for the art collectors among eBay's 170 million active buyers to own an original print by artist Hebru Brantley, and benefit an important cause at the same time.
Brantley is widely known for his iconic figures and dynamic street art murals located in Chicago, Detroit, and Pittsburgh, and his work has been included at top cultural institutions internationally.
available www.ebay.com/hebrubrantley.
ABOUT EBAY CHARITY:
Integrated into eBay's regular buying and selling platform, eBay for Charity makes it easy for people to support important causes, both in the U.S. and U.K. It enables sellers to donate a portion of their sales and buyers to shop while supporting their favorite charities — all the while giving nonprofits an opportunity to engage new supporters.
ABOUT HEBRU BRANTLEY:
Hebru Brantley creates narrative driven work revolving around his conceptualized iconic characters. Brantley utilizes these iconic characters to address complex ideas around nostalgia, the mental psyche, power and hope. The color palettes, pop-art motifs and characters themselves create accessibility around Brantley's layered and multifaceted ideas. Majorly influenced by the South Side of Chicago's Afro Cobra movement in the 1960s and 70s, Brantley uses the lineage of mural and graffiti work as a frame to explore his inquiries. Brantley applies a plethora of mediums from oil, acrylic, watercolor and spray paint to non-traditional mediums such as coffee and tea. Brantley's work challenges the traditional view of the hero or protagonist. His work insists on a contemporary and distinct narrative that shapes and impacts the viewer's gaze. Recognized nationally for public works and solo shows in Chicago, Hebru Brantley has exhibited in London, San Francisco, Atlanta, Miami, Seattle, Los Angeles and New York including Art Basel Switzerland, Art Basel Miami, Scope NYC and Frieze London. Brantley has been recognized in publications including the Chicago Tribune, Complex Magazine and NY Post. His work has been collected by Chicago's Mayor Rahm Emmanuel, The Pritzker Family and power couple Jay-Z and Beyonce. Brantley has collaborated with brands like Nike, Hublot and Adidas. Brantley earned a B.A. in Film from Clark Atlanta University, and has a background in design and Media Illustration.
ABOUT THE BREAST CANCER RESEARCH FOUNDATION (BCRF):
The Breast Cancer Research Foundation is a nonprofit organization committed to achieving prevention and a cure for breast cancer, providing critical funding for cancer research worldwide to fuel advances in tumor biology, genetics, prevention, treatment, metastasis and survivorship.
Categories
Tags