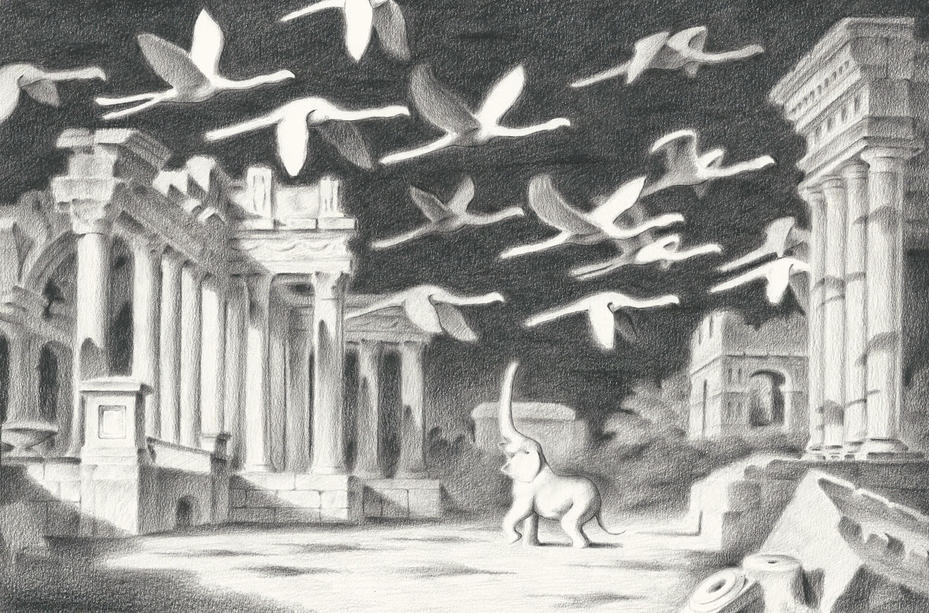 Elephant Calf with Flamboyance Pencil on paper, 2017 36cm W x 24cm H
Drawing and printmaking have much shared history and enjoy a deeply interwoven relationship, but even so, contemporary artists still find new ways of making them play off each other. In 'Makers of Marks' three artists experiment with this relationship against a background of classical references: Daniel Hosego, Sam Branton and Jon Braley.
In his drawings Daniel Hosego uses Renaissance compositions as a stylistic template, into which he inserts contemporary issues – social media, selfie sticks, art references – to lend them the same importance and intensity given to moral allegories centuries ago. From these drawings, Daniel then creates large pop-art screenprints executed in seven different colourways in a thoroughly postmodern style. In combining two distinct artistic eras and sensibilites both in his content and in his modes of production, Daniel bookends his practice beautifully: the work travels a long timeline, from the 1400s up to the present, in an endeavour to apply the moral gravitas of our forebears to 21st century consumerism.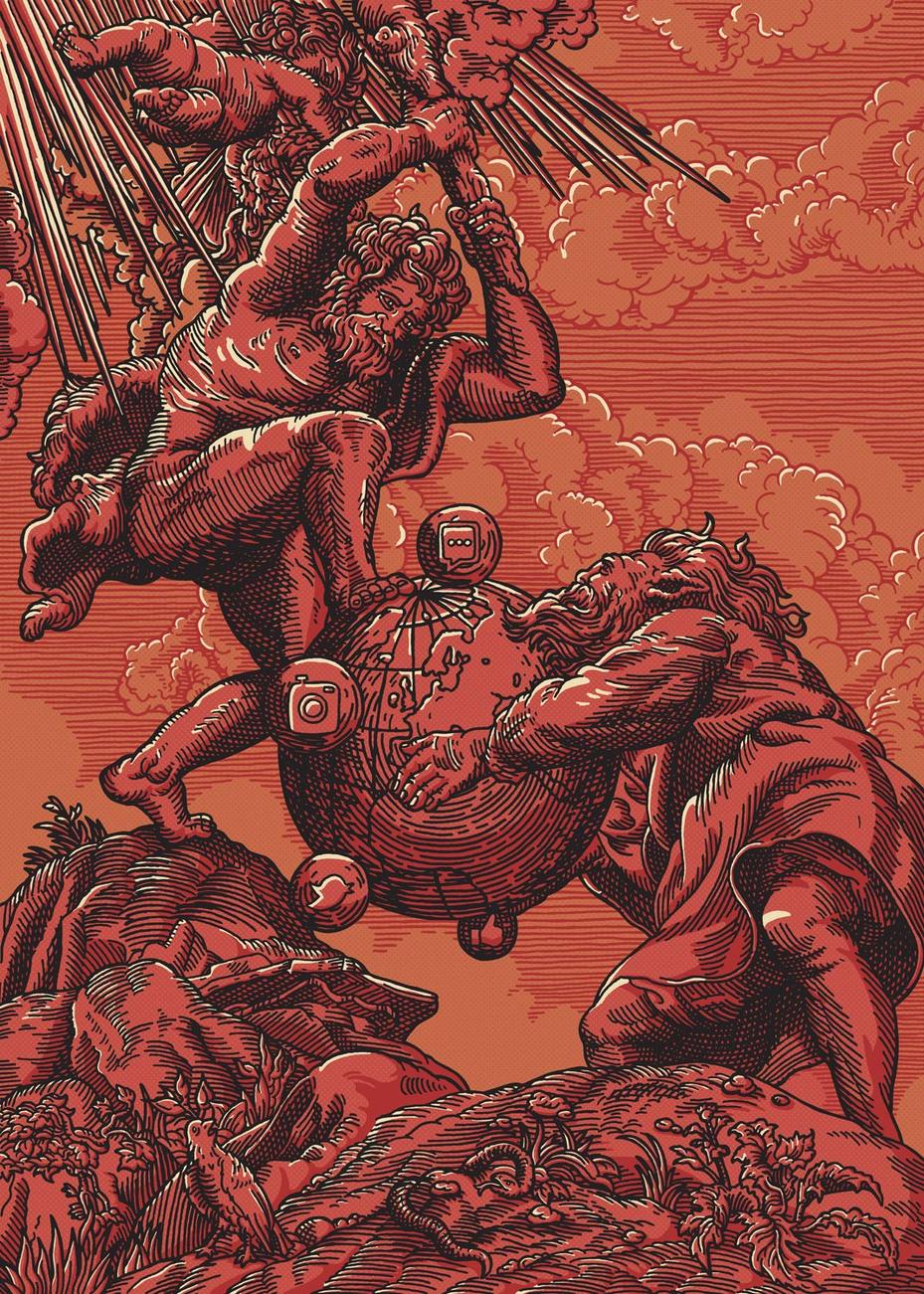 Daniel Hosego The Thirteenth Labour – Red Screenprint on Acrylic and Digital Print on Dibond – unique colourway from a series of 7 84cm W x 119cm H
Sam Branton's delicate pencil drawings reference the mezzoprints of English artists such as George Stubbs and John Martin. In his gentle but surreal works, Sam develops the romantic and exotic themes of his source materials, presenting fantastical animals in much the same way as Stubbs depicted Australian fauna, but with the dramatic lighting of Martin's landscapes. As he often works in groups of drawings, Sam then produces his series as a book, crossing the line back into the realm of print from yet another angle. In this way Sam plays with the idea of the drawing & print as a connoisseur's reference material, albeit in the context of an imagined world of surreal absurdity.

Sam Branton Sailfish with Elephant Calf Pencil on paper, 2017 29cm x 20cm
Whilst originally an abstract landscape painter, Jon Braley's work has always stemmed from the tradition of plein air drawing. In his most recent work Jon has taken this one step further by cutting the lines of his drawings directly into the surface of the paintings, creating objects reminiscent of woodcuts or the engraved surface. His tactile method of painting – applying the paint directly with his hands, no brushes – lends his works a sense of atmospheric texture and depth in the true Romantic tradition. And for the first time there are also small prints to accompany his larger paintings, engravings that focus on the simplicity of the lines in constructing the landscape composition.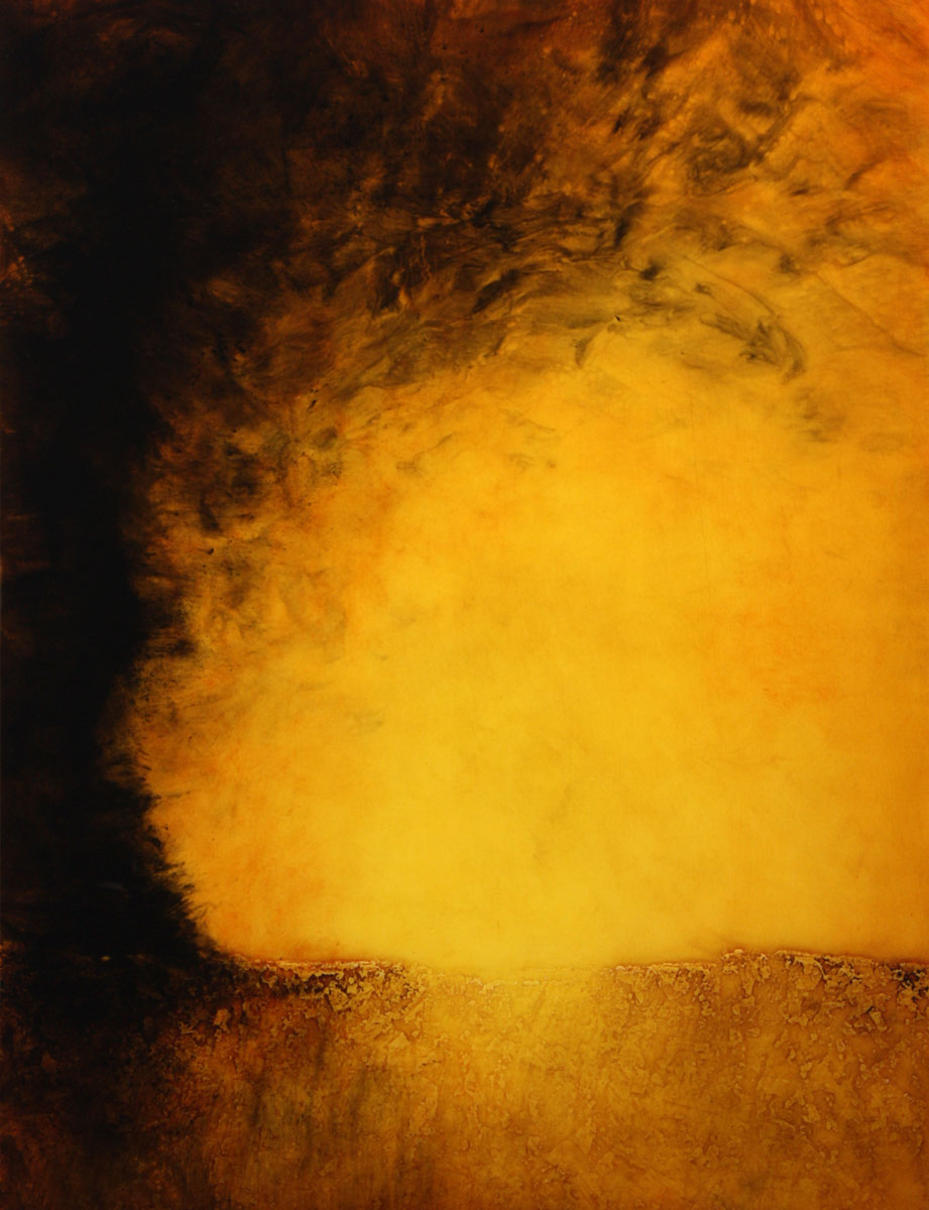 Jon Braley Untitled Mixed paints & resin on panel, 2013 81cm x 61cm
Makers of Marks: Daniel Hosego | Jon Braley | Sam Branton James Freeman Gallery 354 Upper Street
Islington London N1 0PD 8 Mar 2018 to 31 Mar 2018 Opening Reception: Thursday 8 March, 6:30 – 8:30pm
www.jamesfreemangallery.com
Categories
Tags