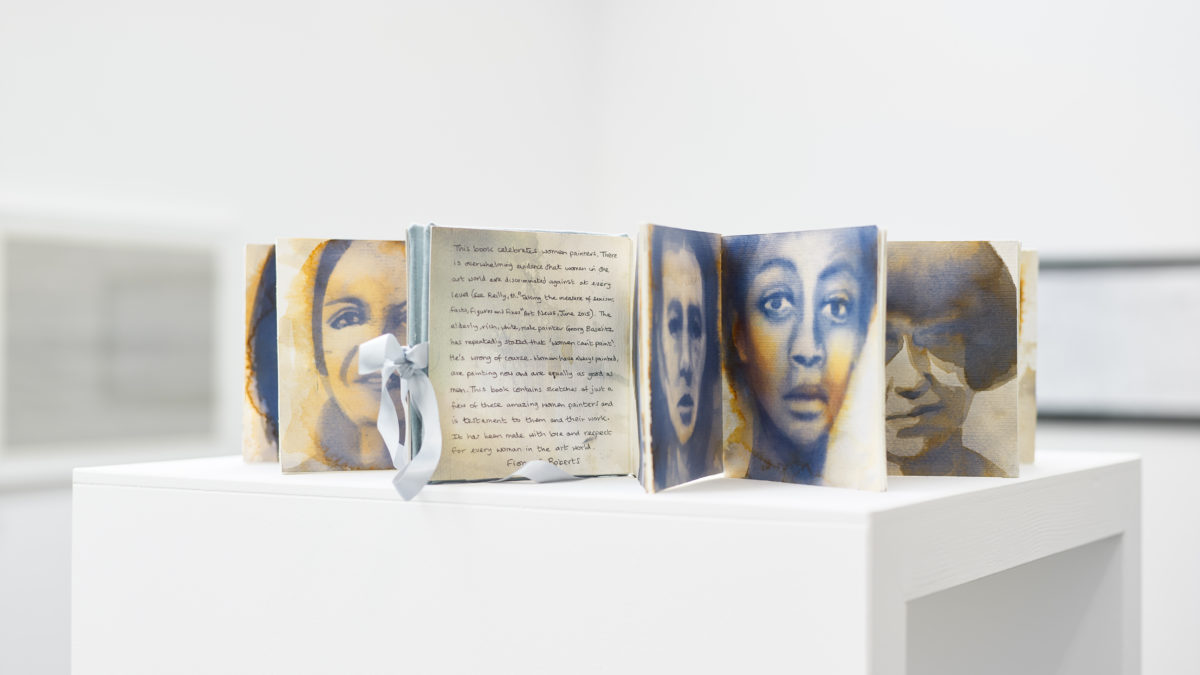 Installation View – Fiona G Roberts, 'FAO Georg Baselitz', 2017. Jerwood Drawing Prize 2017, supported by Jerwood Charitable Foundation. Image: Anna Arca
The Jerwood Drawing Prize* is always interesting both for many of the works in themselves, and for its expanded definition of drawing  – this year, for example: walking in the snow (Elisa Alaluusua), a film about drawing as it is used to communicate by someone who cannot read or write (Ana Mendes), and a found spent fireworks launcher (Eric Butcher). Two prominent themes are the use of the grid and recording the life of the artist. Jeremy Hutchison's photographs of his markings of dusty windscreens in Dakar are the most surprising pure grids. David Symonds covers both bases with 'All the Days of My Life', an unfurlable scroll of – I assume, given that Symons is 65 – some 24,000 thumbprints. Rebecca Swindell commemorates 18 life events, from weddings to dining to flying to listening – through drawings on wine corks. Fiona Roberts celebrates the inspirations of her art life in a beautiful book of paintings which unfold into a table top sculpture: with quiet assertion, they show her 26 favourite female painters in the context of Georg Baselitz's notorious claim that 'women can't paint'. Marlene Dumas looks to be her most direct inspiration, and she is appropriately central in Roberts' book.
* the 2017 edition started in London, moved to  Norwich, and is now at The Edge, Bath University 10 Feb – 21 March and then Canterbury 11 April – 6 May
Jeremy Hutchison, 'Harmattan', 2017 (The Harmattan is a northeasterly trade wind. From November to March it blows particles of the Sahara Desert across West Africa, covering cities such as Dakar in a film of dust.
Most days art Critic Paul Carey-Kent spends hours on the train, traveling between his home in Southampton and his day job in London. Could he, we asked, jot down whatever came into his head?
Categories
Tags