The Philip Mould gallery presents a collaboration between British portrait artist Lorna May Wadsworth and prolific hat designer Victoria Grant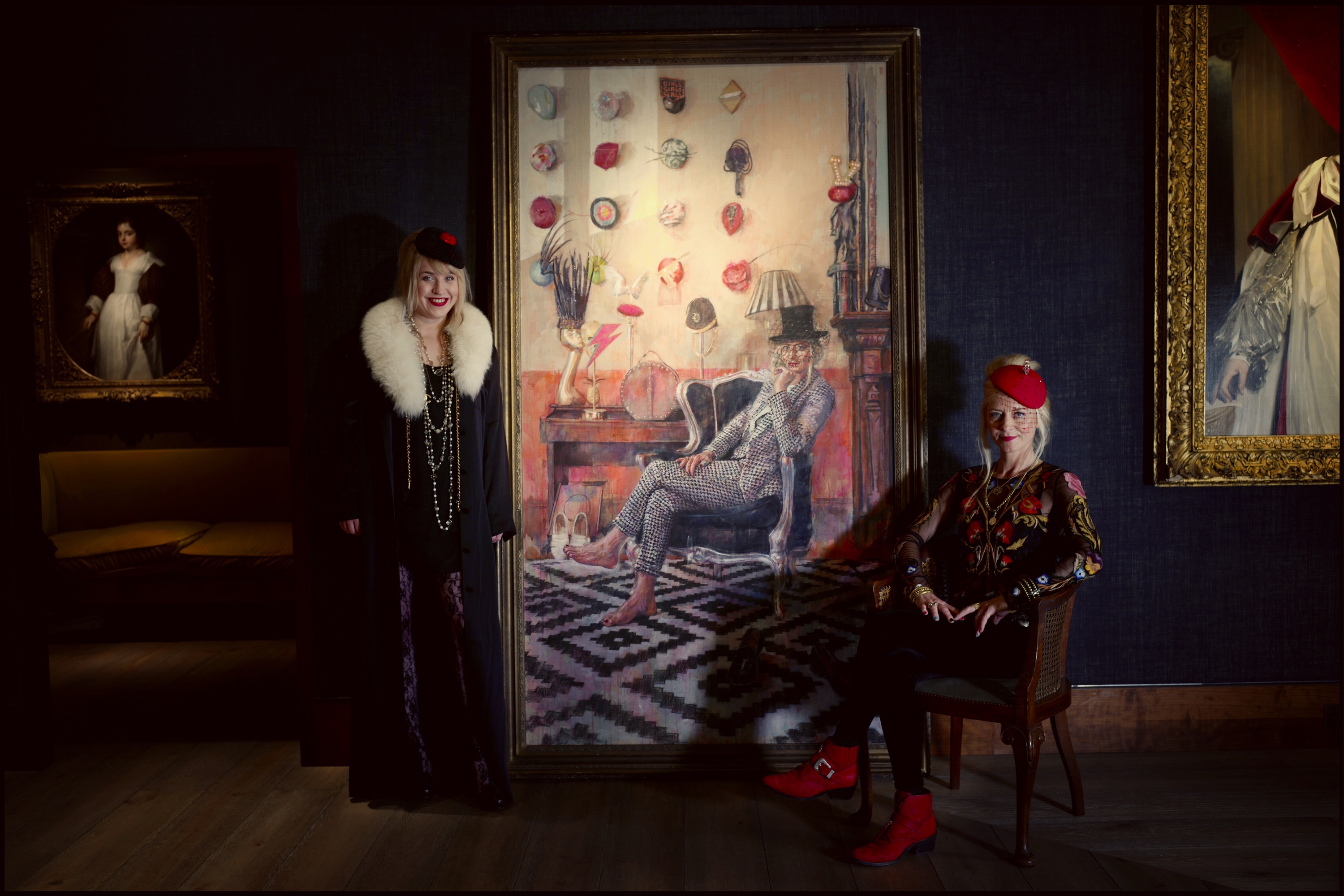 Two leading 'headonists', portrait artist Lorna May Wadsworth and her friend and muse Victoria Grant announce an exhibition showcasing pieces inspired by the other maker. Wadsworth will unveil a "love letter", a large-scale portrait of her friend Victoria, while Grant will create a collection inspired
by Lorna and a selection of Philip Mould's prized miniature paintings of ladies from the 18th century through to the 1920s, making this a truly collaborative event between all three principals, prior to London Fashion Week. As the nation prepares for the nuptials of Prince Harry and Megan Markle in May, following
the dress, a royal wedding is about one thing, the astounding array of headgear. As royal etiquette dictates that all women attending an official occasion must wear a piece covering their head – the exhibition promises to offer much 'hatspiration' in the run-up to the big day.

Grant was listed as one of the top milliners for the last royal wedding of Prince William and Kate Middleton, creating several pieces for members of the congregation, including Chelsy Davy, Prince Harry's girlfriend of the time. She is herself a passionate advocate of tradition and pageantry, interlacing
her wit, warmth and her love of history to represent one of the finest of British traditions, to create headwear that stand as individual art pieces. Grant's much-feted millinery has decorated the heads and faces of high society and superstars, from Beyoncé, Gigi Hadid, Kate Moss, Rihanna, Dita Von Teese, Lady
Gaga, Cara Delavigne, Annie Lennox and Madonna. In addition to creating a theatrical couture collection of one-off designs inspired by Lorna's portrait, Grant will also show some of her archived items and work with some of the biggest names in fashion. A crystal helmet, photographed by Karl Lagerfeld for German Vogue, which later appeared in his exhibition Paris 'Parcours De Travail' is just one shining example of her works, which span the spectrum from ultra-chic couture via bourgeois elegance to radical avant-garde.
Meanwhile, Philip Mould, writer, gallerist, broadcaster requires little introduction as one of the UK's most recognised art commentators, completes the triumvirate, by showcasing their collaborative efforts
at his gallery in Pall Mall. Mould, British and Old Master dealer and presenter of BBC's Fake or Fortune discovered Lorna's work several years ago, when she sent through her painting of Margaret Thatcher,
which since its exhibition at the Palace of Westminster, had been in bubble wrap
in Wadsworth's studio. Mould then displayed the piece in 2017 in-between a Holbein and a Van Dyke and
the painting fetched over £500k. Mould continued to act as a mentor to Wadsworth and once she introduced Grant to Mould's gallery and "cabinet room" of miniature portraits, all agreed that his Pall Mall fine
art space would provide an inspired context to drive a collaboration between all three art practitioners.
Grant and Wadsworth who share similar aesthetics in their work, namely a veneration and respect for British tradition, laced with a rakishness and good-natured flamboyance, have colluded in making pieces that not only represent themselves but each other. Fusing the contemporary with the classic, all-the-while drawing
the DNA from each other's flair and finesse, Wadsworth has designed a series of silk art scarves in addition to her portrait. Meanwhile, Grant will be using her signature top hats and cocktail berets,
named Kiss, Almond and Bellini and festooning them with her renowned jewels, feather embellishments and crystal veils. Grant will also create 'Kiss' designs, using prints supplied by Philip Mould on
the top of the beret, outlined with pearls, to match the frame of the miniature. Meanwhile, top hat and beret designs will feature actual portrait miniatures as well as creations finished in repeat pattern silks. Wadsworth, whose metier has seen various mutations, from painting memorable politicians to beautiful boys, wanted to turn her attention to a vibrant female troubadour. She explains that she wanted
to paint Grant's hats even before she met the milliner and struck-up a wonderful friendship. From gorgeous young men to a glorious young woman, as a female artist, Wadsworth wanted to paint a strong, creative maker, someone who through their work, makes women feel like the best version of themselves. As we find ourselves in a time of protest and change in terms of male/female gender politics, Wadsworth's finds a creative dynamo in Grant who channels an aesthetic defined by her own individuality and self-expression. Posing in a Joshua Kane bespoke three-piece suit like a badge of feminist honour, Grant's symbolic armour of equality, she is determinedly not "dressing for men." She is a heroine of her time, this is the female gaze of admiration from one woman to another. 
18—19 Pall Mall, St. James's, London SW1Y 5LU Private view Thursday 8th February 2018
Friday 9th—Monday 19th February 2018 Philipmould.com
About Mark Westall