The Royal Society for Blind Children (RSBC) have announced the unveiling of a sculptural commission by internationally acclaimed artist, Robert Montgomery.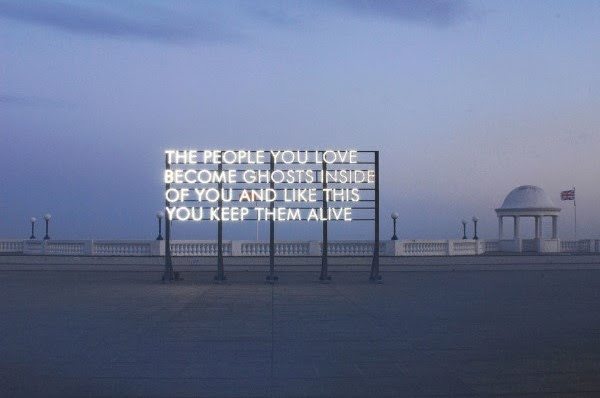 Robert Montgomery, THE PEOPLE YOU LOVE. Light work. De La Warr Pavillion, England. 2010
On Wednesday 31 January 2018, Montgomery's piece, In Our Dreams We See Forever, will light up Granary Square in Kings Cross at the start of a nationwide tour. The custom-designed vehicle with light poem and video installation is inspired by Montgomery's conversations with nine children living with sight loss
from all over the country.
Topped by one of Montgomery's trademark light poems In Our Dreams We See Forever includes Braille statements from visually impaired children, so that the sculpture only fully reveals itself to Braille-literate blind audiences. The inside will house an intimate, four-screen video installation featuring children drawing the viewer into intriguing and compelling accounts of their dreams and aspirations. This immersive installation will pull the viewer into a conversation between the children. The energetic and childish interaction slowly evolves into individual stories that engage the viewer in imagining how it is to live with little or no sight. The video piece completes this multi-media artwork and is directly inspired by the group of visually impaired children.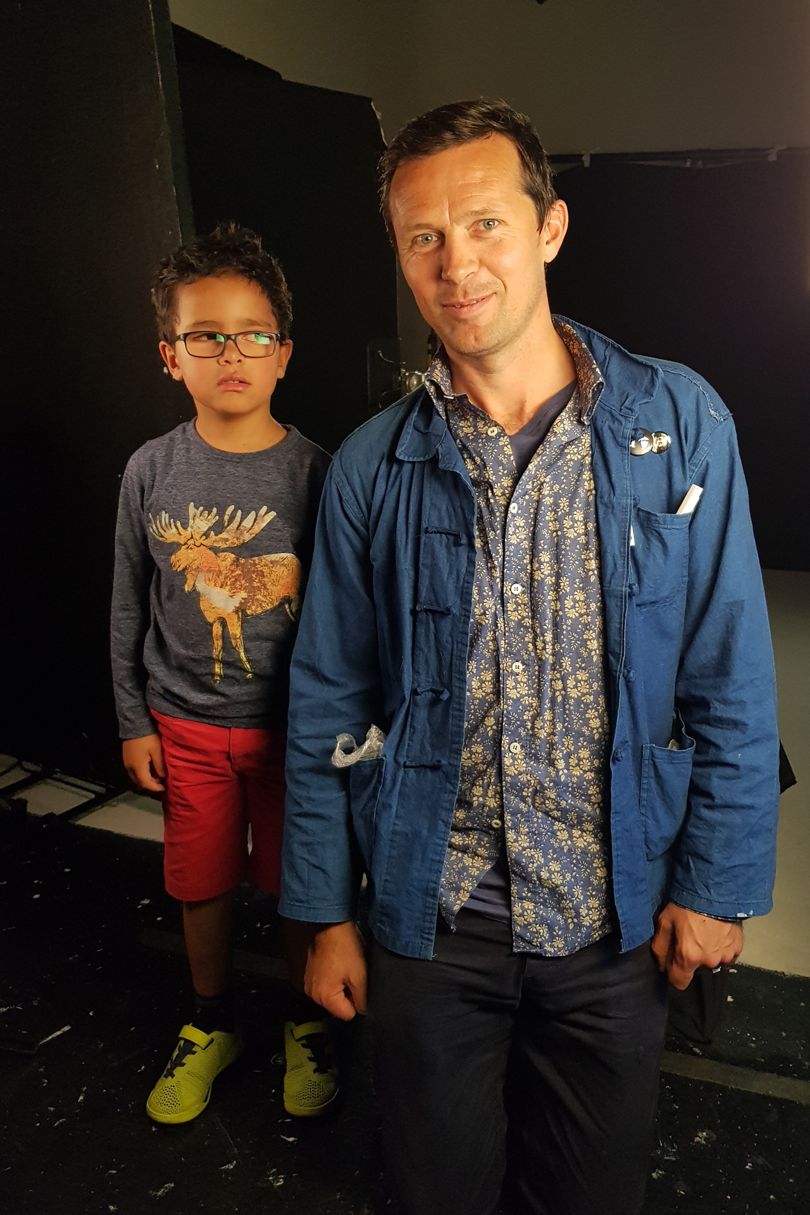 Robert Montgomery filming with Isaac Shiferaw for the RSBC campaign No Blind Child Unseen
Following its London launch, the artwork will tour the country throughout 2018 and visit locations such as Plymouth, Newcastle-Upon-Tyne, Coventry, Birmingham and Sheffield. These represent some of the locations where the featured children live.
The artist said of the piece,
"I've been proud to work with an amazing group of blind and partially sighted children on this project. I chose to film them talking about their dreams to give an insight into their vivid and charming imaginations, and also because in a way we are all equal when we dream. RSBC does amazing work in fighting prejudice and opening up life opportunities for this often overlooked group of young people who desperately need our help to live fuller lives."
The artwork is central to RSBC's nationwide campaign to raise awareness of the 36,000 children living with sight loss in the UK. The charity's campaign, Every Blind Child, aims to raise public awareness of the challenges faced by young blind people, 90 per cent of whom continue to grow up to face social and
economic crises. Through the associated fundraising appeal, which aims to raise £3m by 2020, RSBC wants to mitigate this problem by increasing the number of families it can assist with post-diagnosis support.
www.rsbc.org.uk/no-blind-child-unseen/ #everyblindchild
Campaign Tour:
The artwork will be touring the country from February to July 2018, including the following locations:
London locations include:
Spitalfield Market 7 February, O2 arena – 10-11th Feb, Oval Cricket Ground – 29th May.
Nationwide
Hertfordshire (Hitchin) – from 5th March, Bedfordshire (Milton Keynes) – from 19th March, Plymouth – from 9th April, Newcastle-Upon–Tyne – from 30th May, Sheffield – from 11th June, Birmingham – from 16th June (at the Brindleyplace Film Festival). For information on the tour as it unfolds, visit:
www.rsbc.org.uk/no-blind-child-unseen/every-blind-child-tour-2018
About the artist
Born in Scotland in 1972, Montgomery has built an international reputation for his use of poetic discourse and text art. Through billboard poems, light-pieces, fire-poems, woodcuts and watercolours, Montgomery's work has become instantly recognisable. In 2012 he was selected to represent Britain for the first
Indian biennale, the Kochi-Muziris Biennale and the Yinchuan Biennale in 2016. Alongside Jake and Dinos Chapman, John Cooper Clarke, Laure Prouvost, Linder Sterling and Tracey Emin, Montgomery is part of a global poster project entitled Time For Outrage currently travelling in Berlin, Athens, Moscow,
Istanbul, Mexico City and New York City. Recent solo exhibitions include Cob Gallery and Parasol Unit in London and in 2017 he was also a shortlisted for the UK National Holocaust Memorial.
www.robertmontgomery.org
The Commission:
Raising awareness of children living in the UK with visual impairments is instrumental to The Royal Society for Blind Children's mission to support them and their families. The charity tasked lead strategic and creative agency CP+B to find a solution that would bring blind and partially sighted children into the public's wider consciousness in an imaginative and creative way. They responded to the charity's campaign brief with an artist collaboration, engaging art curators Branch Arts. Branch Arts approached 30 leading UK artists to submit proposals from which they selected a shortlist of six artistic responses for the client. Robert Montgomery's masterful proposal was chosen for its ability to speak not only to those who can see, but also, too, to those who cannot, as the multi-sensory medium of the piece reveals itself fully only to the visually impaired.branch-arts.com
Categories
Tags