Under Cover: A Secret History of Cross-Dressers is a rare selection of found, largely anonymous, photographs of men and women posing for the camera, using the apparel and gestures traditionally assigned to the 'opposite sex'.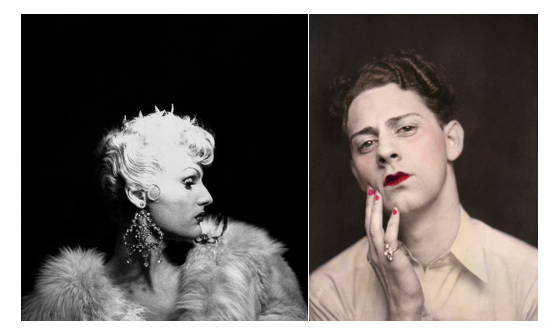 Drawn from the extensive personal archives of filmmaker and photography collector Sébastien Lifshitz, this exhibition of amateur photographs from Europe and the US explores the surprisingly widespread practice of cross-dressing, through a century of private images. Dating from 1880 onwards, the photos are mostly of unnamed and unknown figures – the majority having been collected from flea markets, garage sales, junk shops and ebay, amongst other non-specialist spaces – and offer a candid view into the hidden worlds of individuals and groups that chose to defy gender conventions.
Lifshitz's initial collecting impulse was a fascination with the vernacular documentation of cross-dressing; his criteria to accumulate photographs, which showed men dressing as women and vice versa. As the collection grew, he began to trace both commonalities and differences between the images, which proposed a much more nuanced exploration of cross-dressing culture. The exhibition also includes unique images of Marie-Pierre Pruvot (born Jean-Pierre Pruvot, 11 November 1935) the renowned Algerian-born French transsexual woman who performed under the stage name Bambi, and who was the subject of an award-winning documentary by Lifshitz in 2013.
Brought together, the photographs reflect a range of styles and attitudes from theatrical, defiant, shy, proud, subversive and understated; showing individuals and groups from different classes, professions, genders and nationalities, whose commonality is that they dared to play with dress codes in front of a camera, even if unable to do so in public.
Under Cover: A Secret History of Cross-Dressers celebrates the collective inventiveness and freedom that the seemingly simple act of dressing differently provides. The exhibition offers a fascinating precedent to today's diverse Queer and trans spectrum and pre-empts a world where such self-expression is celebrated.
Sébastien Lifshitz was born 1968 in Paris, France. An avid collector of photographs and an award-winning film director, his films have included Wild Side (2004), featuring a transsexual heroine and Bambi (2013), a documentary about France's most celebrated transsexual woman.
www.thephotographersgallery.org.uk
Categories
Tags