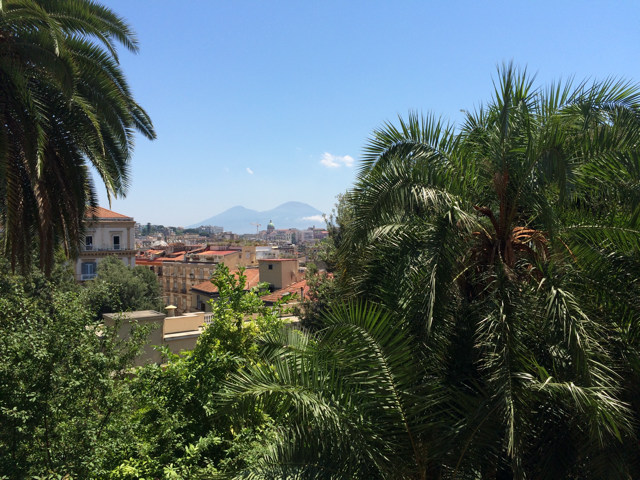 "It is a Paradise: everyone lives in a state of intoxicated self-forgetfulness, myself included… They say that someone who has once seen a ghost will never be happy again; vice-versa, [one] could never really be unhappy because [one's] thoughts could always return to Naples"
Johann Wolfgang von Goethe
Part residency, part project space, part exhibition space, the restored first floor of the 19th century Casa Ruffo, in the Chiaia district of Naples, will be, above all, a place for artists: a unique physical and mental space for them to alight, work and show.
The space has undergone a significant renovation process, repairing and restoring the original features of the building, including the veranda that looks over the bay and Capri beyond. Built by Beniamino Ruffo of Calabria in the late 19th century, Casa Ruffo has since been the home to a succession of inspired inhabitants including the liberal idealist philosopher Benedetto Croce (1866–1952) and the Polish writer Gustav Herling-Grudzinski (1919–2000).
In keeping with this sense of curiosity, trepidation and journey that has inspired so many, this new venture will offer up – as well as open-up – the Gallery's philosophy and programme to the city of Naples.
Opening Night: 24 January 2018, 6-8pm
Rather than a more orthodox inaugural exhibition, and in keeping with our desire to first and foremost reveal and highlight the space in its restored state, five rooms of the gallery have been dedicated for the first two months to five artists whose work, whether literally or allegorically, draws inspiration or substance from Naples, or our 'idea' of Naples.
The works and group of works on view by Bruce Conner, Steve McQueen, Catherine Opie, Caragh Thuring and Kelley Walker, each in their own way, echo and illustrate the bustling, hedonistic beauty of the city, its constant collision of old and new, where such urgency for life coexists with looming, impending death.
Federica Sheehan will take up the role of gallery director in Naples. Federica grew up between New York City and Milan and majored in Art History at NYU. After working for Alberta Ferretti, Donna Karan and Versace in Milan she moved to Turin to work for Palazzo Bricherasio and Fondazione Sandretto Re Rebaudengo. She has lived with her family in Naples for the last seven years.
Thomas Dane Gallery, Naples Via Crispi, 69 Napoli
Categories
Tags