Such is the gravitas of her name as a star fixed in the firmament of contemporary British Art, that the new retrospective of artist Rachel Whiteread does not bear a title, leaving it to her name to do the talking. That name brings to mind straight away the iconic artwork that catapulted her into the imagination of the art cognoscenti – 'House' (1993) was a brave public commission involving the casting of the interior of an entire terraced house in the East End of London which was destined for demolition.
The work isn't on display at Tate Britain because it was demolished only a few months after its creation, but the ghost of 'House' lives on, and the fusion of domestic objects and architecture with the power of human memory and experience, is at the core of every artwork produced by Whiteread in the subsequent 3 decades.
Her examination and capture of negative spaces and casting of everyday objects including hot water bottles and doors in a wide range of materials, elevates the mundane into high art, and the muted palette running through the installation at Tate Britain has a meditative effect on the soul.
Whiteread was a pioneer for female artists, becoming the first woman to be awarded the Turner Prize (in 1993), and representing Britain at the 1997 Venice Biennale. Although some of her most iconic large-scale works aren't in this exhibition, such as her commission for the fourth plinth in Trafalgar Square 'Monument' (2001), and her haunting 'Holocaust Memorial' (2000) which has a permanent location in Vienna, some smaller and equally iconic works are featured at the Tate Britain including 'Untitled' (One Hundred Spaces) (1995), a composed of 100 casts of the negative space beneath a chair, arranged like sentinels guarding the imposing sweep of the Duveen Galleries, beyond the classical columns of the entrance.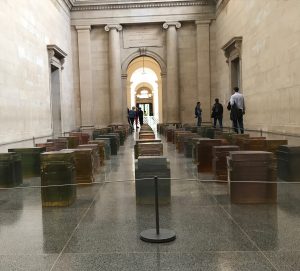 Complementing the exhibition and offering an insight into Whiteread's inspiration and taste, is an intriguing mix of contemporary and modern British artists selected from the Tate's collection by Whiteread including; Sarah Lucas, Rebecca Warren and Barbara Hepworth.
How refreshing to see such an aesthetically powerful and ground-breaking female artist given free run of the Duveen galleries and filling it with some work by some of the most interesting female British artists, at a time when the top 10 artists at auction are all men and female artists such as the Guerilla Girls still have to highlight the fact that less than 5% of artists in the Modern art section of the Met Museum are female.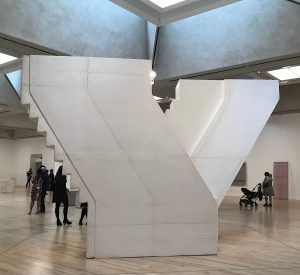 Rachel Whiteread is at Tate Britain from 12 September to 21 January 2018:
Categories
Tags