Fashion Together is a group exhibition curated by Lou Stoppard. Lou Stoppard is SHOWstudio's editor-at-large and a freelance writer and curator. The exhibition explores some of fashion's most renowned partnerships, it delves into the behind-the-scenes world of these intriguing alliances, illuminating what exactly makes the pairings so captivating.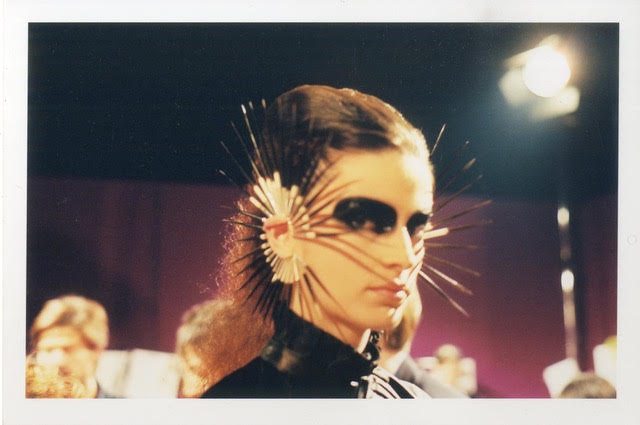 Silver and Porcupine Quill Ear Cuffs, Shaun Leane for Alexander McQueen, Irere, Spring/Summer 2003. FAD Magazine
The fashion industry is often seen as the home of eccentric personalities and unique, exceptional talents, but it's the collaborators, rather than the individuals, who really push the industry forward. It is this phenomenon that is the inspiration for the exhibition.
Spotlighting the process and output of seven of the industry's most accomplished partnerships, the exhibition looks at how the unique relationship of each pairing facilitates the duo's success in their respective fields. Featured partnerships reveal that creativity tends to be pushed forward and enhanced most when challenged. Dialogue, discussion, and even confrontation are shown to be central to originality here.




Stoppard says:
'I'm interested in lasting partnerships – the formative, friendships, the unions that exist behind the scenes or the decades-long working relationships that have shaped each participant's vision and life. These relationships are common across the industry, but their complexity has been under-analysed. How is credit shared? How is work divided? Is jealousy or ownership an issue? Is there a recipe for success?'
Featured exhibitors include: Rick Owens and Michèle Lamy, Nick Knight and Daphne Guinness, Shaun Leane and Alexander McQueen, Viktor Horsting and Rolf Snoeren, Inez van Lamsweerde and Vinoodh Matadin, Gareth Pugh and Ruth Hogben, and Thom Browne and Stephen Jones.
From photographers and filmmakers, to designers and milliners, the exhibitors on display come from a broad range of roles within the fashion industry. Never-before-seen ephemera such as sketches, handwritten notes and fashion editorials will be displayed alongside garments, films and photographic prints. Showcasing some of the duos' most acclaimed work, from Inez van Lamsweerde and Vinoodh Matadin's portrait of Clint Eastwood for the New York Times Magazine (2005), to Shaun Leane for Alexander McQueen's "Star" headpiece from the Salem Collection (Autumn/Winter 2007).
Audio recordings of the duos in conversation with the curator will also give rare and intimate insights into the character and history of each pair's working process.
The exhibition coincides with the release of Stoppard's book, Fashion Together: Fashion's Most Extraordinary Duos on the Art of Collaboration – on sale from Tuesday 17 October 2017 – which features eighteen illuminating conversations with fashion's most celebrated duos, including all those featured in the exhibition.
Lou Stoppard is SHOWstudio's editor-at-large and a freelance writer and curator. She has written for the Financial Times, Elle, and Vogue and is a contributing editor at British GQ.
An events programme of talks, workshops and masterclasses to accompany the exhibition will be announced in late September 2017.
Fashion Space Gallery London College of Fashion, UAL 20 John Prince's Street, London, W1G 0BJ
Friday 8 September – Saturday 13 January 2018 www.fashionspacegallery.com #FashionTogether



About Mark Westall