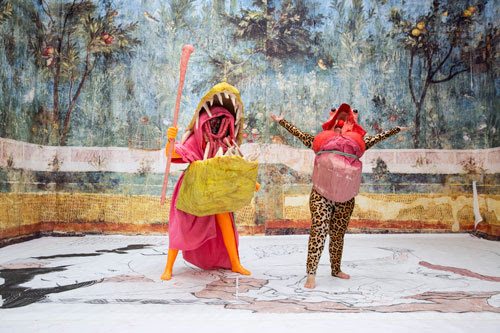 Marvin Gaye Chetwynd, Uptight Upright Upsidedown, 2016. Courtesy the artist and Sadie Coles HQ, London. Photo by Julia Bauer.
DRAF are selling their Camden art space after being in residence for 10 years.
DRAF London's final, 10th anniversary exhibition, (X) A Fantasy opens on 8 September 2017, featuring new commissions and works by historical and contemporary artists. The exhibition will focus on the transgression of boundaries between public and private spheres. From living, eating, dancing, seducing, reading, watching films, going online; each of the artists' work traces how individual and collective engagements make the political personal.



Participating artists include: Dora Budor, Helen Chadwick, Keren Cytter, Jimmy DeSana, Theaster Gates, Harry Gruyaert, Celia Hempton, Melike Kara, Tala Madani, Paul Maheke, France-Lise McGurn, Pierre Molinier, Julian Opie, Hannah Quinlan and Rosie Hastings, Megan Rooney, Prem Sahib, Wolfgang Tillmans, Danh Vo and Zoe Williams.
Upstairs in DRAF Studio, artist Zoe Williams will present her ambitious commission Ceremony of the Void, a voluptuous banquet inviting visitors to experience her fantastical immersive environment and large-scale performance involving artist-made delicacies, musicians, actors, video projections and new ceramic sculptures. This unique performance will take place during the exhibition's opening reception alongside further performances by choreographer Fernanda Muñoz-Newsome, and artists Hannah Regel and Urara Tsuchiya.
Looking ahead to the next ten years, David Roberts aims
"To significantly expand DRAF's programme, with the aim of reaching new and broader audiences. The expansion is planned to include institutional partnerships, increased regional programming including tours and loans of the David Roberts Collection and one-off pop up events. This ambitious UK-wide programme will be supported by funds raised from the sale of DRAF's current London exhibition space, in Camden."
DRAF will continue to present a programme in London, grounded in the annual 'Evening of Performances' series. The popular event, which regularly welcomes audiences of over 1,000, will tour to different venues every October during Frieze, enabling it to reach new audiences across the city.
DRAF's 10th anniversary party will be the first off-site 'Evening of Performances', taking place on Tuesday 3 Oct 2017. To mark this unique moment in the organisation's history, DRAF will take over KOKO, one of London's most iconic music venues, for the most ambitious evening of performances to date. A series of new commissions will be presented on the night by artists including Marvin Gaye Chetwynd with MEGA HAMMER, Lina Lapelyte, Last Yearz Interesting Negro aka Jamila Johnson-Small, DJ Nkisi, Laure Prouvost with TRIM, and Hannah Quinlan and Rosie Hastings amongst others. The event is free and all are welcome.
As part of the Foundation's future ambitions, David Roberts plans to open a twenty-acre sculpture garden in 2019 on Somerlea Farm in Charlton Musgrove in Somerset, a property that David and Indre Roberts have been in the process of restoring with Moxon Architects since 2014. Planned to house up to twenty sculptures at any one time, the free to visit sculpture garden would enable DRAF to show sculptures from the collection in the open air for the first time. If approved, this new project would be DRAF's first permanent regional collection display.
The Somerset project is conceived as the first of a series of regional programmes that would enable the organisation to reach new and broader audiences, and show more of David Roberts' internationally renowned collection. Since the organisation was founded, DRAF has partnered with over a hundred museums and galleries worldwide. DRAF continually receives significant numbers of requests for collection loans and partnerships: in 2017 alone, works have been loaned to exhibitions at Serpentine Galleries, London; BALTIC, Gateshead; Langen Foundation, Neuss; Bloomberg SPACE, London; Canada House, London; Hayward Gallery touring, UK-wide; FRAC Champagne-Ardenne; Ditchling Museum of Art + Craft, Sussex; Touchstones Rochadale, Yorkshire; Goldsmiths Edinburgh; The Hepworth Wakefield, Yorkshire; IMMA, Dublin; and PAC, Milan.
David Roberts, Founder, DRAF, said:
'DRAF was founded to be an organisation that would constantly reinvent itself, which could activate the collection, and use it to inspire unique projects and commissions. The DRAF team have been essential in helping me achieve this, welcoming well over 100,000 visitors to the London spaces. I hope that this new direction will allow us to build on the success of our London programmes, and take them to more places than ever before.'
(X) A Fantasy 8 Sept – 7 Oct 2017 davidrobertsartfoundation.com
Categories
Tags