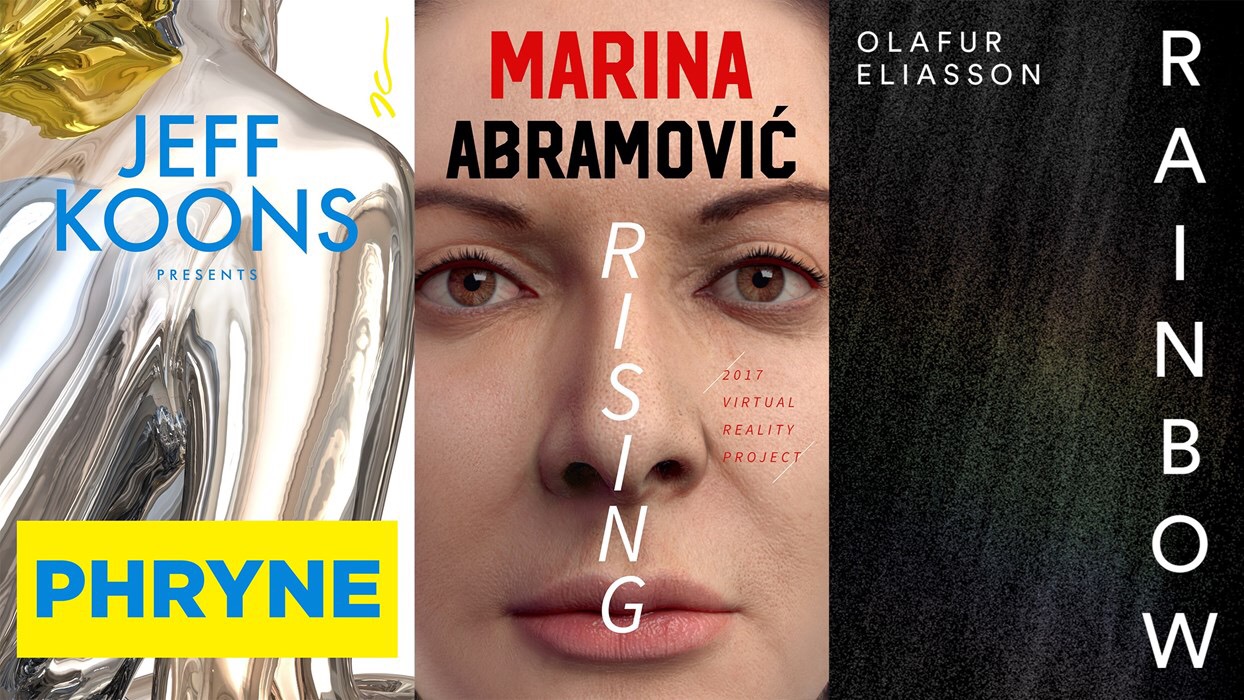 Marina Abramovic, Jeff Koons and Olafur Eliasson are premiering new artwork on the world's most ambitious virtual reality art platform, Acute Art. Acute Art say their mission is to
"… to expand the possibilities of virtual reality and evolve to create a type of artform that brings together brilliant creative minds with the latest technologies."
The project officially launches in Autumn 2017 with plans to bring in young and emerging artists.
Koon's project for Acute is "Phryne" (pronounced 'Fry-nee'), which explores themes of self-affirmation and transcendence in the virtual space.
"Phryne" is named after the famously beautiful courtesan from Ancient Greece, and keeps the pastoral, classic arts in mind. The piece sees VR participants beckoned to meet Phryne in a garden setting. Encountering a metallic ballerina, she guides viewers through the world.
"One of the things I noticed with VR is a tremendous sense of centre," says Koons. "Knowing that I am within a space and understanding the parameters around me. I have also noticed that one's affirmation of existence is always missing. You look down at your feet and there's nothing there, so there's a lot to be said about defining your own presence. I used Phryne's metallic surface to bring the affirmation of self into VR. You can see your reflection within her. She affirms that your presence is real, that you exist. She's a teacher. Stimulating different sense perceptions within virtual reality is a new territory – and to use VR as a tool to connect to the universal is a wonderful thing."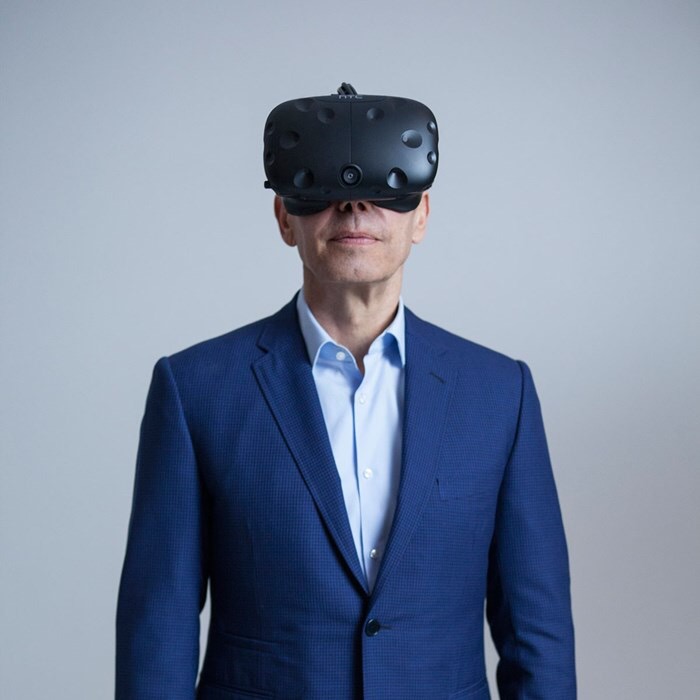 Jeff Koons courtesy of Acute Art
Marina Abramovic presents "Rising":
"Rising" sees the artist harness virtual reality to confront an audience with the climate crisis shaking the IRL world. It's a strong call to action: viewers come face-to-face with Abramovi? in the VR space – her avatar invites you towards her glass tank, that's slowly filling with water. She then takes you across the world to see the melting ice caps and glaciers. If you make a commitment to help, the water level in her tank goes down, if you make none, she drowns.
"In this moment of my career, I have been wondering how to transfer energy from body to body through the use of modern technology," says Abramovi?. "This new VR artwork raises questions about technology's impact on human empathy through the lens of a pressing issue facing our world: climate change. Changes to the global climate threaten existing ways of living. The project will offer people the chance to empathize and respond to the needs of others affected by this crisis. I am particularly interested in how audiences' consciousness and energy will be affected by a virtual experience of helping others."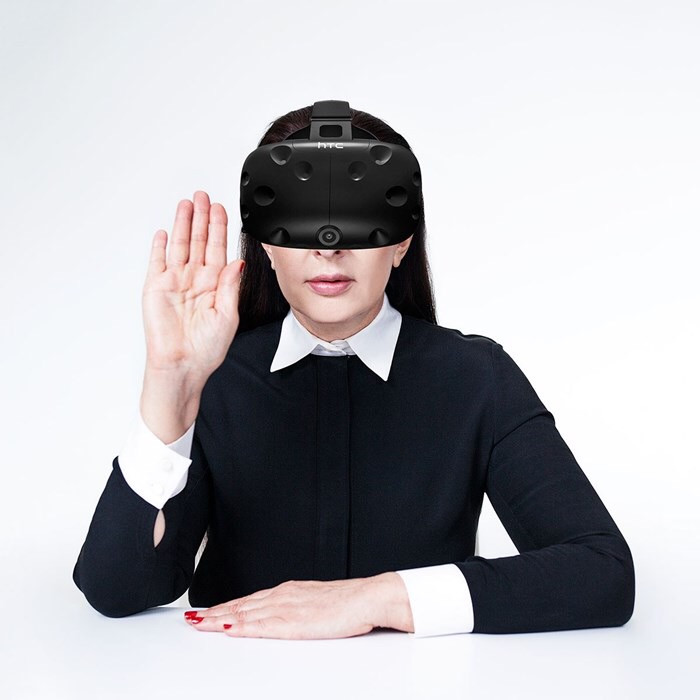 Marina Abramovic courtesy of Acute Art
Danish-Icelandic artist Olafur Eliasson uses the VR space for his project "Rainbow", to explore the natural phenomenon. In the virtual world, the rainbow can only be seen if the viewer moves correctly, a curtain of rain masking the view. Handheld controllers used by multiple viewers at one time make the rainbow-hunting social. It brings together Eliasson's long-term theme of self, and how our surroundings intersect with the concept of self. Eliasson is known best for his solar-themed installations, and his huge public art piece "Ice Watch", where he transported twelve blocks of inland ice weighing 100 tonnes to Copenhagen's City Hall Square, where they melted, to challenge views on climate change.
Eliasson explains:
"I've always been interested in how we co-produce reality. When I make an exhibition I think of it as a reality-producing machine. Virtual reality has the potential to become a platform for new ways of experiencing if we include the body in our virtual work – I don't believe in leaving the body behind."
"For this reason, I've been particularly interested in developing 'Rainbow' so that it hosts many people at the same time. To me, this social aspect is crucial; it emerges through recognising the presence of others, by experiencing others' impact on a space," he observes. "To enter 'Rainbow' is not to exit the world and leave the body behind. It draws on our deep motor-sensory knowledge and sense of space to bring people together across geographical boundaries."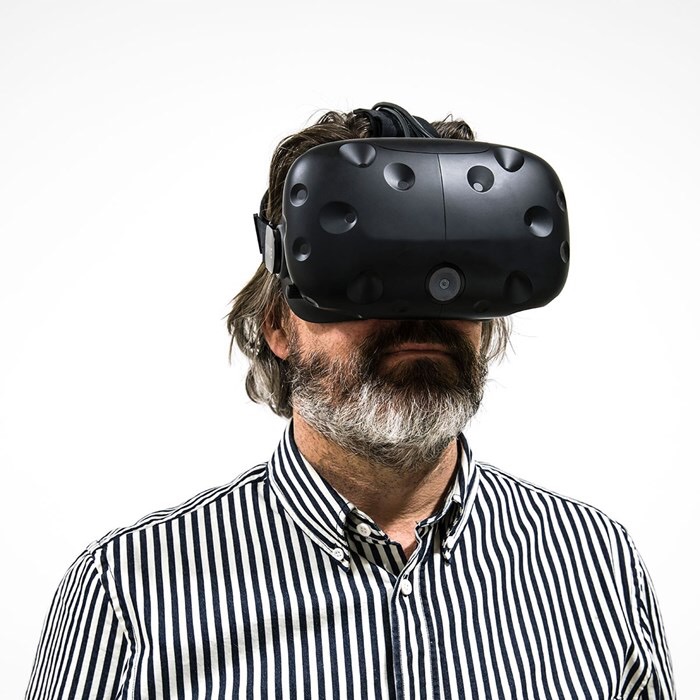 Olafur Eliasson courtesy of Acute Art
Acute Art launches globally Autumn 2017 Acuteart.com
Via": Dazed
Categories
Tags