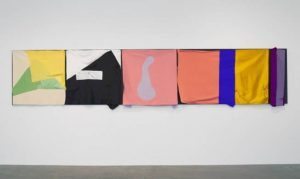 The Critical Edge III, 2015, fabric, wood, nails, hand-sewn brown thread; five black MDF panels and five fabric elements, 39-1/8″ x 15′ 1/2″ x 6-3/4″ (99.4 cm x 458.5 cm x 17.1 cm)  © Richard Tuttle, courtesy The Pace Gallery
Pace London's current exhibition features recent works in fabric by American artist, Richard Tuttle.
Tuttle emerged in the 60s, an era known for its restrained and pared back minimalism. However, the artist – most famously known for his use of fabric – became associated with the later movement Postminimalism due to his use of less sterile mediums. The exhibition at Pace seems to be a continuation of these earlier questions, regarding subtle form and tactile material, as well as an acknowledgement of materialism today.
Six separate works each feature four "fabric elements" on four pieces of MDF, one work featuring five "fabric elements" on five pieces of MDF. This uniformity is of course what the Minimalists were known for. However, here the fabric is hand sewn, slightly falling over the edges, overlapped and has a craftsman-like feel to it. You do not doubt that Tuttle is playing with these ideas of repetitive, industrial process vs. handmade, delicate one-offs. In the 70s, Postminimalism was undoubtedly a reaction to its predecessor accused of destroying the importance of the artist's hand and replacing it with the mass production of identical objects.
The 70s are now long gone but it seems these questions are still prevalent today. Today, I am aware of the effects of globalisation on business and trading, and of the mass shifting of materials to make cheap goods from fabrics once hard to find. A poem written by Tuttle, entitled What Beauty Means to Me that accompanies the press release, plays to the delicacy and contemplative nature of the fabric works, a world away from the mass production factories that these fabrics could have ended up in. It is strange to think of the stream of shops down the road where fabrics are tossed about and traded for nothing. A gallery assistant tells me that when Tuttle came to Pace to discuss the works, he pointed out the shadows that the fabric created on the walls from the way they were draped. It is clear that Tuttle is looking for a subtlety and reflection from his audience that goes far beyond the materiality of the work.
Richard Tuttle: The Critical Edge, is on until 13th May 2017 at Pace London, 6 Burlington Gardens, London W1S 3ET.
Categories
Tags