Artist Devlin Shea draws and paints everyday vignettes that she observes on the street, in the bedroom or on the net. A sideways glance here, a loving embrace there, a quick masturbatory feel… all depicted in black and white either on canvas or transparent acetate film and often with metaphorical animals layered over the human elements… two dogs fighting over the same bone, monkeys frolicking over the naked back of a a tearful woman, a cat jumping on the face of a sleeping girl. Shea depicts intimate moments in time or quick gestures that are more cathartic than visually telling, producing amorphous feelings in the viewer rather than providing clues to any sort of narrative or allegory. Her work can be seen currently as part of the group exhibition at Chapter in Cardiff entitled These Rotten Words (on until 11th June 2017). Later this year, you can see her work at the Baltic Centre for Contemporary Art and the ICA in London as she has just been chosen as one of this year's Bloomberg New Contemporaries.
After seeing her work last year at the Slade's MFA Degree Show and then visiting Shea in her studio in East London last month, I was interested in delving deeper into her artistic practice.
Given your work's monochromatic palette, how critical are the other formal qualities of painting to your practice: cropping, perspective, composition, light and shadow?
Cropping plays an important role in how I construct my compositions – I want to isolate and cut off peripheral meaning, zeroing in on parts that are important, detaching sections of gestures and bodies. Revealing the whole would be too brazen or literal. Through these narrow selections, I want to hand over the construction of the unknown fragments to the viewer, to construct through one's own subjectivity. For me, when I see a hand being tugged, I feel a hand being tugged; when I see a whole portrait of a woman having her hand tugged, I see that woman experiencing that feeling – I am outside. When I crop, I want to focus on this moment of feeling that is pushing or pulling … grabbing or tugging. I want to capture all the layers that go into those 'relationships' and how there is an echoing of the past, present and future in that moment. I might go as far as saying that it is an anti-narrative gesture, but who knows.
In regards to perspective, my paintings are very flat. There isn't a depth of field or an invitation to step into a pictorial space, which is perhaps connected to the use of a monochrome palette. I suppose with light and shadow, at least in some of my paintings, there are these negative spaces that are created by the figures' shadow; they are ambiguous areas and could be read pictorially, creating a 'where is it?, what is it?' type of ambiguity – somewhat similar to the idea behind the cropping.  Maybe this aspect could be a relief for the viewer? When everything is so on the surface. But really, I don't think any of the aforementioned elements are mutually exclusive in my work; instead, light, shadow, perspective and cropping act together to assist each other.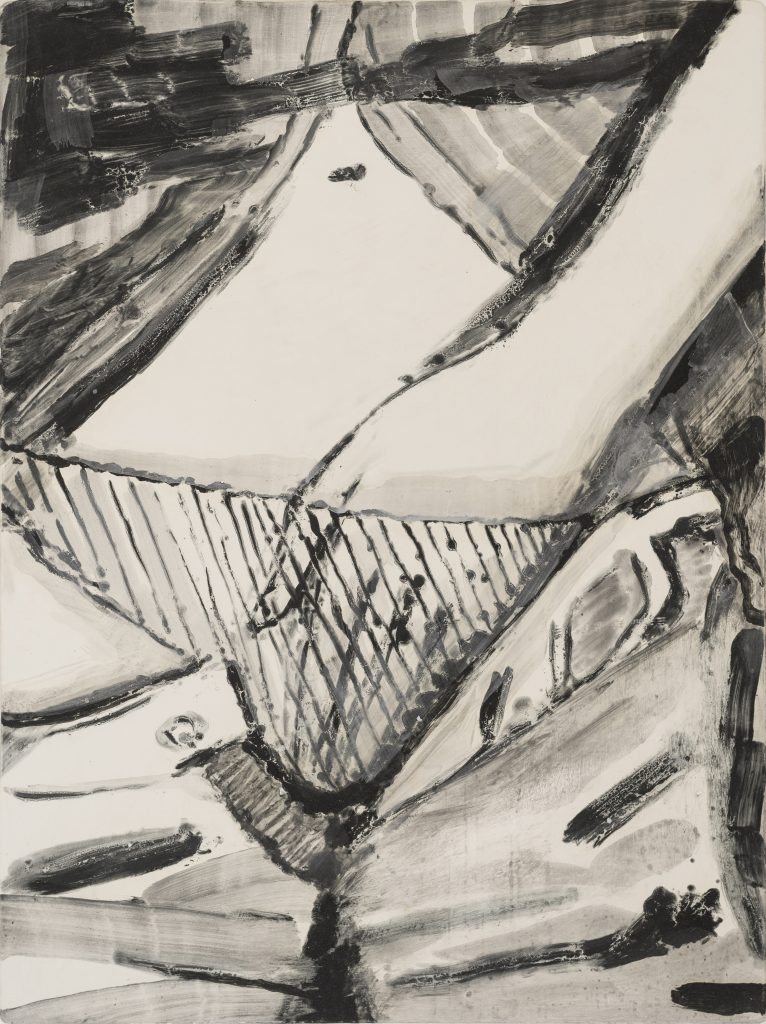 Is narrative important to your figurative subject matter? Or is your work more metaphysical in emotion and temperament?
The loose narrative in my work is normally layered and truncated. I imagine it to be like a still from a movie you never saw but that is familiar. This 'still' is like the moment after exhaling when all the air is now outside the lungs and you are about to take a breath back in. Those are the moments I'm working with, more than an actual narrative: corporeal passages contained in the now, cycles that end, then start again; lungs filled with oxygen or empty. It's a physical feeling as opposed to the logic of a whole.
Not to contradict myself, but there are also definite narrative choices to my selections – moments where there is some sort of perceived tension or gestures that reflect on the internal state of the figures. The idea of support systems, intertwined figures and intimacy are strong motifs within my work. Nevertheless, these are meant to be archetypal, perhaps even symbolic; there is an edge of the allegorical in the larger plastic works, for example. I think that's why there has been interest in my work in Asia where there is a history, familiarity and acceptance of many different narrative times existing within one image. I think my work approximates that tradition of condensing many dimensions onto one single plane.
Perhaps I'm trying to reveal in some way the accumulation and confusion of being human. I'd say it leans toward universal ideas and perhaps that could be read as having some 'metaphysical undertones'. Really for me, the narrative lies in the tensions that exist between the figures – tensions that also exist in the reading of the work. Strangely, I use parts of the figure in a way to avoid talking about the figurative. I mean, it is figurative… but biography is not used as a narrative tool. I guess I'm trying to forget about a dominant narrative and to just break down the body in order to see beyond it.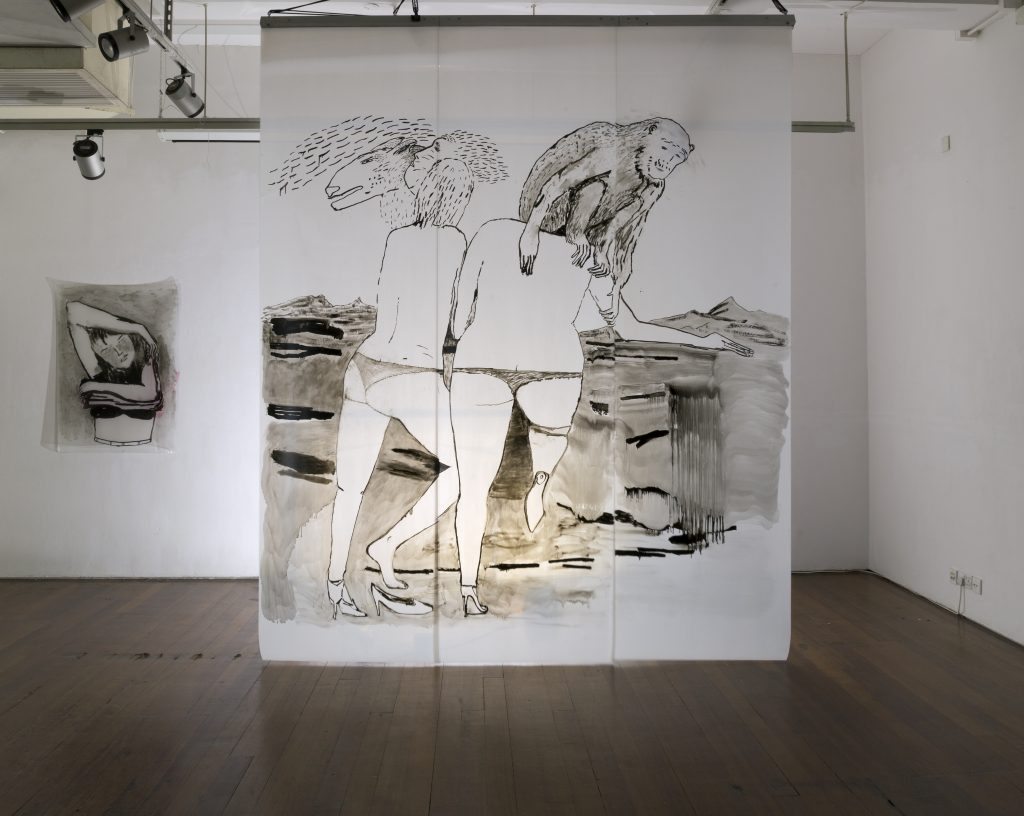 I adore the more recent addition of animals to your picture plane. They are often layered over the human elements and appear to be linked to the figures' subconscious or dreams. Could you talk about how you think about these animals and what sparked this development?
The first time I used animals in my work was because of a dream I had. I was in the kitchen of the apartment I lived in years ago in New York, I was on the phone, and I looked up to find a wild cat in the tree outside my window about to pounce on me. I remember thinking, 'Oh, this is really convenient'. I was on the phone so I could call for help, but I was so petrified I couldn't speak; this visceral fear had taken over. There are these visceral reactions we have because of our evolutionary presets, things layered in from long ago. So when animals make it into my painting, they could have this primordial role, or perhaps the animal is a totem that stands in for basic parts of the self.
In Emotional Giants, the monkeys came from a conversation with a friend who was talking about how hard it was to change a pattern. He used the idiom 'monkey on my back'. My work in some respects comes from the logic of the idiom, which isn't sequential narration; instead, it's pieced together, and the combination of words makes new sense. So Emotional Giants was inspired by this friend wrestling with himself. I suggested he lay out a banana – it seemed a logical way to break the struggle. The monkeys are trying to hold on but also eyeing the banana presented on the belly of the woman lying and watching at the bottom of the scene.
Animals are always going to bring up symbolic readings, which I think is interesting but maybe not precisely what I intend on doing. Part of me thinks less complexly, like how people watch cat videos or follow famous Instagram dog feeds. They go to those feeds to have an emotional release or experience ironic glee; this cutesy love we get by watching funny furball videos – there is something about that in my work too.  I wonder if my interest is as close to that space of catharsis as it is to the symbolic.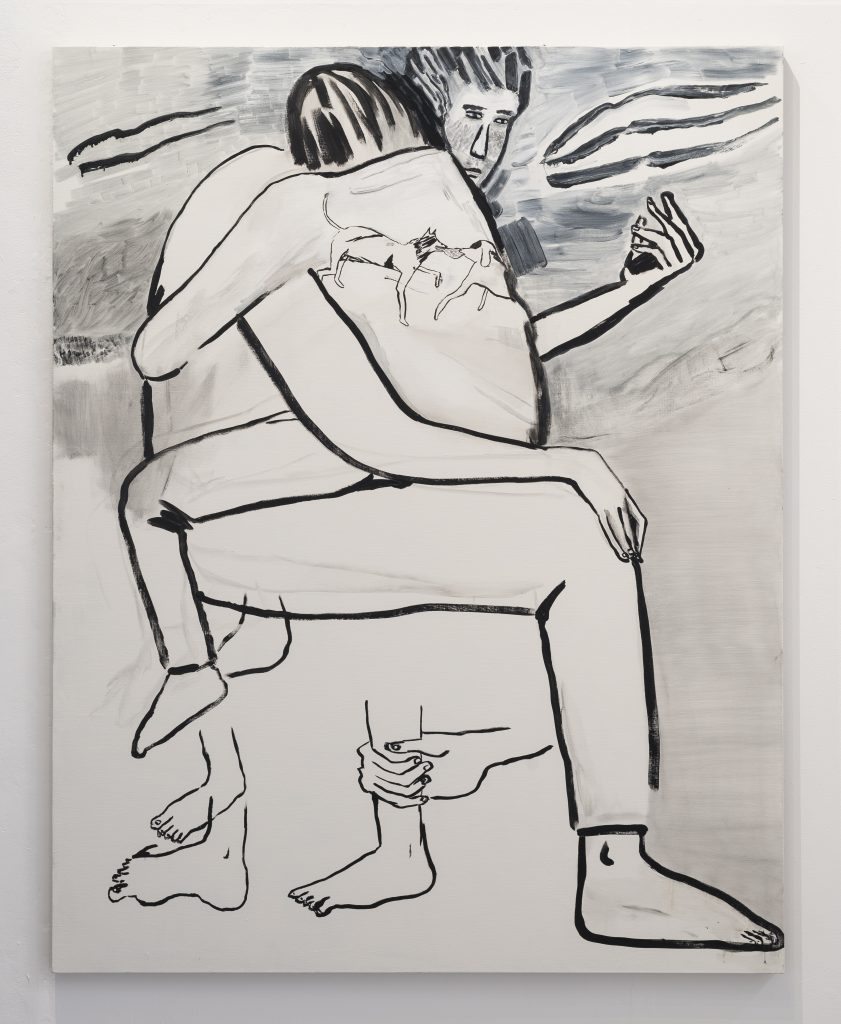 Your use of long sheets of transparent film for some of your paintings plays with scale and finish and references cinema as they scroll down the wall. Although each of these paintings only depicts one scene, so to speak, does cinema inspire your practice in any way?
Cinema definitely has had some influence on my practice, and the acetate I use for the larger works is very similar to celluloid in its qualities. On a personal level, I grew up going to the movies a lot. There was this movie theater across the street from where I lived. In summer, we would sneak in to see movies back to back to stay in the air conditioning for as long as possible. It is a somewhat nostalgic influence – those early experiences of losing myself and viewing intimate moments blown up larger than life. You never normally experience intimacy that way; you never experience a mouth 50-feet-tall and time slowed down so you can see minute shifts and twitches. I'd say I use scale as a device to do a similar thing with this contradictive intimacy. You have to get up close to my small paintings, get intimate; but then I blow these up to gigantic proportions (such as with the plastic works), creating a contradictory feeling of intimacy like the cinematic does. Showing them together, minute and gigantic, pulls at emotional proximity. It's like when I was living in Iceland – how the landscapes made a figure even tinier and vulnerable but also more pronounced and perhaps braver, crossing the vast monochrome snowscapes.
You recently completed your MFA at the Slade School of Fine Art in 2016. Shortly thereafter, you set off for China to embark upon a three-month residency at (). How important do you feel residencies are for early career artists? How has your experience in China contributed to the ongoing development of your artistic practice?
Residencies can be such significant times for growth. I think, after an MFA, they can provide the time to solidify some of the development that has happened during the degree. It is such an amazing opportunity to be plunged into a new culture, and to not have to balance any freelance work to pay rent for living or studio. It is so important to keep the momentum going from the degree show and to be productive right away if possible. I was in Hong Kong for most of the time but I did go to mainland China for a week to install a show at the Wuhan Art Museum organized by the gallery that represents me there.
My studio was at the campus of the Academy of Visual Arts; I got to take part in the community of students, tutors and technicians there. It was great experimenting with and discovering totally new types of plastics and fabrics, getting knowledgeable advice and using the large facilities to try things out. I made a group of large paintings on a new plastic and worked on small works exploring color and some collage elements. I also made a small edition of artist books that I rushed to finish in the last days on a fantastic Riso printer they had there. There was a sense of ease knowing I had the time to make a body of work for my upcoming solo show in China and that I would take back with me to London the momentum and skills I had developed.
Curator George Vasey has included your work in his current group show entitled These Rotten Words at Chapter in Cardiff, alongside artists David Austen, Anna Barham and Joanna Piotrowska among others. How do you think your work fits into this show about the physicality of language, voice and gesture?
I was so pleased George included me in These Rotten Words – it is such a great group of artists. I have always been attracted to the ways people communicate and perhaps more specifically with the veils, blocks, habits or crutches that people subconsciously rely on in their communication. I think this is the 'gesture' that I am fascinated by. Gestures seem to be the way these pre-words and pre-verbalizations get spoken – though gesture communication is read physically rather than through the translation of language.
It was an exciting framing for the work. I will use a quote from George's essay from the exhibition to describe how he sees my work fitting the topic. …
"….. Devlin Shea's paintings present the body as a series of fragments. The face is often concealed and it is the body that is tasked with the job of speaking. The surface of these paintings, at once reticent and reworked, feels particularly intimate. Shea's paintings often portray moments of tenderness between unclothed couples and the vignettes often feel simultaneously specific and nebulous."
Links
Artist's website:  http://devlinshea.com
Chapter, Cardiff website: https://www.chapter.org/these-rotten-words
About the Artist
Devlin Shea is an American artist who lives and works in London. She completed an MFA at the Slade School of Fine Art, London in 2016 after finishing her BA in Painting and Video at Alfred University, Alfred, New York in 1998.  Recent and upcoming solo shows include those in Wuhan, China (2017), Sólon, Iceland (2013), and Stockholm, Sweden (2010). Recent selected group exhibitions include: On Drawing: Apperceive of Liberation, Wuhan Art Museum, Wuhan, China (2016); Screen Time, Assembly Point, London (2016); Imagine, Londonewcastle Project Space, London (2015); Skymning, G Gallery, Houston, Texas (2014); Special Guests, Sardine, Brooklyn, US (2013). Shea has been awarded the following residencies: Academy of Visual Arts, Hong Kong (2017), Nes Artist Residency, Skagaströnd, Iceland (2016), Banff Centre for the Arts, Alberta, Canada (2009), Vermont Studio Center, Vermont, US (2009).
Categories
Tags