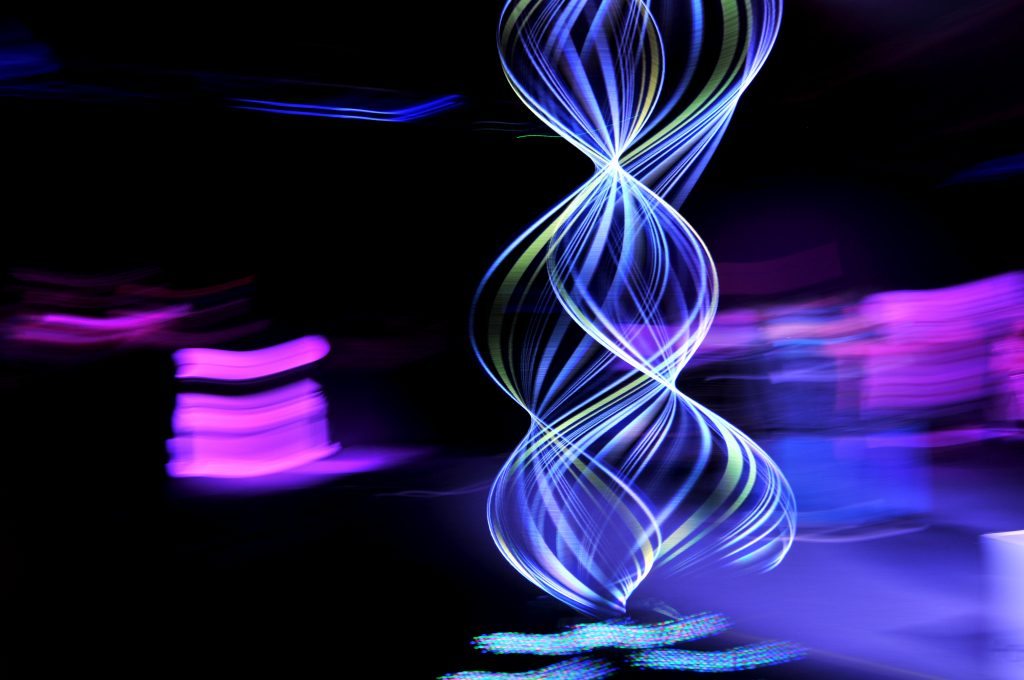 Paul Friedlander-Wave Kinetica Art Fair 2017
Kinetica will mark its 10 year legacy as a leading platform for international new media art with an anniversary show that features immersive and dynamic works that challenge perceptions to question what is real, perceived or imagined. Reality vs virtuality, duality and invisible realms will be explored.
Since its first exhibition launched to critical acclaim at Spitalfields Market ten years ago, Kinetica has become a leading international platform for innovative artists experimenting with new media.
The anniversary event entitled The Thin Veil will feature an experiential exhibition of performative and immersive artworks and an events programme featuring a series of mind-blowing holographic performances.
The show takes place from February 17th – 19th at the revitalised Victorian warehouse of Ugly Duck in Bermondsey.
The show will feature world-renowned artists including:
Gregory Barsamian, whose three-dimensional animated zoetropic sculptures probe some of the fundamental dilemmas of human existence while celebrating the potency of dreams.
Ray Lee, will transport us into a parallel universe of cosmic tones and esoteric technology, with an Aladdin's cave of exquisitely hand-crafted contraptions from his Ethometric Museum. Lee won British Composer of the Year for Sonic Art in 2012.
Paul Friedlander – Light Artist and ex-physicist. In 1983 he made an important discovery of the chaotic properties of spinning string and invented chromastrobic light – 'light that changes colour faster than the human eye can see'. Paul will be showing his kinetic chromastrobic artwork at Kinetica.
Jonty Hurwitz – Nano Sculpures, invisible to the human eye and the smallest sculptures in the world. Works created with Quantum Physics. TBC – pending hire of strongest magnification equipment in UK!

Chris Levine Presence of an Angel
Chris Levine, an internationally recognised pioneering artist who works across different media in pursuit of sensory experience of image and form through the power of light.
Tim Lewis. Lewis pushes the boundaries of imagination to reveal creatures born of mechanics. His work has been seen in major galleries & museums and is collected widely.
Stanza, whose large six foot data sculpture 'The Reader', is made of transparent perspex with one hundred micro display screens showing data pulsing through the body.
Baraga, an artist from Slovenia whose installation is a matrix of 99 inflating balloons that creates an immersive yet intimate performance 'Neunundneunzig'
Jiayu Liu, whose 'Wave' sculpture uses camera identification and computer processors to control over 50 illuminated panels
Adrian Pritchard creates installations using a viscous and slow- moving substance he calls 'Gloop', whose patterns and formations change due to the subtle differences in humidity and temperature
Lauren Baker, a British multidisciplinary artist whose crystalised sculpture is an anatomical heart that beats faster as people draw near
More than 35 artists will be participating in the show from over 10 countries.
A showcase of performance works will be presented on the Hologauze – a projection system enabling the world's largest high-resolution indoor holograms.
Performances will include the premiere of Shama Rahman's 'Truth Be Told', the world's first full live album using the pioneering wearable technology mi.mu gloves.
Further exhibits, talks and presentations will explore the possibilities of holographic, virtual and augmented reality technologies as a gateway to changing perceptions.
As part of the exhibition, Kinetica has widened its net with an open call submission process. Ten works have been selected for the show by a panel including artist Chris Levine, Susie Thornberry (Ugly Duck / Artichoke Trust/ Imperial War Museum), and Mike Stubbs (Director, FACT, Liverpool), in addition to Kinetica Founders and Directors Dianne Harris and Tony Langford.
The Kinetica anniversary show is from Friday 17th to Sunday 19th February 2017, at Ugly Duck, 47-49 Tanner Street, London, SE1 3PL. Tickets are available at www.kinetica-museum.org/tickets. Ticket prices from £7 to £20.
For further information: www.kinetica-museum.org

Tim Lewis Pony
About Kinetica
For the past decade the former Kinetica Museum and subsequent Kinetica Art Fair have received both critical and popular acclaim for their dynamic and engaging curated exhibitions, exhibitor installations and innovative events programmes. Both have popularised and supported the development of artists who are leading the way forward into new artistic domains. Many of the artists shown through Kinetica have gained international success, with their work commissioned & collected extensively.
About Mark Westall