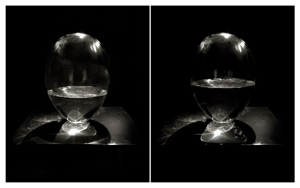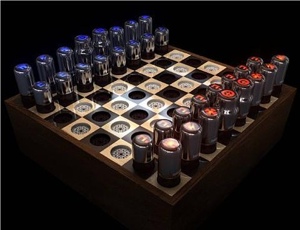 Last week the immense space that is Ambika P3 found itself home to the fifth year of the Kinetica Art Fair. Celebrating the collision of art, technology and science, Kinetica 2013 The fair's title implies motion, and it was interesting to see how different artists and galleries interpreted this. Many did so literally, creating digital holographs or moving installations, resulting in a very exciting and visually stimulating environment.
Kinetica is different from any other art fair that I have been to, simply because it is much louder and the general atmosphere seems to be one of curiosity and surprise rather than one of admiration or browsing . However, there are only so many ways in which you can interpret the fair's theme, and after being bombarded by numerous works wrestling to compete with each other in terms of originality, size, technology, humour, motion and sound, sometimes all at once the experience did start to feel like attending a science fair rather than an art one.
It is for this reason that the booth by All Visual Arts was refreshing in its simplicity and elegant presentation . Located in a small dark space curtained off from the rest of the fair, All Visual Arts featured six works works by five international artists who's pieces each demonstrate subtle influences of scientific processes. Amongst these were two works by Paul Fryers, a British artist and sculptor known for his fascination with art, science and religion. In the corner of the room was a to scale rendition of the Telstar, the earliest communication satellite to be launched into orbit. One of a series of eleven, beautifully crafted wood in
three different shades was used to render each detail, with the exception of

a single drawer that was added afterwards to question the purpose of the piece's existence. The second work by the artist was "

Chess for Tesla", first featured in last year's exhibition "Art of Chess" at the Saatchi. Fryer's chessboard honours inventor Nikola Tesla, famous for his scientific inventions as well as experimenting with light and wireless communication. Electricity runs through the board that powers the vacum tube chess pieces, causing each piece to glow when lifted, extinguishing as the connection is lost and reactivating only when a move is made and the piece returned to the board.
Another work that was particularly calming in the otherwise chaotic atmosphere was Ben Tyer's kinetic sculpture entitled "Breathe". Intended as a meditative piece that celebrates balance and nature, the piece is an egg shaped container filled with water that rises and falls due to a hidden pump at the exact rate that humans inhale and exhale air.
Other artists included Alyson Shotz, Hilary Berseth, and Maria Novella Del Signore. Overall AVA's subtle works and well chosen artists created an aesthetically pleasing experience and above all proving that art can very much be alive without being overwhelming or excessive.
Words : Ksenya Blokhina
Categories
Tags