It's normal for other art fairs to pop up during Frieze week for a couple of reasons – major collectors are in town and could be tempted across to look for emerging or niche talent, and the media coverage has put everyone in an 'art' mood and as most people can't afford to buy at Frieze other options are needed.
But it also carries risks too. There are only so many people to go round between fairs and with all of them competing with each other for footfall it can often lead to some not drawing in enough buyers. This week we have five art fairs in east London with a record four inside the Old Truman Brewery. Here's my break down of each one and how I think each one fared: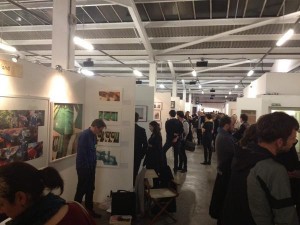 This fair has been getting stronger with each subsequent edition and has continued to grow in size. This year we had 130 artists and a really good mix of differing styles and talented artists at affordable prices.  Speaking to the artists suggested that sales were going well and on my walk back to Liverpool Street station I saw many people carrying works they had bought from the fair.
It's another solid outing from this fair that was heaving on the opening night and on Saturday. I'd be interested to see visitor numbers as this felt like the busiest edition yet.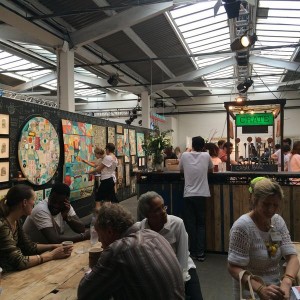 Moniker shares its space with TOAF, they may be separated by a bar in the middle but entry to one gives you access to the other (no pun intended). Moniker always feels dwarfed by the size of its next door neighbour but it does stand out with its very strong street art vibe that includes some ornately decorated booths.
Moniker felt even busier than TOAF, with plenty of people enjoying the art but I didn't see as many sales happening. This may be due to the fact that on average the works at Moniker are at a higher price range so we'll have to wait and see if footfall translated to sales.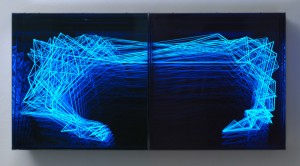 Jean Tinguely was one of the founders of Kinetic art but if you went to Frieze Masters you would have been disappointed to see the sculptures statuesque – but at Kinetica you have the chance to see one in motion.
You can also sidestep a giant silver ball threatening to run you over and see the wonderfully self-referential work of Tim Lewis as a hand operated kangaroo draws itself. It's noisy, interactive and entertaining stuff – I can honestly say I've never had as much fun at an art fair.
Visitors agreed as it was very busy on Saturday with children and adults alike engaging with the artworks so let's hope it's a commercial success too. It's not normally during Frieze week but that didn't pose a problem in terms of visitor numbers as it has a unique niche and dedicated followers.
Contra – Contemporary Turkish Art Fair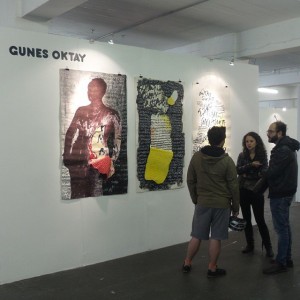 The last of four art fairs at Old Truman Brewery was the least attended. It suffered from a lack of promotion beforehand and the competition of three big name established art fairs near by undoubtedly hurt attendance figures.
Having said this it was well curated and Turkish art is on the rise with a growing art scene, art fairs and an established biennial. First editions of a fair are difficult but if it can step up the marketing and possibly locate itself more centrally for the next edition, or away from more established fairs, then it may be able to draw in more people.
The Independent Artists Fair (TIAF)
Another new kid on the block. It's the second year for TIAF and by moving from last year's venue in Mile End it has become closer to the heart of the vibrant East London art scene, it's only five minutes from the Old Truman Brewery.
It only seemed moderately busy on Saturday and the art was of a varying quality. Many people will have not ventured upstairs into the darkness of the video art section but my favourite works were on film.
The difficulty for TIAF is that it will always struggle to differentiate itself from TOAF as both are artist led fairs and they even have similar acronyms.
All of these art fairs are open on Sunday, so you have one last chance to check them out.
About Tabish Khan