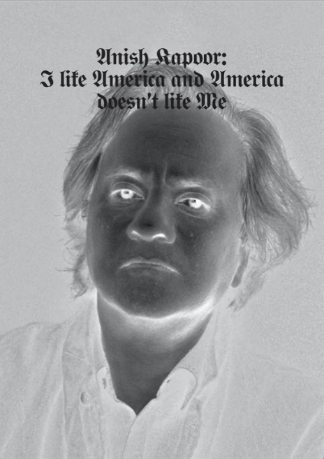 Leading artist Anish Kapoor has reworked Joseph Beuys' seminal work, I Like America and America Likes Me by changing the title to I Like America and America Doesn't Like Me as a protest against the horrors that are unfolding in Donald Trump's America.
Referencing the poster that Joseph Beuys made for the work, Kapoor has altered the title and re-made it with his own self-portrait. He invites fellow artists and leading creative figures across the world to join him in this action and post their new versions on social media in protest.
Anish Kapoor said
"I call on fellow artists and citizens to disseminate their name and image using Joseph Beuys' seminal work of art as a focus for social change.  Our silence makes us complicit with the politics of exclusion. We will not be silent."
I Like America and America Likes Me was Joseph Beuys' most celebrated performance work which he created at the René Block Gallery, New York in 1974. The action began at Kennedy Airport where friends wrapped him in felt and transported him to the gallery in an ambulance. The artist then spent several days in a room in the gallery with only a felt blanket, a flashlight, a cane and a wild coyote. His choice of featuring a coyote was perhaps an acknowledgement of an animal that holds great spiritual significance for Native Americans as well as a commentary on a country that through its Western expansion had become "lost". At the end of the three days, the artist was transported back to the airport via ambulance. He never set foot on American soil nor saw anything of America other than the coyote and the inside of the gallery.
Categories
Tags