Mat Chivers: Harmonic Distortion (F) from PM/AM on Vimeo.
1. Mat can you tell us about your art practice?
It's changing all the time, but the most important part of my work is listening as ideas come up, then testing them through making. It sounds like a given, but for me, making things is a valuable way to deepen my understanding of the world and engage non-verbally with other people and that's reflected in the increasingly collaborative way I work. For example, the stuff I've done with the fantastic teams at Henraux in Italy and Factum Arte in Spain for the work in this show has allowed me to push material possibilities that would have been exceptionally difficult to achieve solo. I think it's fair to say that we're in a precarious moment as a species – technological advances are driving us in a particular evolutionary direction at an unprecedented pace. I feel that it's more important than ever, to slow down and think about what we want to become. My practice is focused on this moment
2. Why the interest in form and data?
I often work with stone because it is such a primary and sensuous material, historically bound up with our cultural evolution. I'm interested in how sculptural form can communicate ideas in a way that goes in on a more bodily level. I find data interesting for different reasons. Raw data can provide an abstract that enables us to understand the nature of hyper-events – like climate shift in the case of the works in this show – that are so massive and complex that they are almost invisible to perceive otherwise. Bringing the two things together results in objects that can be greater than the sum of their parts
3. How has it been working with PM/AM?
They're absolutely passionate about art and have been very supportive of my ideas in putting the show together – it's been a lot of fun. The space itself is really interesting – it was a car park before it was a gallery – so has a rawness that I like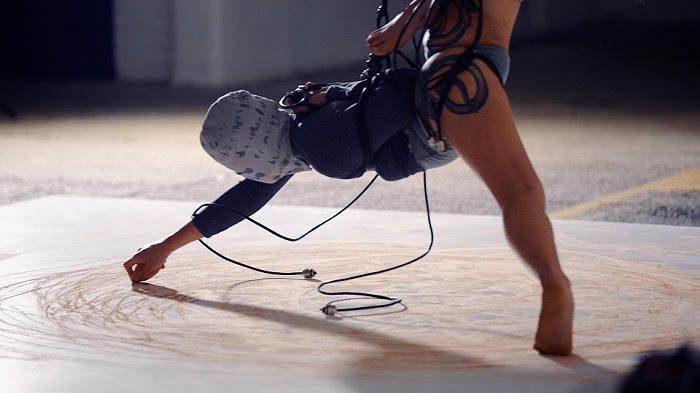 Mat Chivers, Circle Drawing, 2016 Photographer: Jonah Wyn-Pugh ©Mat Chivers, by courtesy of PM/AM
4. Was it important to have performance as part of your exhibition?
Yes. Definitely. I started working with performance when I was invited as the inaugural artist in residence at a space in Athens in 2013, then in two subsequent works made in the Cradle of Humankind in South Africa in 2015, and on a collaborative project with the Italian noise band VIPCancro the same year. As a sculptor, I'm really interested in the possibilities that performance offers for working with form in the 4th dimension – over time. Time is something that's always present in my work but performance allows it to come to the centre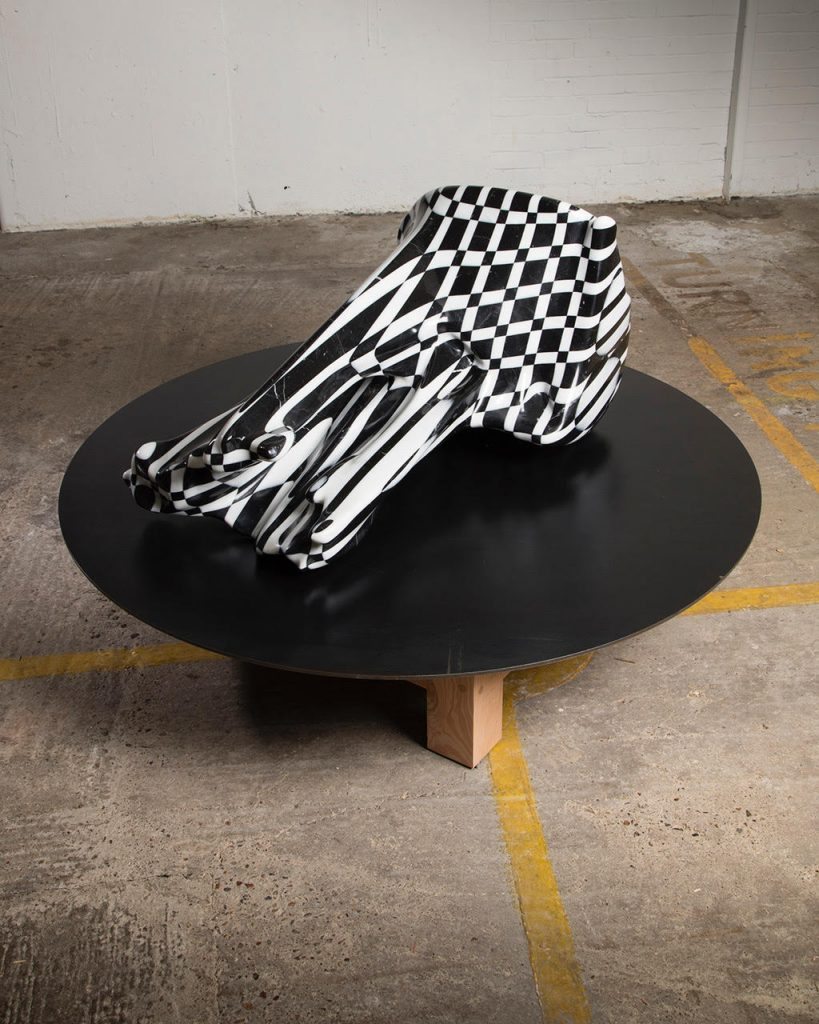 Mat Chivers, Harmonic Distortion, (BC), 2016 Photographer: David Brooke ©Mat Chivers, by courtesy of PM/AM
The 2D and 3D works that are being shown at PM/AM have a formal quality that is informed by the environmental data that drives their structure. To develop the performance, I worked with rope bondage artists and collaborated with renowned producer Moire to develop a powerful sound composition – a bass-y distortion of harmonic sequences – that underpins the piece. The performance has a raw, sensuous and very human quality that acts as an essential counterpoint to the other data-based works in the show
5. What's next for you?
Well, I'd like to say that I'm thinking about becoming a goatherd . . . but it's nearer the truth to say I'm focusing down in the studio and starting making again for a couple of projects that are happening this year – including one at the Venice Biennale
You can still catch Mat's exhibition Harmonic Distortion at PM/AM on until 28th February 2017
Categories
Tags