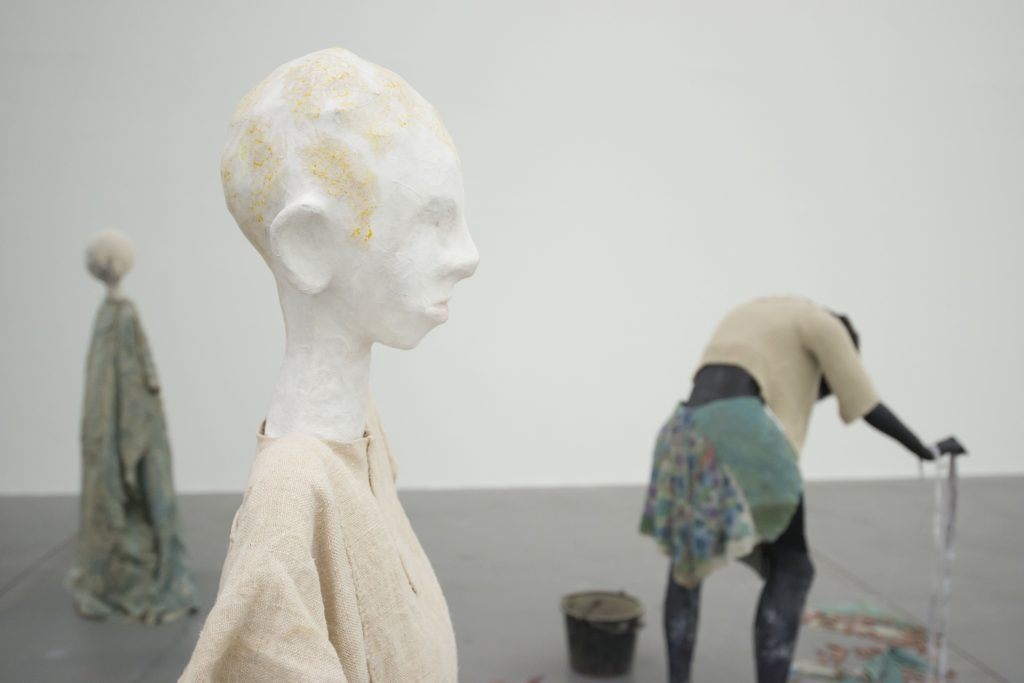 Cathy Wilkes, Installation view, LENTOS Kunstmuseum, Linz, 2015 Courtesy of the Artist and The Modern Institute/ Toby Webster Ltd., Glasgow Photo: Reinhard Haider
Maria Lassnig Foundation, announced today that Glasgow-based artist Cathy Wilkes (b. 1966, Belfast, Ireland) has been awarded the Maria Lassnig Prize. Wilkes is the first artist to receive the biennial award, which was established in June 2016 to honor the achievements of mid-career artists.
The Maria Lassnig Prize was originally envisioned by pioneering Austrian artist Maria Lassnig before her death in 2014 at the age of 94, at height of her artistic powers. Having achieved recognition only later in life, she hoped to encourage the efforts of fellow career artists not yet familiar to the public. Each prize granted in her name will carry an award of 50,000 euros and a solo exhibition organized by a designated institution that has collaborated with the Foundation and a selection committee to choose a winner. For 2017, that institutional partner is MoMA PS1, New York, which in 2014 presented Lassnig's first comprehensive American museum survey to universal acclaim. The exhibition was organized by Peter Eleey, MoMA PS1 Chief Curator, who served on this year's inaugural Maria Lassnig Prize selection committee with Peter Pakesch; noted curators Matthias Mühling and Hans Ulrich Obrist, both members of the Foundation's Board of Directors; Laura Hoptman, Curator of Painting and Sculpture, The Museum of Modern Art; Sheikha Hoor Al-Quasimi, President, Sharjah Art Foundation; and noted New York- based artist Zoe Leonard.
Peter Eleey, who will curate Cathy Wilkes' exhibition at MoMA PS1, has written of the artist:
"Since the start of her career in the 1990s, she has created sculptural tableaux that engage with the rituals of life. Regularly employing quotidian products and residual materials drawn from her domestic life, Wilkes's installations connect the banalities of daily existence to larger archetypes of birth, marriage, child-rearing, and death. This combination of the personal and universal parallels a meditation at the heart of her work, in which Wilkes's art enacts an exercise in empathy, exposing deeply felt subjective experiences to reach beyond herself while also insisting upon the fundamentally private nature of artmaking."
Eleey added,
"in representing aspects of her internal and domestic worlds, Wilkes evokes Maria Lassnig's celebrated method of 'body awareness,' through which Lassnig sought to depict the way her body felt to her from the inside, rather than attempting to illustrate it from without. 'The only true things are my own sensations,' Lassnig noted, 'which transpire within the house of my body.'"
Cathy Wilkes lives and works in Glasgow, Scotland. She represented Scotland at the La Biennale di Venezia in 2005 and participated in the International Exhibition of the Biennale in 2013. She was nominated for the Turner Prize in 2008. A survey exhibition presented at Tate Liverpool, UK, in
2015, traveled to Lentos Kunstmuseum Linz, Austria, and Museum Abteiberg, Mönchengladbach, Germany (2015-2016). Recent solo exhibitions have been presented at The Renaissance Society, University of Chicago (2012); Gesellschaft für aktuelle Kunst, Bremen (2011); Carnegie Museum of Art, Pittsburgh (2011); and Kunstverein, Munich (2011).
"Maria Lassnig is today viewed as a fiercely unique and significant figure in the history of modern art," said Peter Pakesch. "But her risk-taking work did not receive international attention until quite late in her life and after decades of struggle. She was always engaged in the efforts of other artists as a teacher and peer, and in her last years spoke of hoping to find some way to acknowledge those at mid-career – longstanding artists whose work deserves broader attention and appreciation. With this in mind, the Maria Lassnig Foundation established the Maria Lassnig Prize in her spirit of encouragement. The unique structure of the prize is a key element in realizing Maria's wishes: by collaborating with a leading international institution, we are able to ensure the broadest possible platform for the prize winner. We are delighted to bestow the inaugural prize on Cathy Wilkes, and are particularly honored that our first institutional partner is MoMA PS1, which presented Lassnig's first major U.S. museum exhibition."
About Maria Lassnig
Born in Carinthia in Southern Austria in 1919, Maria Lassnig studied at the Academy of Fine Arts in Vienna in the midst of the Second World War, beginning in the winter semester 1940/1941 and graduating in 1945. In post- war Europe, she quickly moved away from the state-approved academic realism in which she had been trained, turning to Austria's own avant-garde past and finding inspiration in the coloration of Oskar Kokoschka and the expressionist figuration of Egon Schiele. She continued to develop her painting practice, moving between Vienna and Paris, where she lived from 1961 to 1968. In 1968, Lassnig moved to New York, where she lived and worked in various studios, first in Queens, then in the East Village from 1969, and in SoHo from 1974 to 1978. In 1978, she received a scholarship from the German Academic Exchange Service (DAAD) and went for a year to Berlin. In 1979, Lassnig returned to New York, where she inhabited an apartment on First Avenue. Lassnig's New York era brought significant artistic growth. She created pioneering work in film, producing a series of remarkably inventive animations, before returned to Austria in 1980 at the age of 60.
In 1980, Lassnig was awarded a professorship – with a focus on painting – at the University of Applied Arts in Vienna. From 1980 to 1989, she held the master class for "Gestaltungslehre – experimentelles Gestalten." Apart from painting, she also taught animated film.
In 1980, Lassnig co-represented Austria in the 39th Venice Biennale, and went on to participate in documenta 7 (1982) and documenta X (1997). Her 2014 solo exhibition at MoMA PS1, Long Island City NY, was the first major US show of the artist's work. Lassnig's art has been the subject of many other well-attended international solo exhibitions, including surveys at the Stedelijk Museum, Amsterdam, Netherlands (1994); Centre Georges Pompidou, Paris, France (1995); and the Serpentine Gallery, London, England (2008). Her work resides in the permanent collections of institutions internationally.
About the Foundation
Launched in 2015, the Maria Lassnig Foundation is dedicated to advancing the legacy of one of the most original and important artists in modern times. The Foundation's central mission is to share Lassnig's work and vision with the broadest and most diverse audiences possible, and to increase international awareness of the artist's contributions by supporting exhibitions, publications, and original scholarly research. The organization is planning a comprehensive Lassnig catalogue raisonné and in 2016 launched the biennial Maria Lassnig Prize for mid-career artists. The Maria Lassnig Foundation resides in the artist's former studio, located in Vienna's 14th district, where the core of the organization's collection will eventually made accessible to the public. Peter Pakesch serves as the Foundation's Chairman. The Board of Directors includes Georg Geyer, Matthias Mühling, Friedrich Petzel, Hans Werner Poschauko, Gabriele Wimmer, and Iwan Wirth. Advisory Board members are Rudi Fuchs, Kasper König, and Hans Ulrich Obrist.
Categories
Tags