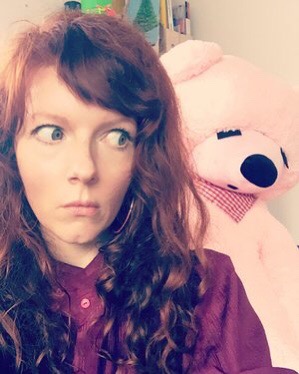 Heather Phillipson has won the 2016 Film London Jarman Award.
Heather Phillipson creates immersive landscapes of audio, film and installation. Her film and video work merges with sculptural installation and text, often creating dramatic structures that the viewer participates in or walks or climbs through – from a giant foot in the Schirn Kunsthalle, Frankfurt to dogs at Frieze Projects, New York.
Her hypnotic work is a collage that incorporates pulsing beats, toxic colours, music, and text. For her video Final Days she transformed disused shops in New York and Sheffield into an 18-screen video installation that commented on the disembodied experience of shopping.
A published poet, she uses fast-paced montage to combine objects, images, words and sounds. Phillipson has had solo shows at the Whitechapel Gallery, London and Baltic Centre for Contemporary Art, Gateshead.
Heather Phillipson was born in 1978. She grew up in London and rural Pembrokeshire, Wales and now lives in East London. She was named a Next Generation Poet in 2014 and was Writer in Residence at the Whitechapel Gallery in 2015. Her work is held in a number of public and private collections. She is currently showing work in New York (New Museum), Iceland (Cycle Festival of Music and Art, Kopavagur) and at the Sao Paolo Biennale and is working on a commission for Art on the Underground. Heather Phillipson receives £10,000 prize money, as well as a commission for Channel 4's Random Acts strand.
Heather Phillipson was chosen from a distinguished shortlist of artists featuring Sophia Al Maria, Cécile B. Evans, Shona Illingworth, Mikhail Karikis and Rachel Maclean. All six artists will receive a film commission for Channel 4's short-form arts strand Random Acts.
Categories
Tags