Grace Ndiritu has won the 2022 Film London Jarman Award. Grace Ndiritu is a British Kenyan artist who works across moving image, performance art, publishing and fashion. Her ground-breaking work is primarily concerned with finding moments of transformation and healing in our contemporary world. Engaged with both the spiritual and the political, Ndiritu is committed to collective healing and exploring 'what we have in common as human beings rather than what divides or makes us different.' Her art and activism are inspired by alternative communities, spirituality and lifestyles.
Ndiritu's non-rational and shamanistic practice explores global issues such as environmental justice, immigration and indigenous land rights. In her 2-screen film Black Beauty: For a Shamanic Cinema (2021), Ndiritu creates a speculative fiction mistaken by many audience members for archival footage. Set in 1983, the film features a black model and talk show host in conversation with the Argentinian writer Jorge Luis Borges as they debate climate change, pandemics, migration, colonialism and time travel. In Becoming Plant (2022) we follow six dancers, living together on a demilitarised industrial site, who participate in a therapeutic group experiment with psychedelics. The film serves as a catalyst to discuss wider social and relational issues such as science, spirituality, psychiatry, healing, healthcare and the problems of collective depression and trauma resulting from life in the age of Late Capitalism.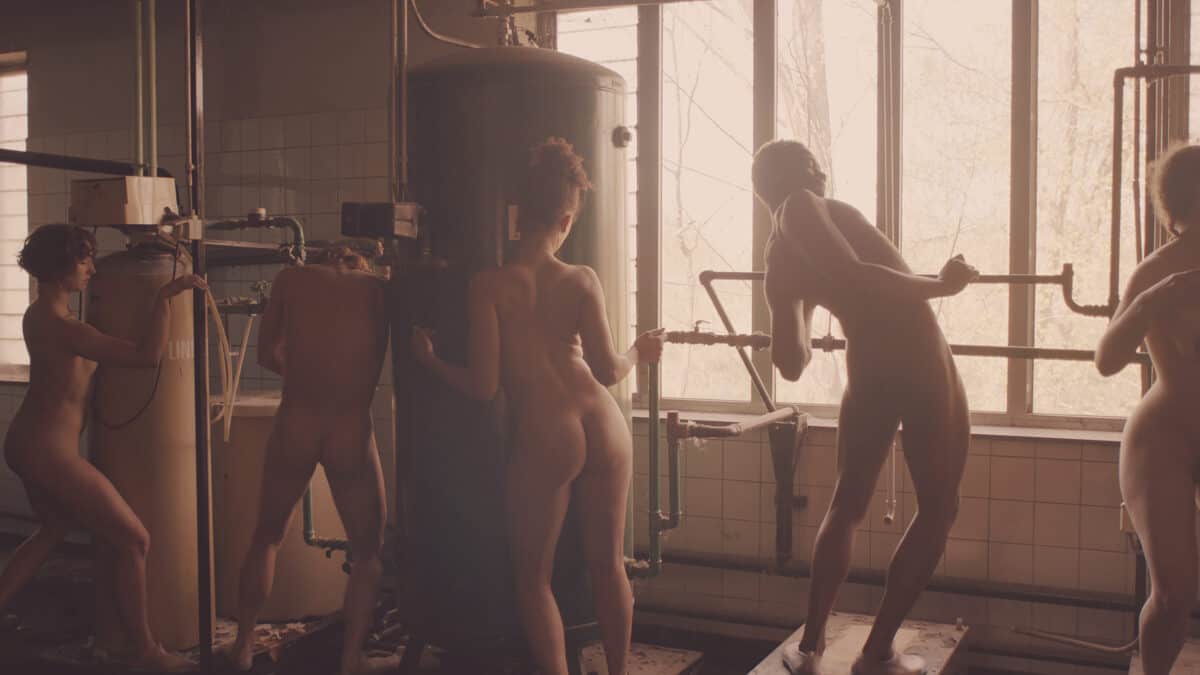 Inspired by Ndiritu's own experiences in New Age communities, The Ark (2017) was an experimental research/live art project that invited participants to develop radical new ways of addressing contemporary global issues and an artistic model for an off-grid community within an urban setting. In COVERSLUT© (2018), a fashion and economics research project, Ndiritu worked with refugees, migrants and young artists to create a PAY WHAT YOU CAN clothing line dedicated to issues of class, race and gender.
In 2012 Ndiritu took the radical decision to reject urban life and consumerism and to live a nomadic existence, in rural, alternative and often spiritual communities. Since then she has lived in both Thai and Tibetan Buddhist monasteries, permaculture communities in New Zealand, with forest tree dwellers in Argentina, neo-tribal festivals such the 'Burning Man' in Nevada, a Hare Krishna ashram and the 'Findhorn' New Age community in Scotland.
Grace Ndiritu was chosen from a distinguished shortlist of artists including Jamie Crewe, Onyeka Igwe, Morgan Quaintance, Rosa-Johan Uddoh and Alberta Whittle. She receives £10,000 prize money.
With a highly individual filmmaking practice underpinned by a strong commitment to political, social and spiritual values, the jury were impressed by Grace Ndiritu's moving image practice, within a body of work that spans books, films, installation and performance. Her broad and prolific practice carries a distinct stylistic signature in work that is sincere and genuine, that both provokes and entertains. The jury commended the complex and nuanced ways that issues such as mental health and the ramifications of climate change are interwoven into her two most recent films Black Beauty (2021) and Becoming Plant (2022), deftly directed with an innovative understanding of film form.

Members of the Jury
The 2022 Film London Jarman Award was introduced by artist and filmmaker Heather Phlliipson, winner of the Film London Jarman Award in 2016.
The Jarman Award, established in 2008, celebrates the diversity and creativity of artists working in film today, and is run in partnership with the Whitechapel Gallery.
Nominated by experts across the UK film and contemporary art sectors, the Jury who selected this year's shortlist are: Iwona Blazwick OBE, Emeritus Curator, Whitechapel Gallery; Matthew Barrington, Cinema Curator, Barbican; Shaminder Nahal, Commissioning Editor, Arts and Topical, Channel 4; Artist and 2021 Jarman Award Winner, Jasmina Cibic and Nicole Yip, Chief Curator, Nottingham Contemporary and Film London Board Member.
About the artist
Grace Ndiritu is a British-Kenyan artist whose artworks are concerned with the transformation of our contemporary world.
Her work is also housed in museum collections such as Los Angeles County Museum of Art, The British Council, The Metropolitan Museum of Art, New York, Modern Art Museum, Warsaw and private collections such as the King Mohammed VI, Morocco and Walther Collection, New York and Germany.
Her work has been commissioned by British Art Show (2021), Coventry Biennial (2021), Nottingham Contemporary (2021), Lubumbashi Biennale (2019), CAG Vancouver (2018), Glasgow School of Art (2015), MACBA, Barcelona (2014), Bluecoat Gallery, Liverpool (2010) and Glynn Vivian Gallery, Wales (2006).
Recent solo exhibitions and projects include, Kunsthal Gent (2021), Bluecoat, Liverpool (2019), Glasgow School of Art (2015), La Ira De Dios, Buenos Aires (2014), Chisenhale Gallery, London (2007), the 51st Venice Biennale (2005) and Ikon Gallery, Birmingham (2005).
Her debut short film Black Beauty has been selected for prestigious film festivals including 72nd Berlinale in the Forum Expanded section (2022) and 32nd FIDMarseille (2021).
Recent group shows include the British Art Show (2021/2022), Coventry Biennial (2021), Nottingham Contemporary (2021), Museum Arnhem, Netherlands (2020), Fondazione Sandretto Re Rebaudengo, Torino (2020), Freelands Foundation, London (2019) Eastside Projects, Birmingham (2018), Bluecoat Gallery, Liverpool (2017), CAMH, Houston Texas (2015), MAC International Art Prize, Belfast (2014), 9th Bamako Biennale (2011), International Center of Photography, New York (2009), 8th Dakar Biennale (2008).
Recent performances and screenings include Musée d'Art Moderne de Paris (2021), Africa Museum, Tervuren, Belgium (2019), Fundació Antoni Tàpies, Barcelona (2017), Laboratoires d'Aubervilliers, Paris (2016), Glasgow School of Art (2015), Galveston Artists Residency, Texas (2015), Museum Modern of Art, Warsaw (2014), Musee Chasse & Nature and Centre Pompidou, Paris (2013).
Her experimental art writing and images have been published Bergen Kunsthall, Whitechapel Gallery: Documents of Contemporary Art, The Paris Review, Le Journal Laboratoires d'Aubervilliers, Animal Shelter Journal Semiotext(e) MIT Press, Metropolis M art magazine and Oxford University Press.
About the Jarman Award
The Film London Jarman Award recognises and supports artists working with moving image and celebrates the spirit of experimentation, imagination and innovation in the work of UK-based artist filmmakers. The Award is inspired by visionary filmmaker Derek Jarman.
Now in its fifteenth year, the Award has built an enviable reputation for spotting rising stars of the UK art world. Previously shortlisted artists include Heather Phillipson, Lawrence Abu Hamdan,Oreet Ashery, Duncan Campbell, MonsterChetwynd, LukeFowler, Imran Perretta,Charlotte Prodger, Laure Prouvost, Elizabeth Price, James Richards,and Project Art Works all of whom went on to be shortlisted for or to win the Turner Prize.
Categories
Tags