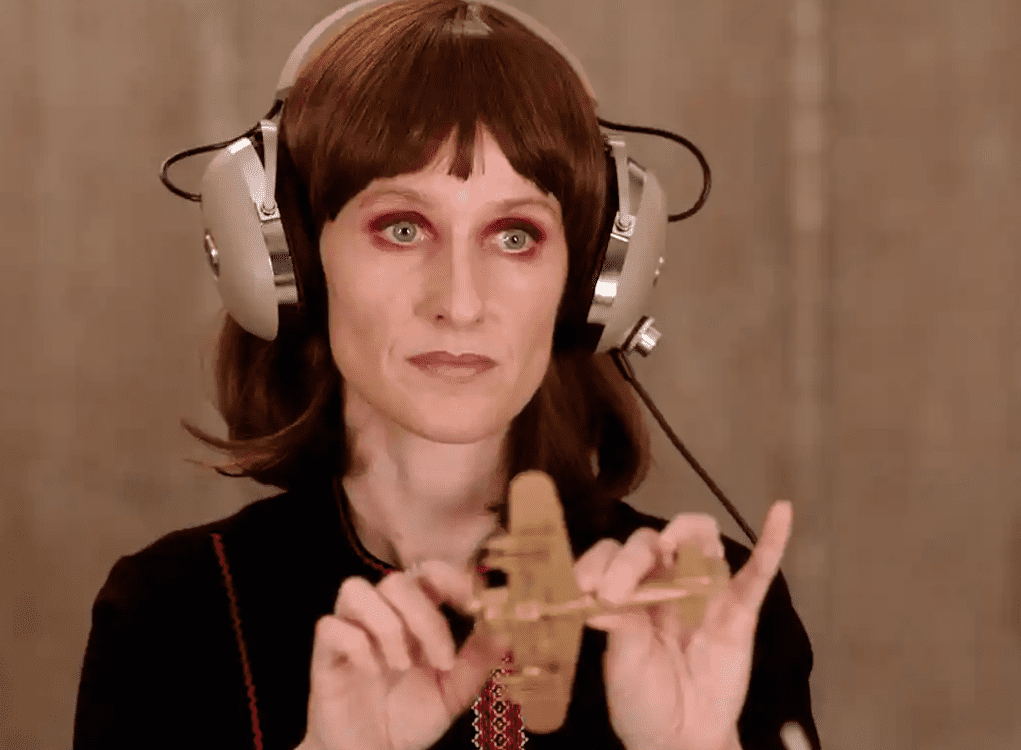 Jasmina Cibic has won the 2021 Film London Jarman Award. Jasmina Cibic works across moving image, sculpture, immersive installation and performance.  Her stylish, theatrical work tackles important global issues including national identity, nation building, soft power and European relations. Set in monumental architectural locations from Oscar Niemeyer's French Communist Party Headquarters in Paris to the Palace of Nations in Geneva, Cibic uses actual transcripts of real political debates and speeches to form the dialogue of her film works. Cibic frequently uses dance performance in her film works and has collaborated with choreographers and dancers on several projects, including Nada and The Gift.

In her 2019 – 2021 work, The Gift, Cibic presents an allegorical tale, a competition between an Artist, a Diplomat and an Engineer to determine which of the arts would be the most likely to heal a divided society. The candidates are interviewed by four women who represent the four freedoms listed by Roosevelt in his Four Freedoms speech of 1940 – Freedom of Speech, Freedom of Worship, Freedom from Want and Freedom From Fear. The Gift explores particular historic examples of political gifts of architecture, art, music and dance and untangles the seductive and sinister nature of the crossovers between culture and politics. In her work Nada (2016 – 18), Cibic examines three of European modernism's star architects and the role their work has played in national representation during decisive moments in European history. These include Vjenceslav Richter's unrealised design for the Yugoslav Pavilion at the Brussels World Exhibition in 1958, Arne Jacobsen's Aarhus City Hall (1937-1942) and Mies van der Rohe's Krefeld architecture of the 1920s. Jasmina Cibic receives £10,000 prize money.
"After the adversity faced over the past year, it is vital that we continue to protect and support artists to challenge perceptions, push creative practices and have their voices – and those of the communities they represent – heard. Now in its fourteenth year and excitedly returning as a physical event as well as an online presentation accessible to audiences across the UK, we are thrilled to be able to spotlight six incredible artists who truly reflect the spirit of Jarman, celebrating experimentation, imagination and innovation. Our congratulations go to Jasmina and indeed all of the shortlisted artists – we look forward to seeing what the future holds for them. A sincere thank you goes to our funders, Arts Council England, returning partner Whitechapel Gallery and our Film London Jarman Award Patrons for all their on-going support."

Adrian Wootton, Chief Executive of Film London and the British Film Commission
The Jarman Award, established in 2008, celebrates the diversity and creativity of artists working in film today, and is run in partnership with the Whitechapel Gallery, with support from Genesis Cinema.
Nominated by experts across the UK film and contemporary art sectors, the Jury who selected this year's shortlist are: Iwona Blazwick OBE, Director, Whitechapel Gallery; Amal Khalaf, Director of Programmes at Cubitt, London and Projects Curator at the Serpentine Galleries; Shaminder Nahal, Commissioning Editor, Arts and Topical, Channel 4; Artist and 2020 Jarman Award Winner, Larissa Sansour and Tyrone Walker-Hebborn, Director, Genesis Cinema.
About the artist
With a practice spanning performance, installation and film, Jasmina Cibic considers how ideologies and cultures are constructed and then framed through mechanisms such as art and architecture. Her work explores the construction of national culture and how it can be used for political aims, and looks at forms of soft power.
Jamina Cibic has shown work at Baltic Centre for Contemporary Art, Cooper Gallery, Dundee, DHC/ART Fondation pour l'art contemporain, Montreal and MOCA, Belgrade. She represented Slovenia at the 55th Venice Biennale and recently had a major solo show at mac Lyon. Jamina Cibic was born in in Ljublijana in 1979 and now lives and works in London.
Categories
Tags