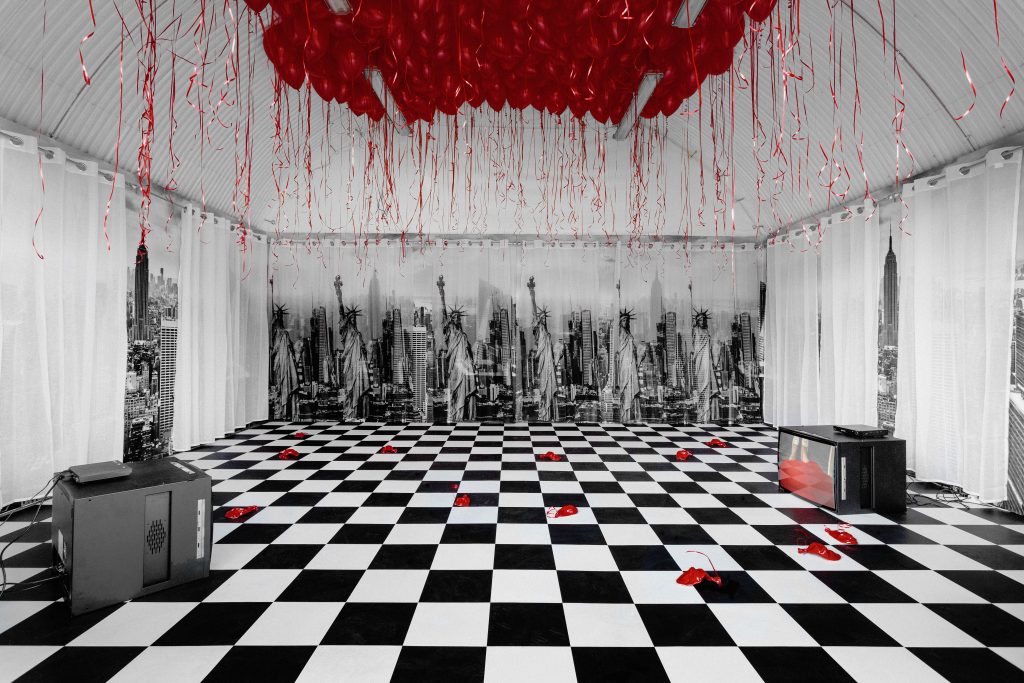 Installation View of Labour Dance by Amalia Ulman at Arcadia Missa, 1st October-5th November 2016
Crimson balloons festooning the ceiling, a black and white checkerboard dance floor under foot, shimmery white curtains partially covering views of the Manhattan skyline… I could be walking into a cocktail party of an Upper East Side socialite married to a one-percenter. Instead, I find myself in the gallery space of Arcadia Missa under the railway arches in Peckham for Amalia Ulman's latest solo show entitled Labour Dance (until 5th November 2016).
Ulman, an LA-based Argentinian artist who grew up in Spain before moving to London to attend Central St Martins art college, is widely known for her Excellences and Perfections durational Instagram performance in 2014 where she played the part of a beautiful, vacuous young woman in LA doing the things that beautiful, vacuous young women do in LA: shopping, dating, exercising, having a boob job – all documented daily by selfies taken with her blinged-out iPhone camera. Call her the Kim Kardashian of the art world. As the vanguard of the social media performance practice, Ulman has taken to Instagram once again this year for a six-month performance entitled Privilege where a purportedly pregnant Ulman and her pet pigeon Bob mime office politics from her studio in a downtown LA block of offices filled with lawyers, accountants and beknownst to them an art world superstar.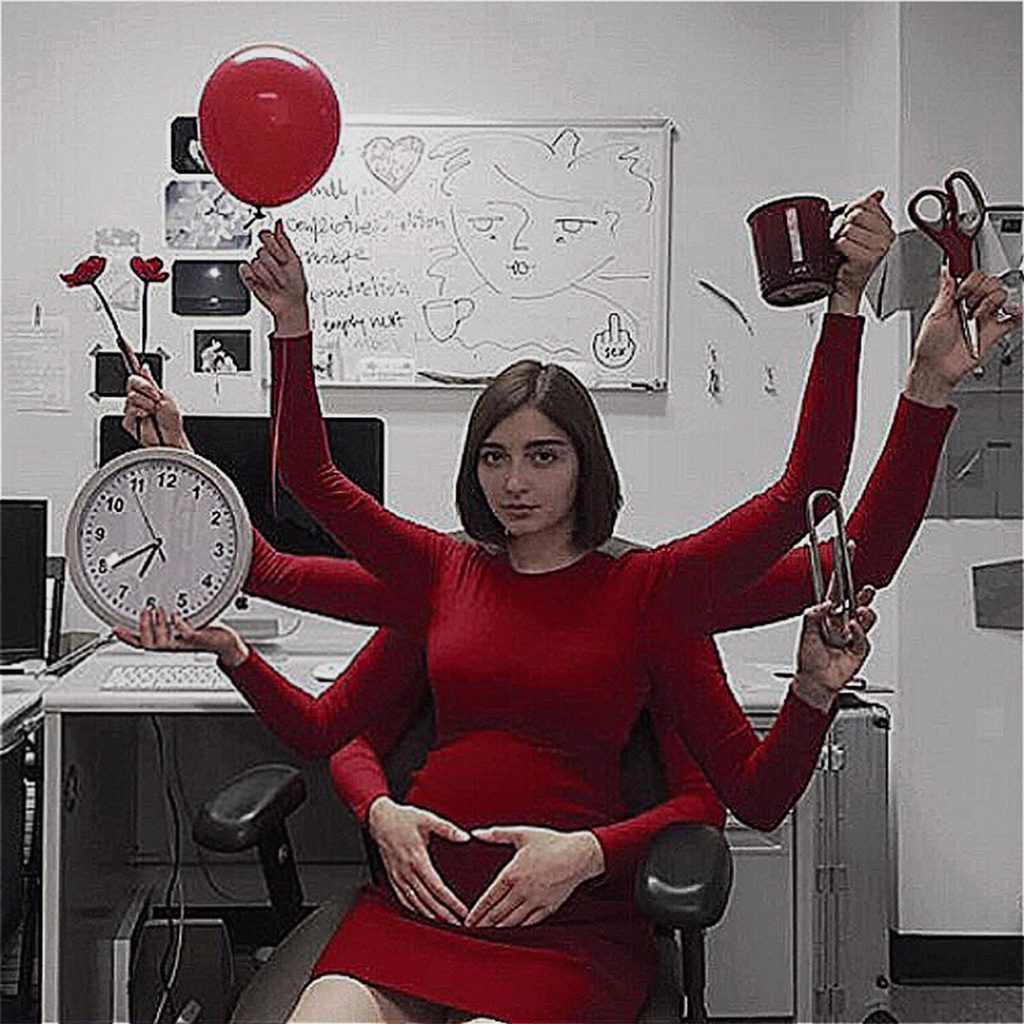 Amalia Ulman, Privilege 9/16/2016, 2016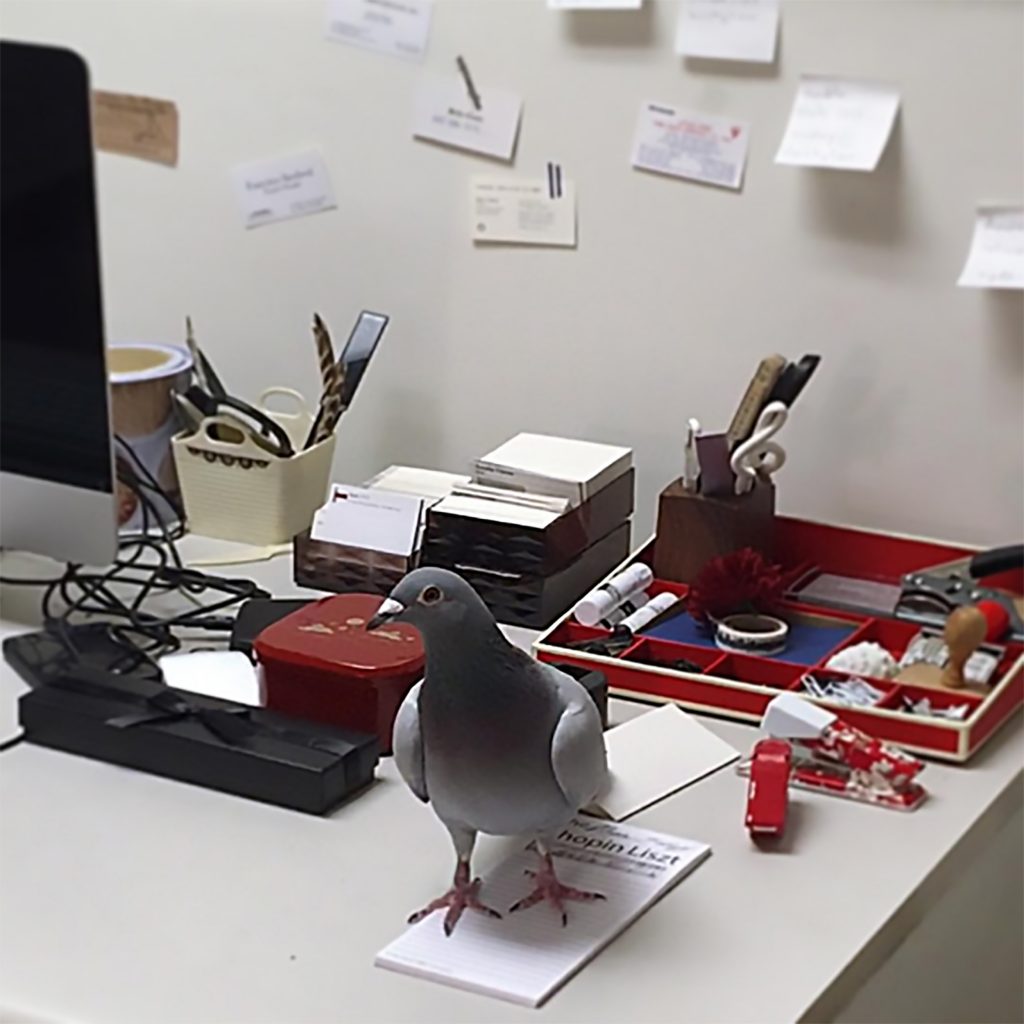 Amalia Ulman, Privilege 1/6/2016, 2016
Whether Ulman's feathered co-star is her boss, colleague or alter ego is open to interpretation. Each Monday, Ulman posts a hand-drawn cartoon inspired by New Yorker cartoonist Charles Barsotti of the artist dressed as a clown with Bob often perching on her head.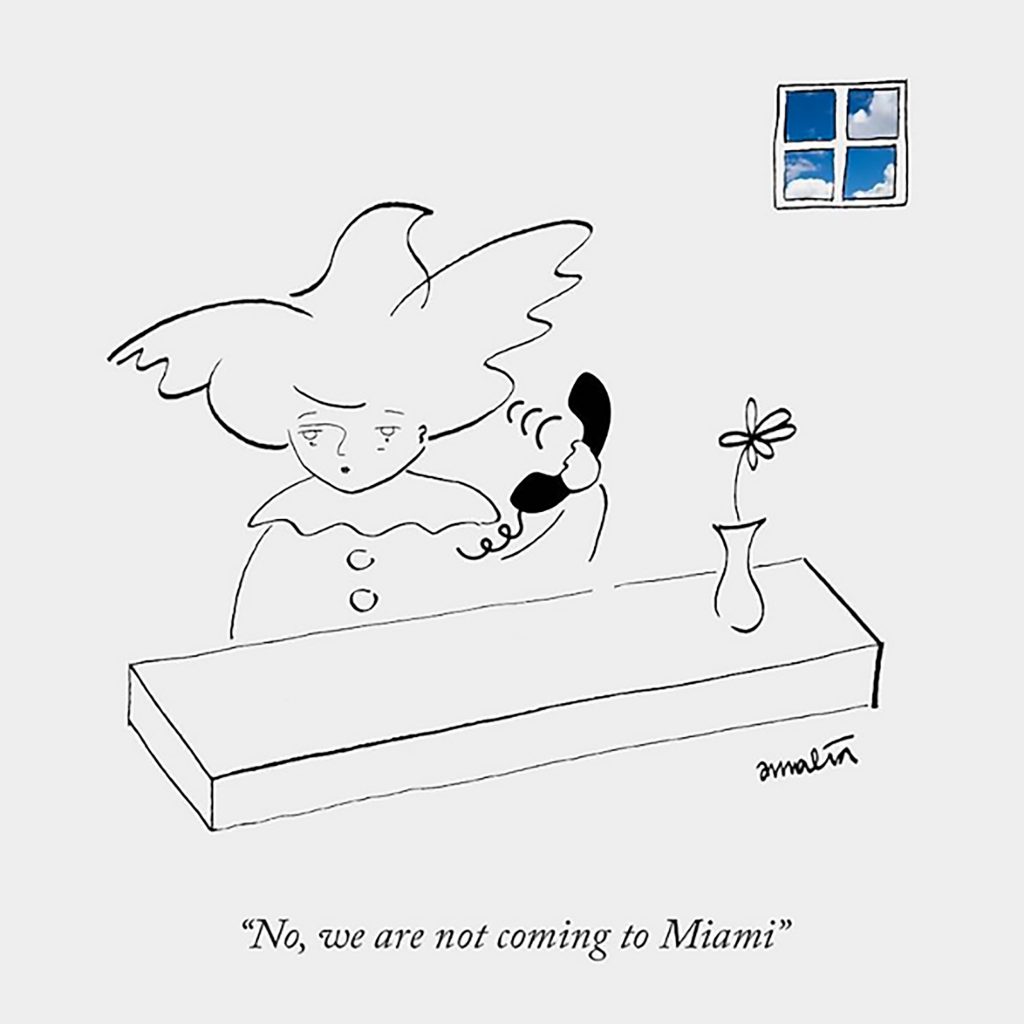 Amalia Ulman, Privilege 12/4/2015, 2016
Going IRL from URL is often tricky but Ulman pulls out all the stops for this exhibition, creating an immersive installation in a square space that mimics the format of her Instagram feed that is diligently followed by 126,000 people and counting. A coherent colour scheme runs throughout the online artwork and gallery space as if the artist was advised by a corporate branding executive – white, black, red and shades of grey.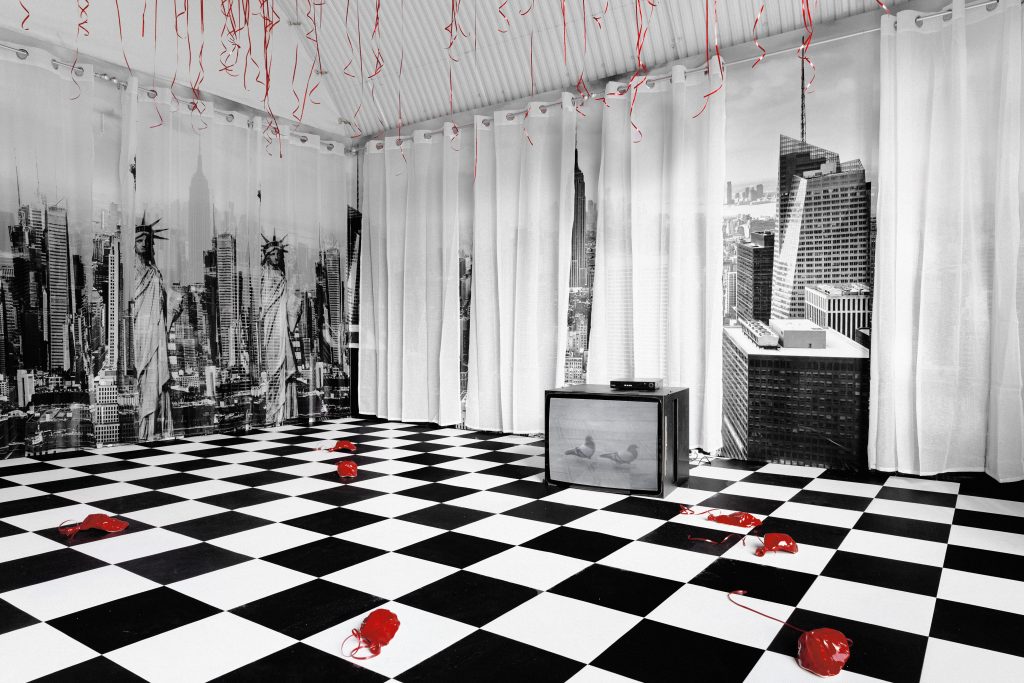 Video clips from her Instagram performance are looped on two chunky TV screens placed on the floor of the gallery, largely critiquing the dominant aesthetic of power and legitimacy that drives today's capitalist engine forward. Deflated red ceramic balloons are scattered around the space, referencing the state of a woman's breasts post-childbirth. The 'labour dance' of the exhibition's title becomes clear when I glance at the press release that features headlines and social media feeds about pregnant women 'dancing their babies out'. One headline particularly piques my interest: "Pregnant Lady Twerks til her water breaks TOO FUNNY". With Ulman's Privilege performance due to end on election day in America, I cannot help but wonder what the climax will be: Ulman dancing to Beyonce's 'Single Ladies' and giving birth to a miniature Donald Trump covered in grey feathers?
With museum shows at Tate Modern and Whitechapel Gallery earlier this year, Ulman returns to London, all dressed in red and turning her nose up at capitalist society's obsession with slaving away in office cubicles to afford the 'Gucci lifestyle' of celebrity culture. Make sure you do not miss this exhibition.
Instagram: @marcelle.joseph
All Photos: Courtesy of the artist and Arcadia Missa
About the Artist
Amalia Ulman (born 1989, Argentina) lives and works in Los Angeles, CA after graduating from Central St Martins in 2011 (BA Fine Art). Recent solo exhibitions include: James Fuentes, Los Angeles (2016); James Fuentes, New York, Mama, Rotterdam, and Utah Museum of Contemporary Art, Salt Lake City (all 2015); LTD, Los Angeles and Smart Objects, Los Angeles (both 2014); Marbriers4, Geneva, Future Gallery, Berlin, and Steve Turner, Los Angeles (both 2013). Selected group exhibitions include: Berlin Biennale, Berlin, Performing for the Camera, Tate Modern, London, and Electronic Superhighway, Whitechapel Gallery, London (all 2016); The St. Petersbourg Paradox, Swiss Institute, New York, Poetry will be made by all, LUMA FOUNDATION, Zurich, and DISOWN, RedBull Studios, New York (all 2014). Ulman's work will be presented by Arcadia Missa at Paris Internationale 2016 (19-23 October 2016).
Categories
Tags