Marco Lusini, a prolific artist born in Siena in 1936, joined the highly-respected artistic circle in Florence during the 60s and 80s led by poet, writer Mario Luzi and his career blossomed. Lusini was invited to some of most prestigious galleries in Italy and abroad at that time. However, his name is hardly known outside the art historians circuit due to his eclectic career. Lusini was a painter, photographer (employed by the prestigious Bazzechi studio), sculptor, and a book illustrator among other artistic endeavours. As part of the 1st WAS Biennale, Be My Guest, which only takes place in private flats and spaces and to commemorate the 27th Anniversary of his death, the film art director and curator, Laura D'Asta, has organised a solo show by Lusini in a secret location in Notting Hill. The full address will only be revealed by an email request and a personal and more intimate introduction to his works will be granted.
Marco Lusini as photographer on location – Florence 1960s. Private collection. Courtesy the Estate of Marco Lusini.
The Pisa based Art historian, critic and former director of the Siena Pinacoteca Nazionale, Enzo Carli, described him as: "I am certain that the voice of this singular artist and his dramatic, ambiguous message are destined to find a profound resonance in the tormented spirit of our age". It seems that the time is right for the world to understand this truly Renaissance man who never conform to labels and categories and always remained committed to his practice whatever the consequences. Lusini taught us humanity, in great need in this 'we don't want refugees" era, and sympathised with the contradictory human nature with new cities expanding that promoted loneliness for an animal, us, that needs to function in herds. Isolation is a term he constantly recurred to as something unavoidable for mankind. Perhaps, he sensed the solution was going back to nature as his latest paintings blended bodies in landscapes. At some point, it is hard to differentiate the rock from the individual.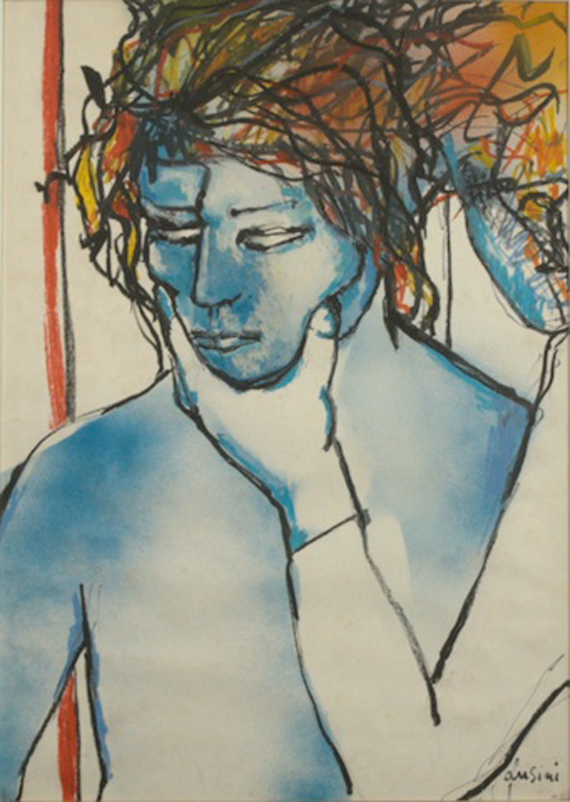 Untitled – Lovers (1972), Mixed Media. Private collection. Courtesy the Estate of Marco Lusini.
D'Asta, the curator, has kindly agreed to respond to the following questions:
Can you please tell us a bit about your background?
I am an independent cross-interdisciplinary, versatile filmmaker, art director and curator. A BAFTA Crew and TorinoFilmLab alumna, I extensively work on various multi-award-winning UK and international independent productions, including theatre and dance. All my work has been screened and awarded worldwide at major film festivals, as well as art galleries like Somerset House. I am the curator of Marco Lusini: The Colours of the Human Soul, the first retrospective about the Italian artist Marco Lusini.
Did you personally meet him? How was he like?
Yes, I did. Marco was very close to my family and I, to the point that he treated me like his own daughter. I owe him my passion for visual art and the arts in general. Marco used to visit my family frequently in Sicily. He was a visionary who sincerely believed in the importance of staying true to one's own artistic values and visions.
Why a show by Marco Lusini now?
Italian art has been raising a lot of attention in recent years, particularly the Post-War artists from 60s-80s, allowing the audience to rediscover, or discover, artists such as Marco Lusini. As a friend and artist, I feel the urge to let him and his art speak and shine again, spread his message and be able, at the same time, to reunite his close friends, collaborators and collectors. Lusini's style has been defined as 'moral realism' (Elvio Natali), for his desire to be involved in the story of one's own time which makes his art timeless.
Why did you decide to accept the invitation to be part of the 1st WAS Biennale (Worldwide Apartment and Studio)? Why in a private setting and not in a public art gallery?
For the 2nd London show of Marco Lusini I'd been looking for an event which would go beyond the traditional settings. The exhibition is going to be held in a private location, in the heart of Notting Hill area. A location chosen to create a link between the intimacy of the artist's work and the intimacy of the space itself.
What are your projects for the future? How can people collaborate if they wish to?
I'll focus on developing Lusini Project as art interdisciplinary project, developed throughout the next 2-3 years and across two continents and seven countries for which I'll be fundraising. It will eventually end in a film documentary.  
I'd love to hear from collectors, art dealers and anyone who might have met Marco to share their stories. Together with the solo exhibitions, I'm also interested in including Lusini's work in modern art collective exhibitions. 
Marco Lusini: The Colours of the Human Soul will take place in Notting Hill, London, from the 3rd to the 10th of October 2016. Open by appointment only. Please contact Laura D'Asta on infomlusiniexhibit@gmail.com
Frieze was founded in 1991 by Matthew Slotover and Amanda Sharp, with the launch of frieze magazine, the leading international magazine of contemporary art and culture. In 2003, Sharp and Slotover launched Frieze London art fair, which takes place each October in The Regent's Park, London. In 2016, the fair will take place a week earlier. Coinciding with Frieze Masters, it will be open to the public from 6–9 October. It has become the most prestigious and important art fair for Modern and Contemporary Art in London today.
For more information about the exhibition and WAS Biennale, please visit the following web: http://www.wasbiennale.com/programme_2016/marco-lusini/
For more information about Marco Lusini, please visit his entrance at the Encyclopaedia Treccani here.
© 2016 Estate of Marco Lusini, courtesy of Massimo Lusini. All rights reserved.
Categories
Tags