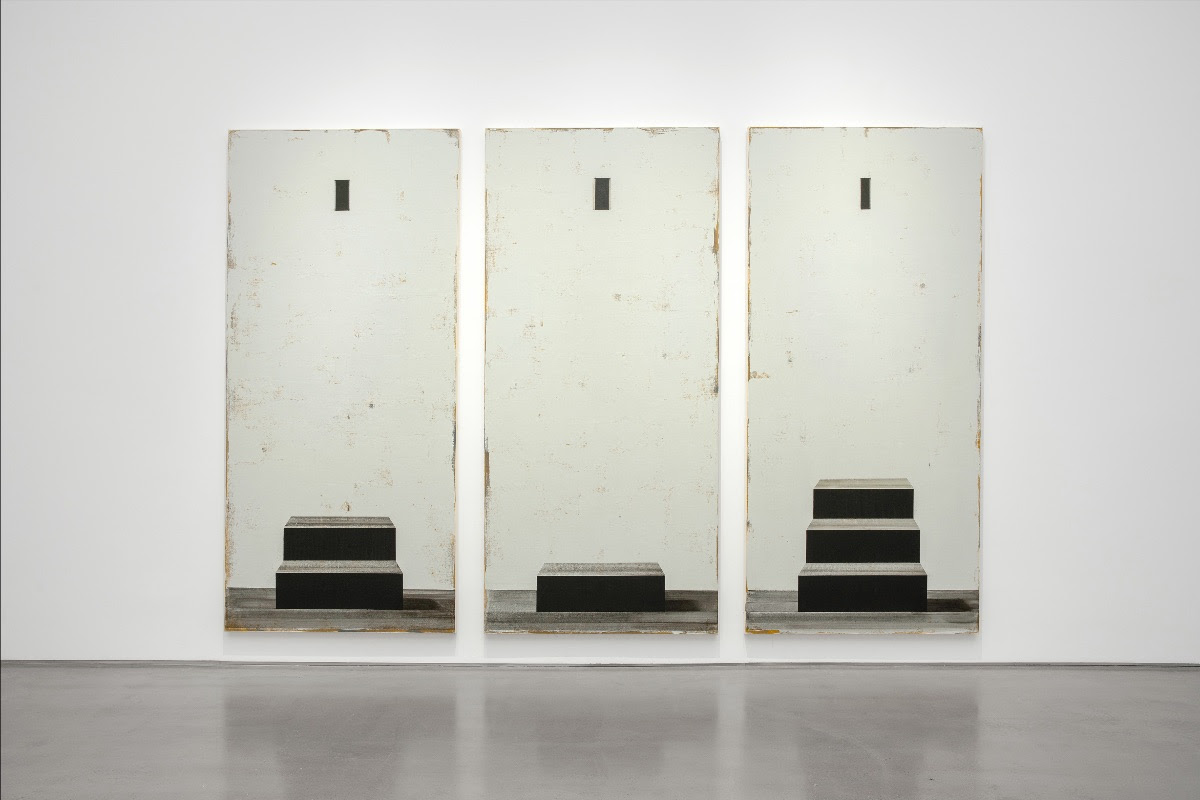 Modern Art has announced the representation of Michael Simpson.
Over the past five decades, Simpson has become known for an ongoing series of large-scale paintings that revisit a small number of rigorously selected motifs. The artist's admiration for fifteenth-century Venetian and early Flemish painting has inspired a unique painting language, characterised by its austerity, use of repetition and a concern with surface.
Reduced to the most essential geometric forms, Simpson's soaring paintings of ladders, levitating benches and confessional boxes, each reflect his long-held belief in the 'infamy of religious history.' Often vast in scale, Simpson's paintings have maintained an aesthetic position over decades, one in which solitary objects often appear to levitate within a shallow painted space, others rooted to the ground, casting shadows. These architectural objects, such as pulpits, confessional boxes, Islamic Minbars, as well as steps and ladders, confront existential and political themes, especially the subject of faith. Each work is painted with a potent economy.
In the Leper Squint series, what might first appear to be a recurring reference to the black square of Kazimir Malevich, is in fact a geometric depiction of a hagioscope, or a 'squint'. These small architectural details (or 'apertures' as the artist has called them) are rectangular or square holes positioned in the exterior walls of medieval churches, for the purpose of allowing lepers to see and hear the sacraments without being amongst the congregation.
Simpson's ongoing bench paintings, which he started painting in 1989, are concerned with the Italian Renaissance philosopher Giordano Bruno, who was burnt alive in 1600 for heresy. Bruno was known for his vision of an infinite universe, and for publicly espousing Copernicus' theory that the earth revolves around the sun. Bruno's death, after seven years of inquisition and torture by the Catholic church, typifies the extreme cruelty found throughout religious history, a profound theme that has endured throughout the artist's entire oeuvre.
Michael Simpson was born in 1940 to Anglo-Russian parents. He lives and works in Wiltshire. He has been the subject of solo shows at the Serpentine Gallery London, Spike Island, Bristol, David Roberts Foundation, London, and Minsheng Museum, Shanghai. His work is held in many collections including Tate and the Louisiana Museum of Modern Art. In 2016 he was awarded the John Moores Painting Prize.
His first solo show with Modern Art will open in January 2024. modernart.net
Categories
Tags