There has been a lot of talk regarding neon art of late, A current exhibition at the Grundy museum in Blackpool, entitled – Neon: The Charged Line, features some of the biggest names who work in this striking medium, including of course Tracey Emin, Gavin Turk, Martin Creed and Joseph Kosuth.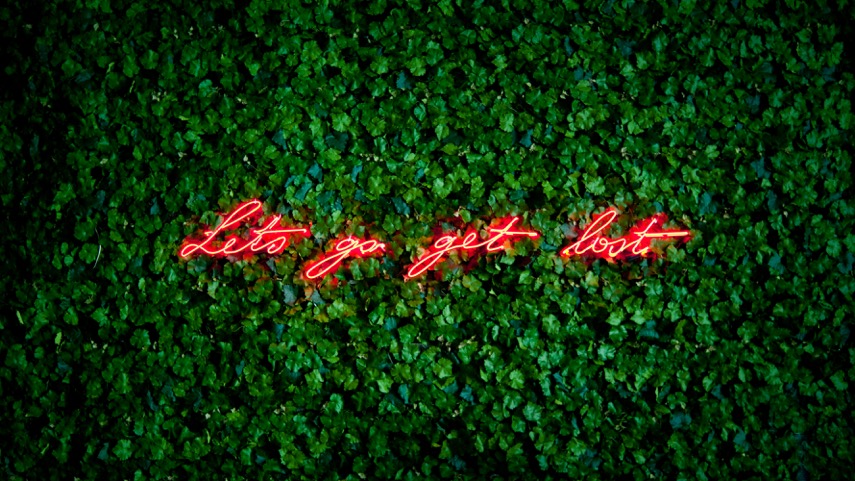 Olivia Steele: Lets Go Get Lost, 2012
Of course Tracey Emin's personal and provocative neon text pieces have been seared into art consciousness, exploring the boundaries between private and public.
But there is a new generation of artists who have taken up the baton of this medium, reinventing and reconfiguring neon work to speak directly to the concerns of a new audience.
One artist leading this field is Olivia Steele, a Berlin based American artist whose work in neon and signs have been gaining a lot exposure in Europe and beyond. Her work delves into the spiritual and philosophical, at times using natural elements, fabric and found objects. This is a departure from the raw and the visceral motifs that often define Emin's work. Steele makes work that lends itself to public installations and outdoor interventions, artwork that has a dialogue and interaction with their surroundings. In Steele's own words,
"my art is not about what I see… Its about what I invite you to see."

Olivia Steele :There are Far Better Things Ahead Than any We Leave Behind, 2013
Her cool linguistic and cultural deconstructions are seductive and clever, profound and witty observations that are based on a deep understanding of the human condition. The pieces have a resonance, which impact the viewer on an existential level, asking questions as well offering affirmations. They are also deeply personal, expressing the innermost desires and aspirations of the artist.
Olivia Steele is one of the most intriguing and sought after artists of her generation and her along with other female neon based artists such as Jung Lee and Leila Pazooki are pushing forward the medium into an exciting new realm of possibilities.

Olivia Steele What You Seek is Seeking You …2016 Burning Man
Most recently, her work was featured in Burning Man festival at Black Rock City to great aplomb: The feature neon installation piece entitled – 'What You Seek Is Seeking You', received massive critical acclaim and was voted as one of the top 7 pieces of artworks for the whole festival. Olivia also displayed a series of signage that peppered the desert with double entendres such as "Forgive Yourself", "Love Yourself" and "Everything You Can Imagine Is Real".

Olivia Steele I Fell 4 You, 2016
Beyond the exhibition at the Grundy Museum, the Lights of Soho recently put out an open call for artists working in neon. FAD's Mark Westall is curating this exhibition with the opening taking place on 28th September.
Olivia Steel is represented by Circle Culture Gallery in Berlin and this weekend, she is opening her studio for a
"Neon Art and Sound Healing Journey"
for Berlin Art Week.

Olivia Steele I Dream of You in Colors that Don't Exist, 2015
Categories
Tags