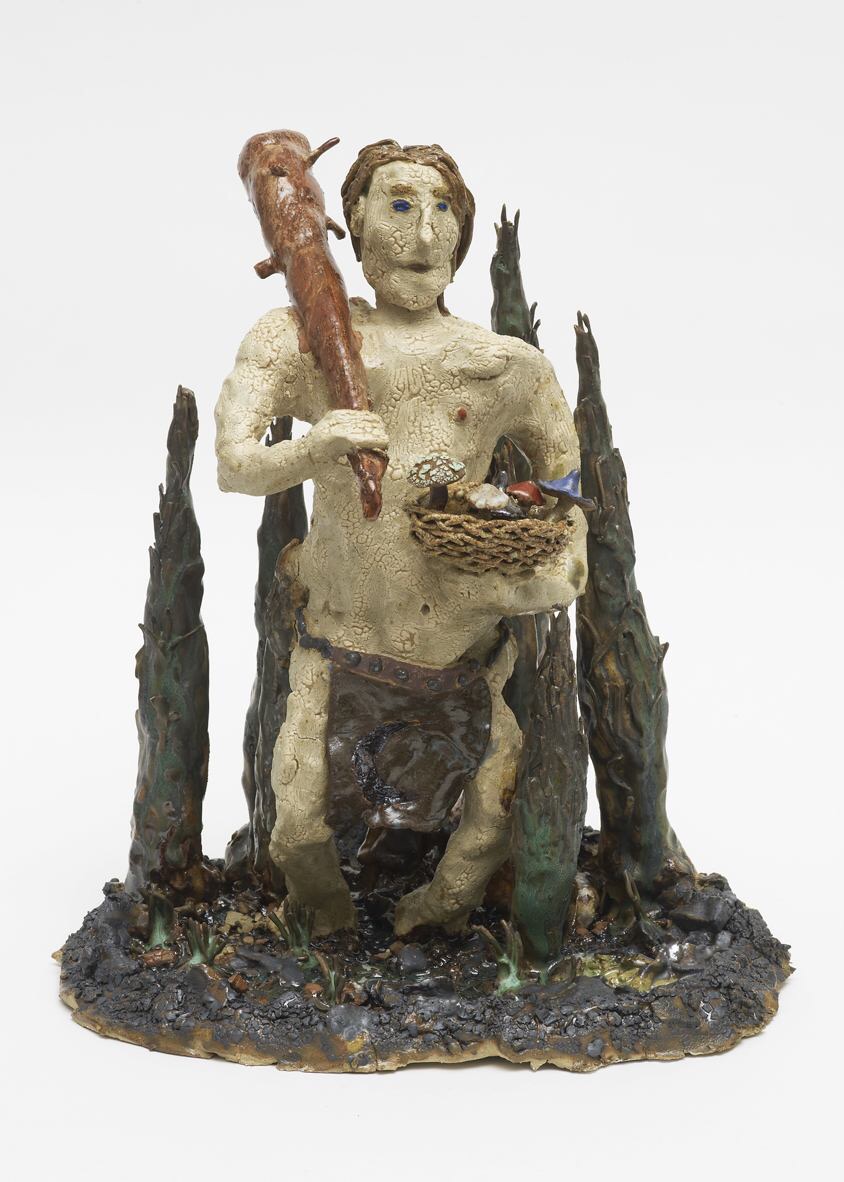 Angell works primarily with ceramics, producing sculptural tableaux referencing hobbyist cultures, naturalistic forms, and the underground hand built ceramics of Britain from the 1970s and 80s.
Ceramics is an overlooked medium brought into prominence by artists such as Grayson Perry, whose classically formed vases incorporates contemporary motifs, using a range of techniques which highlight his social concerns, formative experiences and to tell the story of his alter ego, Claire.
Perry brought ceramics into an art context and Angell is one of the next generations of artists working in the medium, his glazed, miniature landscapes and assorted mythological figures, have a hallucinatory quality. They appear strange and fantastical, containing a weird and wonderful narrative.
Angell plays upon his own biographical background fusing it with fantasy and fabrication. The artwork appears amateurish and has a sense of the vernacular, but the artist resists this label as he states:
'I am interested in certain hermetic, hobbyist cultures where there is a difficult mixture of canonical and fantasized history'.
The artist is one of group of contemporary artists that work in ceramics pushing the medium to the foreground of artistic practice; such artists include Jesse Wine, Ron Nagle, Klara Kristalova, Cameron Jamie, Sterling Ruby, Shary Boyle and Gudmundur Thoroddsen.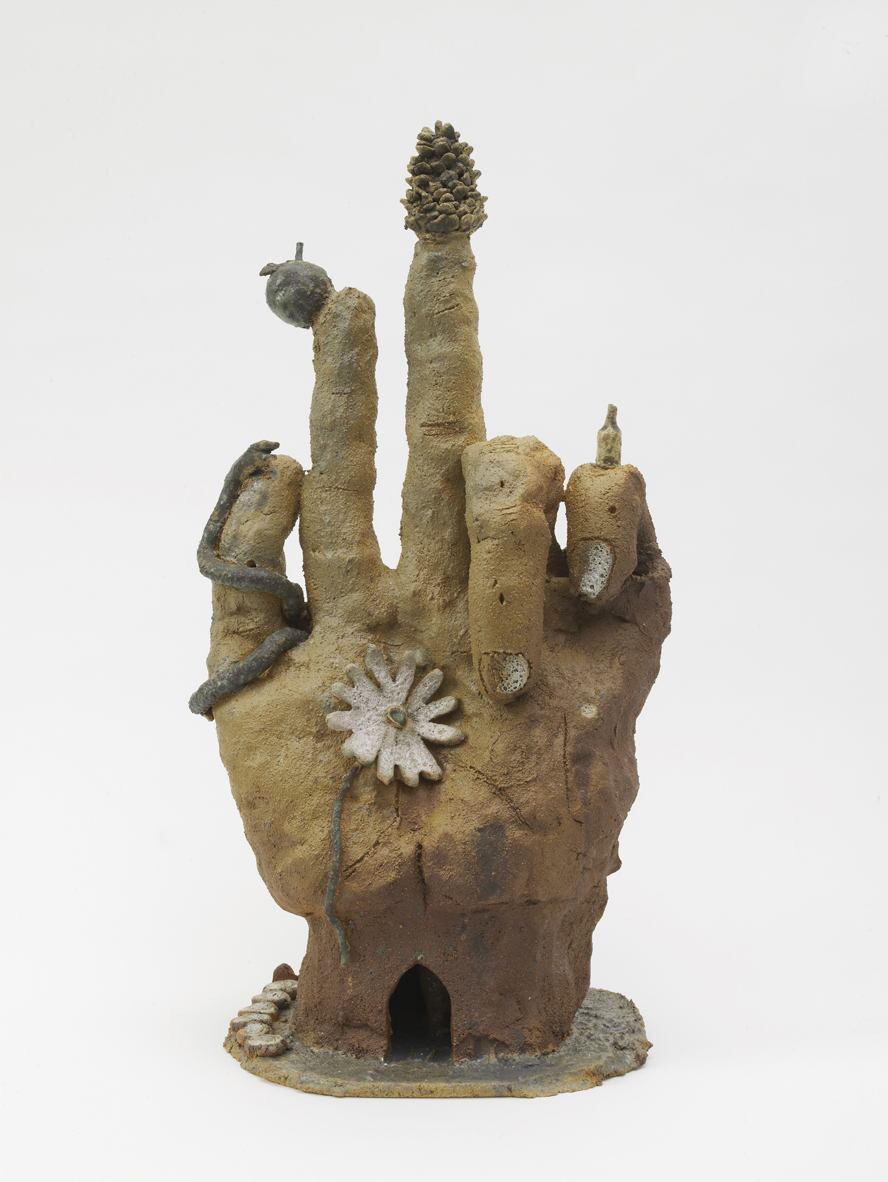 About The Artist
Angell was born (1987) in Kent and lives and works in London. He has had solo exhibitions at Studio Voltaire, London (2015), SWG3, Glasgow (with Jack Bilbo) (2013), Rob Tufnell, London (2012), Croy Nielsen, Berlin, Germany (2012), SPACE, London (2011), and Focal Point Gallery, Southend-on-Sea (2011). His work has also been shown at Kestnergesellschaft, Hanover, Germany, CCA Ujazdowski Castle, Warsaw, Poland, Palais de Tokyo, Paris, France, Künstlerhau, Stuttgart, Germany, Nevada Museum of Art, Reno, USA and Centre for Contemporary Art, Glasgow. He studied at Slade School of Art, London. He was also selected for British Art Show 8 and was in the group show VG award at Annely Juda. He has a solo show coming up next year at GOMA, Glasgow and will be the artist in residence at the Tate St. Ives. Angell is also the founder of Troy Town Art Pottery, a 'psychedelic workshop for artists'.
He is represented by Rob Tufnell.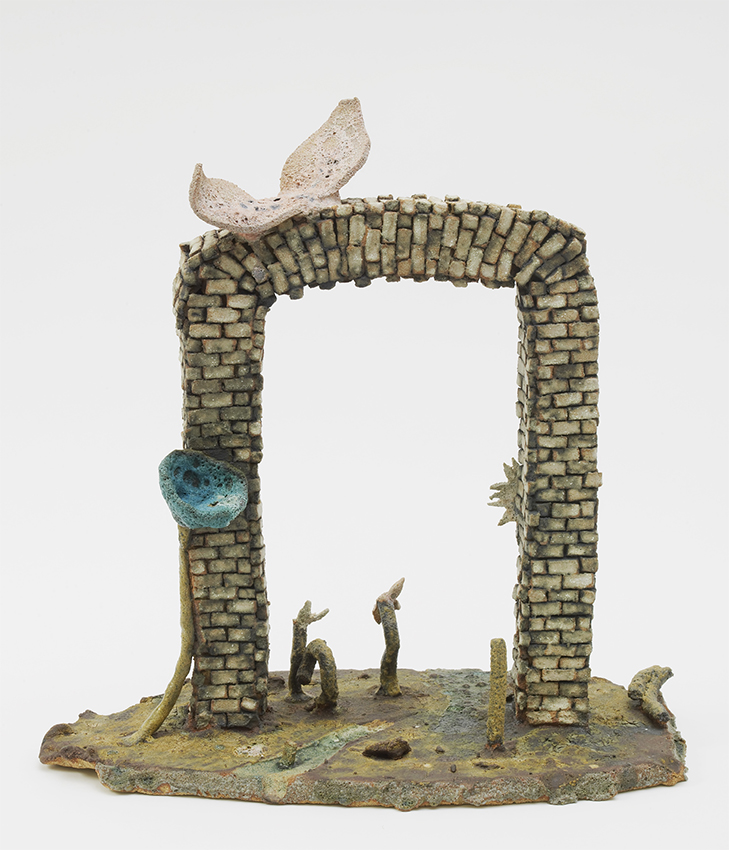 Categories
Tags