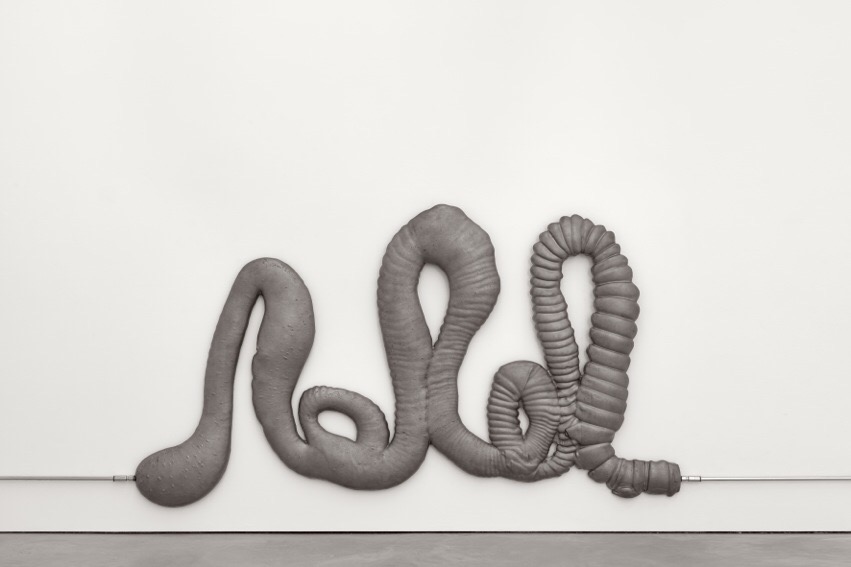 London-based artist Nicolas Deshayes creates some heat at his debut solo show, Thames Water, at Stuart Shave/Modern Art in London (1st – 24th September 2016).
Upon entering this gallery space housed in former printing works in Clerkenwell, you immediately notice metres and metres of industrial silver piping running across the walls of this pristine white cube with peaked skylights providing lashings of sunlight against the minimalist interior. On closer inspection, these amorphous anatomical concrete-grey protuberances pop into focus, scattered here and there on the walls like three-dimensional drawings made of cast iron. Once you get closer, you feel the heat emanating from these uncanny objects. The epidermis of these warming sculptures is bumpy and scarred, with their forms resembling flattened earthworms or the small intestines of the human alimentary canal. Architectural support and spatial placement seem vital, as these  functional objects are hung at radiator height and operate by attaching themselves to the existing water pipes in the gallery.
Currently showing at British Art Show 8 (October 2015 – January 2017), a four-city touring exhibition that happens every five years and features the most exciting contemporary art being made in the UK at the moment, Deshayes' artworks explore industrial processes or materials and the way these man-made materials relate to the body, taking into account the architectures and circulatory systems that support our daily lives. The human figure is absent from Deshayes' work but its physical qualities are always present, drawing attention to the clash between the durability of the urban environment and the fragility of being human.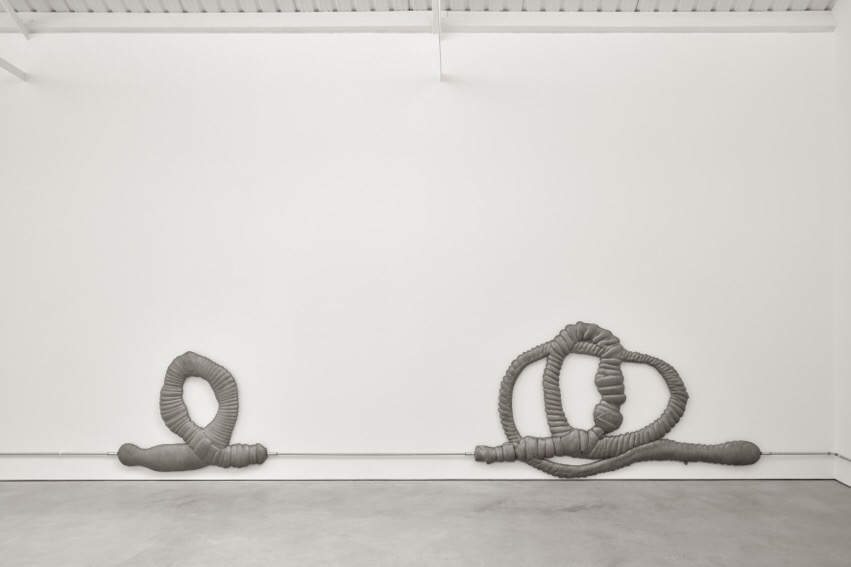 About the Artist
Nicolas Deshayes (born 1983, Nancy, France) lives and works in London. He completed an MA in Sculpture at the Royal College of Art in 2009 and a BA in Sculpture at Chelsea College
of Art and Design in 2005. Deshayes' work is currently touring as part of British Art Show 8 and will feature in Production Show 2016-2018 at Eastside Projects, Birmingham (1st October – 10th December 2016). In 2015, he participated in group exhibitions at Tate St Ives, Fridericianum, Kassel, Elizabeth Dee, New York, and Studio Leigh, London. Recent solo exhibitions include those at Glasgow Sculpture Studios, Glasgow (2015); Jonathan Viner, London (2015 and 2012); S1 Artspace, Sheffield, (2013); Brand New Gallery, Milan (2013); Galerie Chez Valentin, Paris (two-person, 2012); and Clockwork Gallery, Berlin (2011).
Categories
Tags