FAD managed to grab a few words with artist Simon Mullan about his new exhibition Die Fläche at PM/AM gallery.
FAD: Can you tell us about your exhibition Die Fläche, particularly your new sculptural work that features in the exhibition?
SM: At the beginning of 2016 I was presented with the chance to stage three exhibitions in a very short time. I wanted to use this opportunity to make a kind of trilogy that covers all the different aspects of my practise. The exhibitions are called Die Fuge (The Joint/Grout), Die Fläche (The Surface) and Der Raum (The Room/Space). All three shows have the walls colored in gray, as a kind of unifying background layer. I am creating a book together with Axel Haubrok in Berlin, where we want to explore all three shows as different chapters of the book. The free-standing sculptures are the newest series of works called Raumtrenner (room dividers). They're an extension of both my Alpha and Popularis works. Looking at this in a spacial way they can be seen as the lines of stitching in my textile work, or the grout in my ceramic tile work.

Die Fläche Installation
FAD: You have recently moved to London – how has the city changed your practice? how has it been working so closely with PM/AM?
SM: In general not much changed in my pratice after moving to London, I'm very lucky with a lot of what I do at the moment isn't really confined to special tools or a necessarily large workshop and I can be more or less quite mobile. Obviously London isn't the easiest place to work as an artist, especially with very high studios costs/rents. Being in London made it much easier though to work on such a big show with PM/AM. We could have a lot of face to face meetings and decide things quick and on the spot. It allowed the project and the process of creating work to be very natural.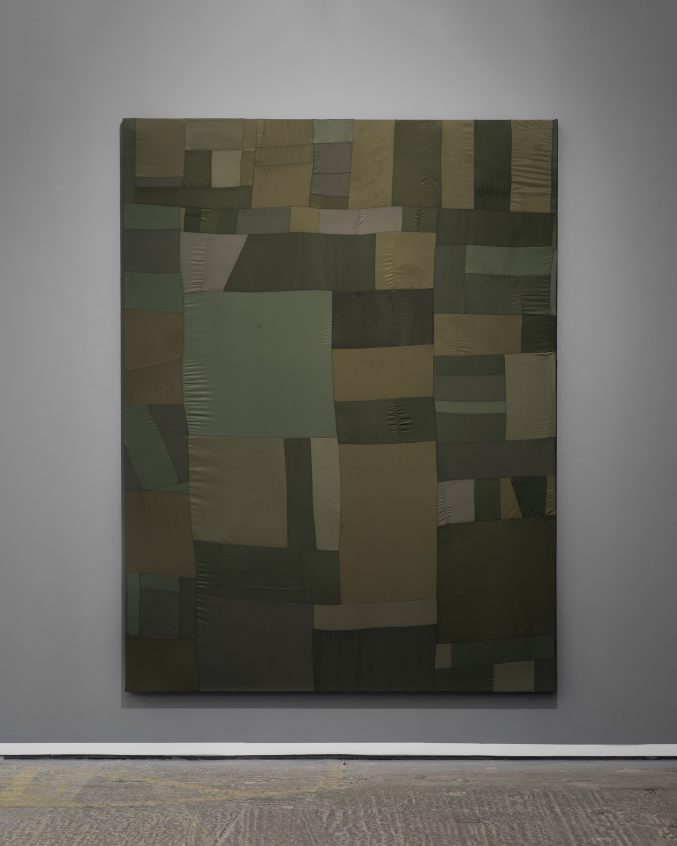 Heat, 2015 Textile collage. 183 × 137 cm
FAD: How were you initially introduced to the textile and tiling materials used widely in your practice? Did you experiment with other materials for the grid/social coding element to your work?
SM: I studied experimental art in Vienna at the University of applied arts with Brigitte Kowanz and I've always taken the word 'experimental' as being a very important part of my schooling. I work across various disciplines and I find myself connecting with materials in different ways, I like to reappropriate materials and these materials are often not immediately associated with art. I don't buy things in artist supply stores but in building supply stores. The materials you see me working with have personal connections with me past and present. My interest in social coding and society has always been part a part of who I am. I grew up working with people that had disabilities, as a teenager I worked with immigrants and I've always had an interest in exploring sub cultures, the relationship to us in and out of context.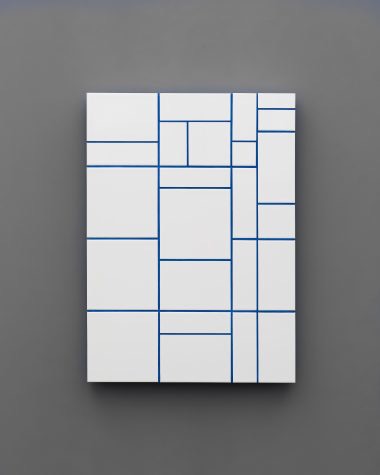 Gary, 2016 White tiles, blue grout, MDF. 60.5 × 43 × 4 cm

FAD: Your work seems at once simple and complex, both high and low aesthetic – do you like art that operates on different levels?
SM: Art should be accessible in many ways. The freedom in art production is important to me and I think these ideas are immediately presented to the audience. Sometimes you see a people leaving art school with work that looks exactly as it had done upon entering, or artists producing work in the same technique or colour fields for their lives. I can't related to that, I'm very open and influenced by my surroundings to finding new ways of expressing what it is I want to do or say.

FAD: What's next for you?
SM: I'm working on my first book – this is very exiting. There's a collaboration with a swedish shoe brand called Eytys. I'm preparing for an exhibition in Berlin with Eigen+Art LAB, and I'm working on projects for the ABC art fair in Berlin and Vienna Contemporary which is my home town. In between all of that I've booked myself a rowing course in London, I suppose looking for some sort of British experience!
Simon Mullan Die Flache is on at PM/AM until the end of June www.pmam.org follow at www.instagram.com/pm______am/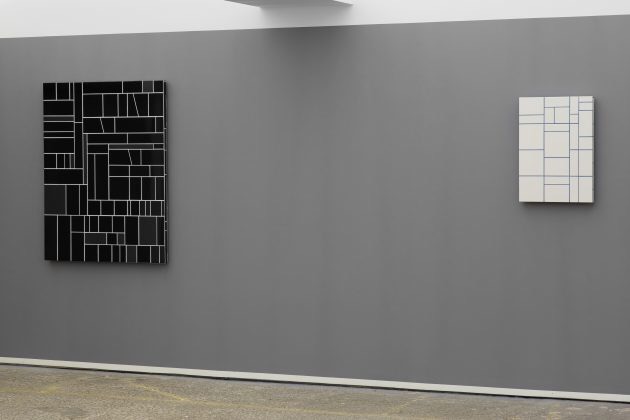 Categories
Tags