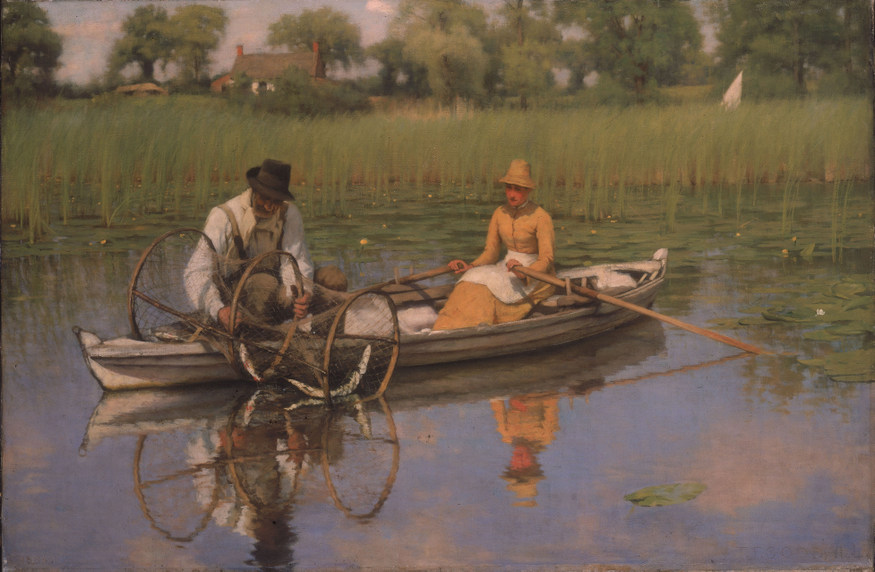 How did early photography influence painters of the time? It's a great question and is the jumping off point for this exhibition.
We've had a lot of exhibitions of early photography. There's one on at the Science Museum Media Space right now, we've recently had a double header of Julia Margaret Cameron and Tate's own Salt and Silver wasn't too long ago.
But here we're promised a new angle and the first room shows sketches, paintings and photographs side by side. We see how painters used photography to capture the details of images and as inspiration for their works. It's an interesting topic but there's nothing on the walls that really grabs the visitor. Insight is great for a book, but for an exhibition the viewer is also expecting art that grabs them and pulls them in.
Even the usually reliable John Everett Millais' disappoints with his Woodsman's Daughter, which feels too twee. So we're reliant on two great Rossetti's including his fantastic Mariana and an excellent Sargent to save the day. But they are outnumbered by works that I simply drifted by as they don't stand out at all.
This is yet another Tate Britain academic exhibition which falls short of expectations. It's by no means as bad as the abhorrent Conceptual Art in Britain but this is another sign that Tate Britain is refusing to learn from its failings. I can only hope that it does learn the error of its ways before visitor numbers fall so low that nobody is around to see it improve.
Painting with Light is on at Tate Britain from 11 May to 25 September. Also on at Tate Britain is the choreographed dance by Pablo Bronstein in the Duveen galleries.
Image is The Bow Net by Thomas Frederick Goodall, courtesy Walker Art Gallery.
Categories
Tags