Ahead of the XL Catlin Art Prize 2016 FAD managed to catch up with all of the finalists, next up we have
Camberwell graduate Hamish Pearch.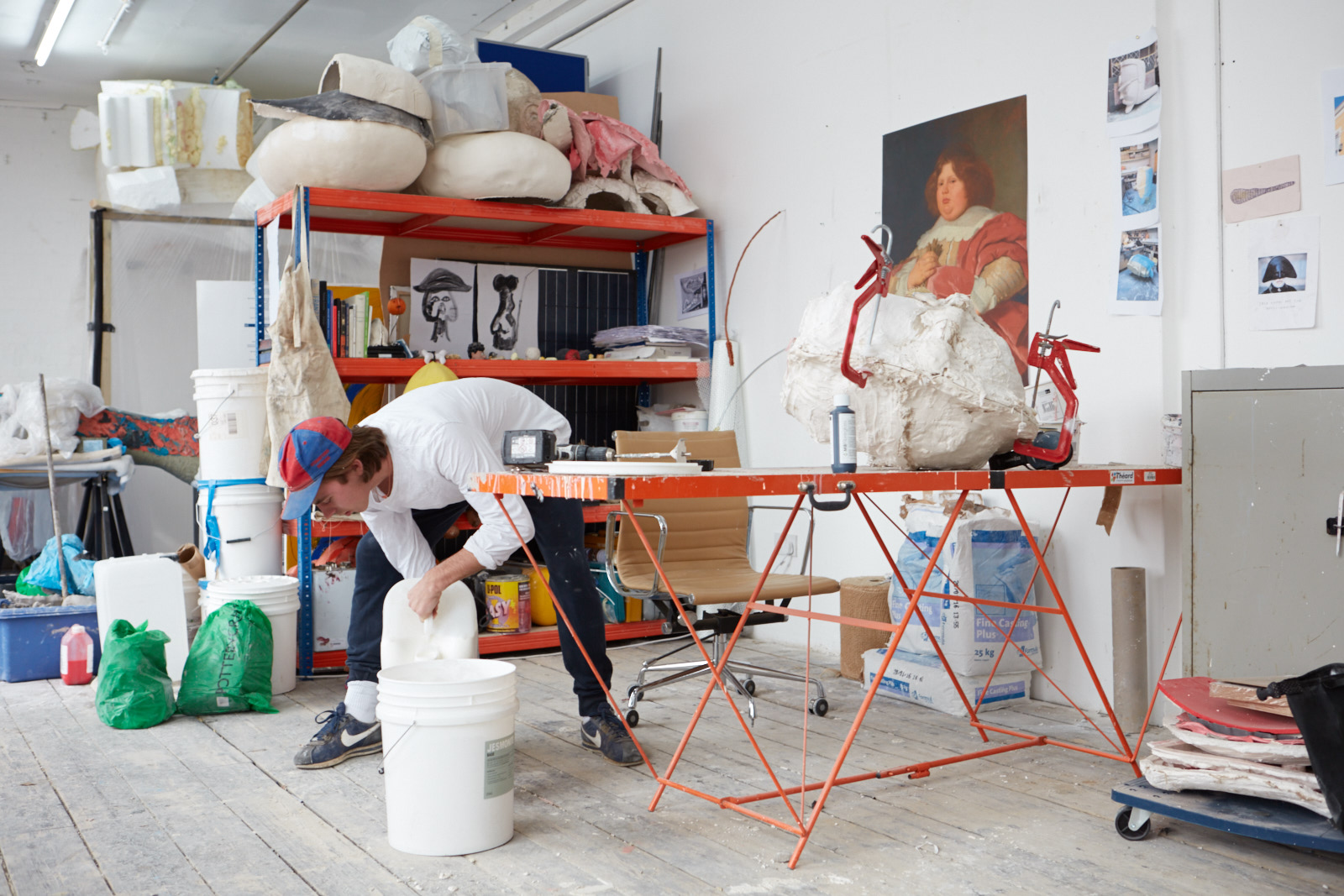 Hamish Pearch in his studio
1 Can you tell us about your work and what are the main ideas you try and express?
I'm interested in how societal roles are constructed and defined, especially by popular culture and by the objects we surround ourselves with. I like looking at urban situations and social encounters, environments that are tribal and a battle of conflicting truths. My work attempts to include radical and awkward scale shifts, perhaps as a response to my experience of materiality in the twenty-first century. Deep down, I find that through object making I'm constantly reaffirmed how unstable everything is.

Hamish Pearch 'One for the boys' 2014

Hamish Pearch 'There is a light that never goes out' 2015 FAD magazine
2 Where and what have you been studying and how do you feel it has benefited you?
I studied sculpture at Camberwell. I liked it a lot; I think there's a strangely unquantifiable alchemy that goes on in an open plan studio space. I enjoyed making things intensely and then annoying my friends, hanging out and doing nothing. I think that's super important. After leaving I was in my own cell-like studio for a few months but I left to join some friends in a shared studio. I'm now entertained listening to French radio and by watching Millwall football fans decked out in Stone Island roam up and down the street. Next year I'm looking forward to studying at the RA – fewer Reebok Classics, more tailored suits.
3 Can you tell us about the work that will be on show at XL Catlin Art Prize 2016?
I've been thinking about tangled traditions and stereotypes. For the new body of work I'm trying to imagine a pre-romantic moment. I want to evoke a trans-historical tale of soldiers, wrestlers, opium smokers and has-beens salvaged from an entropic bone yard – out of all this I hope a sort of dream logic will appear. I'm a collector of things; eBay purchases, car-boot finds and mud-larking expeditions are the basis on which I've tried to gather a cast. The process is a sort of auditioning – bringing forms, materials and subjects together.
XL Catlin Art Prize 2016 Londonewcastle Project Space, 28 Redchurch Street, London E2 7DP
Thursday 5th – Sunday 22nd May 2016 www.xlcatlinart.com
Categories
Tags