Art Brussels has moved to a new venue closer to the city centre this year and reduced the number of participating galleries from 191 to just 140 this year. We thought it made sense to get some locals to review the fair and pick their favourite booths. Our friends over at artlead who launch their full site very soon said they would be happy to help.
1 Ewa Axelrad at BWA Warszawa Booth B1
The work of young Polish artists Ewa Axelrad is visually seductive, yet confusing – as the forms she creates feel equally protective as they feel offensive. It is not quite clear whether her works are here to attack us or to protect us. Are we looking at a puffer jacket meant to hold you warm, or rather a gorilla defending it territory? Are the stacks of hands giving a lifesaving heart massage or are they trying to keep us down? Axelrad's sculptural work is paired with Karol Radziszewski's paintings of lost and destroyed sculptures by Arno Breker – Hitler's favorite sculptor. www.bwawarszawa.pl
2 Cécile B. Evans at Barbara Seiler Booth A11
Barbara Seiler's black booth is dedicated entirely to Cécile B. Evans. Several pieces refer to 'What the heart wants', Evans' new film that is to premier at the upcoming Berlin Biennale, but the highlight of the booth is without doubt the two central pieces. These central pieces are servers storing data of the two main protagonists in Evans' practice, and could be seen as the memory and soul of these characters. Agnes is a commissioned spam-bot that lives on the Serpentine Galleries website, and Phil is a digital avatar modelled after the late Philip Seymour Hoffman – and one of the main characters in Evans highly acclaimed film 'Hyperlinks or it didn't happen'. These works offer a view on the future of mankind, and question what makes humanity human. www.barbaraseiler.ch
3 Michael E Smith at KOW Booth B16
The work of Michael E Smith might gets under your skin. He takes objects out of their usual context and builds a new social and economic narration around them. A lot of the objects he uses have an industrial origin, but are at the same time connected to something organic, either human and natural. His objects seem like physical reconstructions of distorted emotions, meant to counter the human and ecological disasters of our time, as if they were archeological remains of our time seen from a post-apocalyptic future. kow-berlin.info
4 Yann Gerstberger at Sorry We're Closed Booth A24-S
Sorry We're Closed has brought a solo booth featuring tapestries from the young French artist Yann Gerstberger. These works naturally merge Gerstberger's interest in online media, instagram and digital glitches with the historical traditions of Mexican patch-making tapestries – where the artist lives and works. www.sorrywereclosed.com
5 Matthieu Ronsse at Luis Campana Booth A54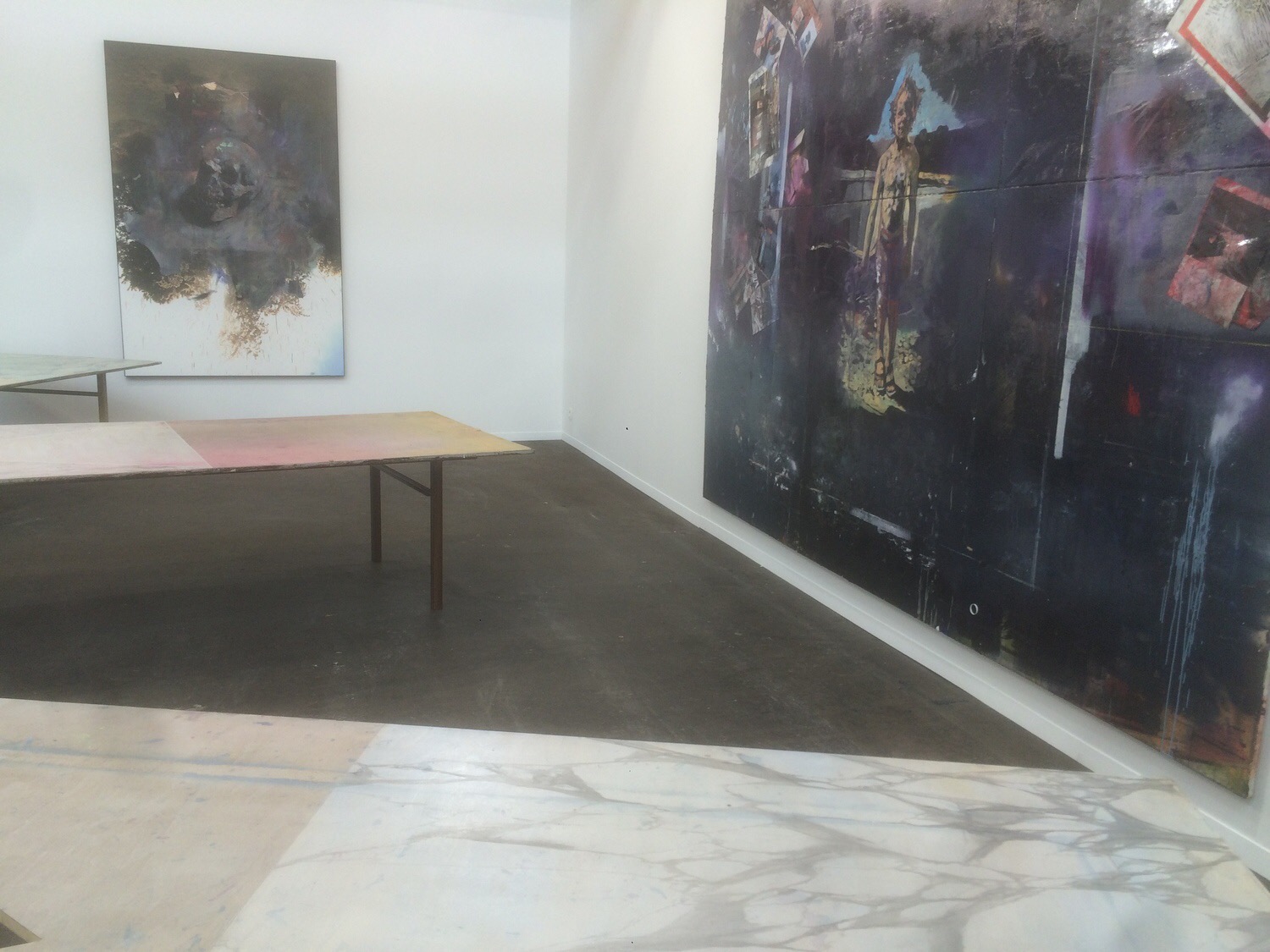 Luis Campana presents three large-scale paintings and three tables by Matthieu Ronsse. Ronsse merges both art historical quotations with found daily debris in his paintings. The tables are especially interesting, as they are objects turned into paintings then turned back into objects. The large paintings at the bottom of the tables are only visible by lying on the ground. www.luis-campana.de
6 Pier Paolo Calzolari at Ronchini Booth A53
Ronchini is presenting a small selection of historical works by Pier Paolo Calzolari, dating back till the 1970's. As always, Calzolari's works are a study of materials – poor and pure materials such as fire, paper, salt and lead – and an investigation on how these materials transform. www.ronchinigallery.com
artlead is a new platform to help you discover and collect work by today's best artists, at affordable prices. artlead works together with carefully selected museums, art institutions, publishers and galleries to bring you the best collection of art editions out there. Together with their partners, they are building an easily accessible, innovative online platform that allows you to browse a database for artworks of both established and emerging artists. They offer specialized guidance in your search for a work that perfectly matches your criteria. Explore their journal to discover the latest on what's happening in the art world. They inform you on which artists to watch, what shows are interesting and provide an accessible network of insider knowledge to help you to gain full access to all the hidden gems out there. Their full site will launch in May 2016, inscribe to their newsletter to be kept in the loop.
Categories
Tags