For the current exhibition, Raven Row is reconstructing Channa Horwitz's installation, Displacement, originally made with Y8 in 2011 for its yoga studio.
The work will be prepared during gallery hours, from 30 March to 1 April, after which Y8 will lead eight participants at a time in its activation.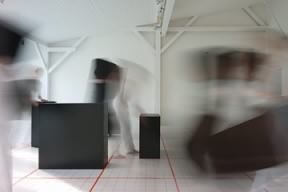 Channa Horwitz Displacement, 2011/2016
The work transfers motifs from Horwitz's Language Series into space, with wooden blocks scaled in relation to the body and placed on an orange grid. Founder of Y8, Immanuel Grosser will lead sessions using yoga postures – asanas – to bring participants into interaction with the blocks.
Displacement yoga sessions will be held during gallery hours on Fridays and Saturdays throughout April. Sessions will run for 64 minutes. They are free and participants of all levels of experience with yoga are welcome. Participants are asked to wear white if possible.
Channa Horwitz Displacement, 2011/2016
in collaboration with Y8, ARTYOGA, Hamburg
To book a place, email info@ravenrow.org
Session times:
Friday 1 April, 4pm
Saturday 2 April, 12pm
Friday 8 April, 4pm
Saturday 9 April, 12pm
Friday 22 April, 4pm
Saturday 23 April, 12pm
Friday 29 April, 4pm
Saturday 30 April, 12pm
Categories
Tags