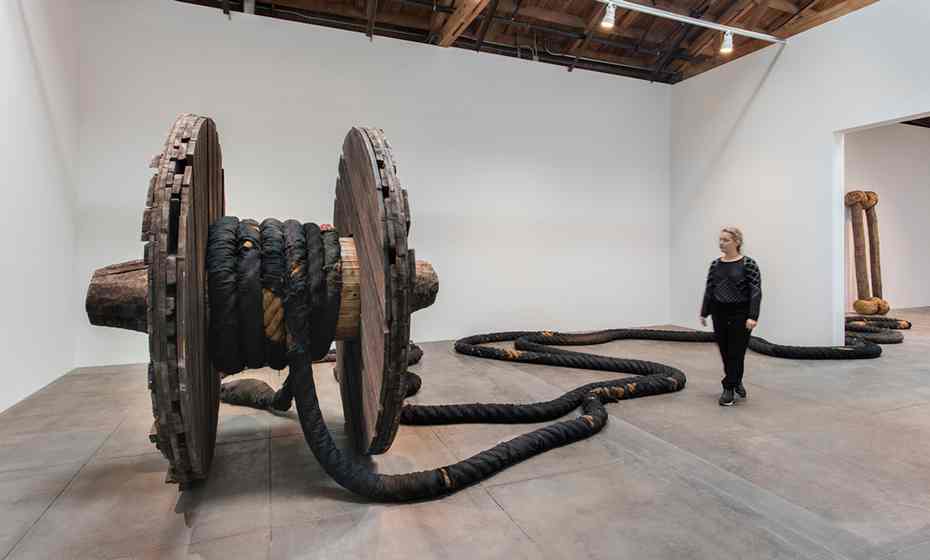 Magdalena Abakanowicz: as heavy as history. Photograph: Brian Forrest/Courtesy of the artists and Hauser & Wirth
---
This article titled "Revolution in the Making review – unspooling an alternative art history" was written by Jason Farago in Los Angeles, for theguardian.com on Monday 21st March 2016 19.26 UTC
Did you hear the one about the Swiss family that moved to Los Angeles? Hauser & Wirth, the Zurich mega-gallery with outposts in London, Somerset and New York, has landed on the other end of the American continent, and did not pack light. In its bid to join the LA art scene – with more and more artists, the country's best art schools, maturing museums, but a still jejune gallery sector – Hauser & Wirth could have set up shop in the city's wealthier west. Instead, the European interlopers have established a giant new home in Los Angeles's transforming downtown, a 10,000-square-meter sanctuary in a former flour mill.
They also have, in a manner Henry James would admire, effected a shrewd marriage of foreign wealth and local nobility. Joining Hauser & Wirth as partner on the Los Angeles branch is Paul Schimmel, the esteemed former chief curator of the Museum of Contemporary Art, and organizer of such seminal exhibitions as Helter Skelter (1992) and Under the Big Black Sun (2011). He brings not only some SoCal street cred, but a museum curator's sensibility to a gallery that delights in – and, yes, profits from – endowing its commercial ventures with art historical rigor.
Hauser Wirth & Schimmel, as the new endeavor is called, opened to the public last week after a Satyricon's worth of dinners and previews, one of which featured imported Alpine horn players in the manner of a Ricola commercial. Party if you want to; Los Angeles is good at that, though make sure to get your parking validated. The real, better reason to endure the traffic on the 101 is for the gallery's inaugural show – a valiant, attentive, and rare show of large-scale sculpture by 34 artists, every single one of them female.
Revolution in the Making, curated by Schimmel and the art historian Jenni Sorkin, looks at developments in sculpture from the last 70 years, and makes a convincing case that the classic story of art after modernism – in which minimal and pop art paves the way for conceptualism, performance and other "dematerialized" practices – is at best incomplete and at worst sexist. Not only did the materials of wood, metal, wire, and fabric never disappear from advanced art, but, especially for women, work with such materials had an expressive, political character that was ignored by critics of the day. For many of these women, from Louise Bourgeois and Eva Hesse to the Venezuelan sculptor Gego, sculpture in the 1950s and 1960s was the medium that was most primed to exceed pure formalist abstraction, and to be inflected with personal, psychological, and social concerns.
In the wall-mounted work of Lee Bontecou – a Lazarus-like figure in American art, and the only woman to show at the esteemed Leo Castelli gallery in the 1960s –found and sullied canvases are stretched on welded steel frameworks that put paid to any expectations of feminine delicacy. There are no fewer than six of her fantastic, menacing works on view here, all of them as critical to the history of post-war American art as Warhol or Rauschenberg. (Donald Judd, for one, considered her "one of the best artists working anywhere.") The burlap sacks stretched on irregular armatures seethe with the anxieties of nuclear proliferation and the Vietnam war, gaping holes lined with velvet or soot swallow light, while sawtoothed gears give the assemblages the danger of a monster with bared fangs. Or of vaginae dentatae: a feminism-for-beginners reading Bontecou bridled against.
Other sculptors turned to new materials that could reflect the body or the home, and be imbued with psychological freight. Heidi Bucher, Hannah Wilke and Hesse all used latex to create fragile impressions. Ursula von Rydingsvard, whose childhood as a refugee informed her use of humble materials, started with the minimalist building blocks of industrially milled cedar to create uncanny, organic-seeming dolmens. Her work Nine Cones, standing on the gallery floor like off-duty sentries, dates to 1976 but has never been shown before.
Women also took the lead, in the 1960s, in working with hemp, jute, wool, and other natural fibers. Too long dismissed as "women's work", fiber art has recently seen a deserved revival in reputation in the wake of a major exhibition at the Institute of Contemporary Art in Boston two years ago. The formidable Sheila Hicks – one of America's greatest artists, though long resident in Paris – is represented here by a hassock of linen and wool of such brilliant yellow that the material seems to be color itself. And Françoise Grossen, a Swiss-born artist who received her first New York gallery exhibition just one year ago, knocks everyone back with Five Rivers (1974), a suspended tethering of green and blue manila.
Revolution in the Making is the inaugural show of a new institution, but it's of a piece with the history of Hauser & Wirth. Wonky, large-scale sculpture been in the gallery's wheelhouse for well over a decade, and they do better by women artists than most galleries. (Too many dealers, women and men alike, still give female artists as few as a sixth of their shows.) Yet in favoring large-scale sculpture – which looks great in the converted sugar factory – the show necessarily glosses over many of these artists' best works, from Hicks's more delicate weavings to Bontecou's later mobiles. When it turns to contemporary art, the show's argument is necessarily open-ended. Phyllida Barlow may have won the favor of the jury selection Britain's representative at the next Venice Biennale, but I remain unconvinced by her bombastic explosions of plywood and polystyrene. Far better is the Los Angeles artist Kaari Upson, whose urethane castings of tacky sectional sofas expose the ghoulish underside of American suburbia.
Should museums have loaned the work?
Now, about the money. More than one observer has called Hauser Wirth & Schimmel a "museum-scale" project, and its staggering square footage indeed outstrips most museums in Los Angeles. (There's also a well-stocked bookshop and, soon, a restaurant.) Revolution in the Making is a "museum-scale" show too, complete with an impressive catalogue. Blurring boundaries between for-profit and not-for-profit institutions has become something of a hallmark of today's art world, and shows like this one raise some thorny ethical questions – above all, the question of whether museums should loan to commercial institutions. Alongside works for sale, this show includes nearly 60 loans from estates, private collections, and public museums, among them the Whitney Museum of American Art, the Museum of Contemporary Art in Chicago, and the Museum of Contemporary Art here in LA.
The situation is hardly unique to Hauser Wirth & Schimmel. In the last few years Gagosian has mounted numerous exhibitions with the help of museums, including a strong Helen Frankenthaler retrospective that included her greatest work, Mountains and Sea, loaned from the National Gallery in Washington. David Zwirner put together a exhibition of early sculpture by Richard Serra that included loans from the Museum of Modern Art and the Guggenheim. In many cases, though not all, these "museum-quality" shows have made an important contribution to art historical scholarship. At the same time, the inclusion of works in public collections can serve to validate, and to appreciate, art for sale.
I can grow uncomfortable when the world's largest galleries absorb the functions we once thought exclusive to nonprofit institutions. I, too, can bristle when museums loan works to exhibitions that also feature art for sale. But let's get real: it is otiose to wait for a different art world dispensation in the ruptured economy we have built, especially in the United States, this land without a culture ministry. Nor is it evident that museum exhibitions and biennials are themselves immune from the market, not when galleries increasingly stump up cash for nonprofit exhibitions and savvy collectors buy and sell works on the basis of their inclusion in noncommercial shows. ("See it in Venice, buy it in Basel," goes the refrain; for a certain class of collector, the fair and the biennial are one and the same.)
One of the best surprises in Revolution in the Making is a sculpture from 1973 by the rather overshadowed Magdalena Abakanowicz, on loan from the National Museum in Wroc?aw, Poland: a massive, imposing wooden spool, as heavy as history itself, from which a 60-meter rope unfurls. If you can find me a nonprofit institution with the resources and the inclination to present that and a hundred more large-scale artworks by women, many of them underexposed, I will get on the next plane there. Until then, remain vigilant, but admit and appreciate that our unequal art world still has the capacity to tell new and better stories, in garrets and in temples alike.
guardian.co.uk © Guardian News & Media Limited 2010
Published via the Guardian News Feed plugin for WordPress.
Categories
Tags