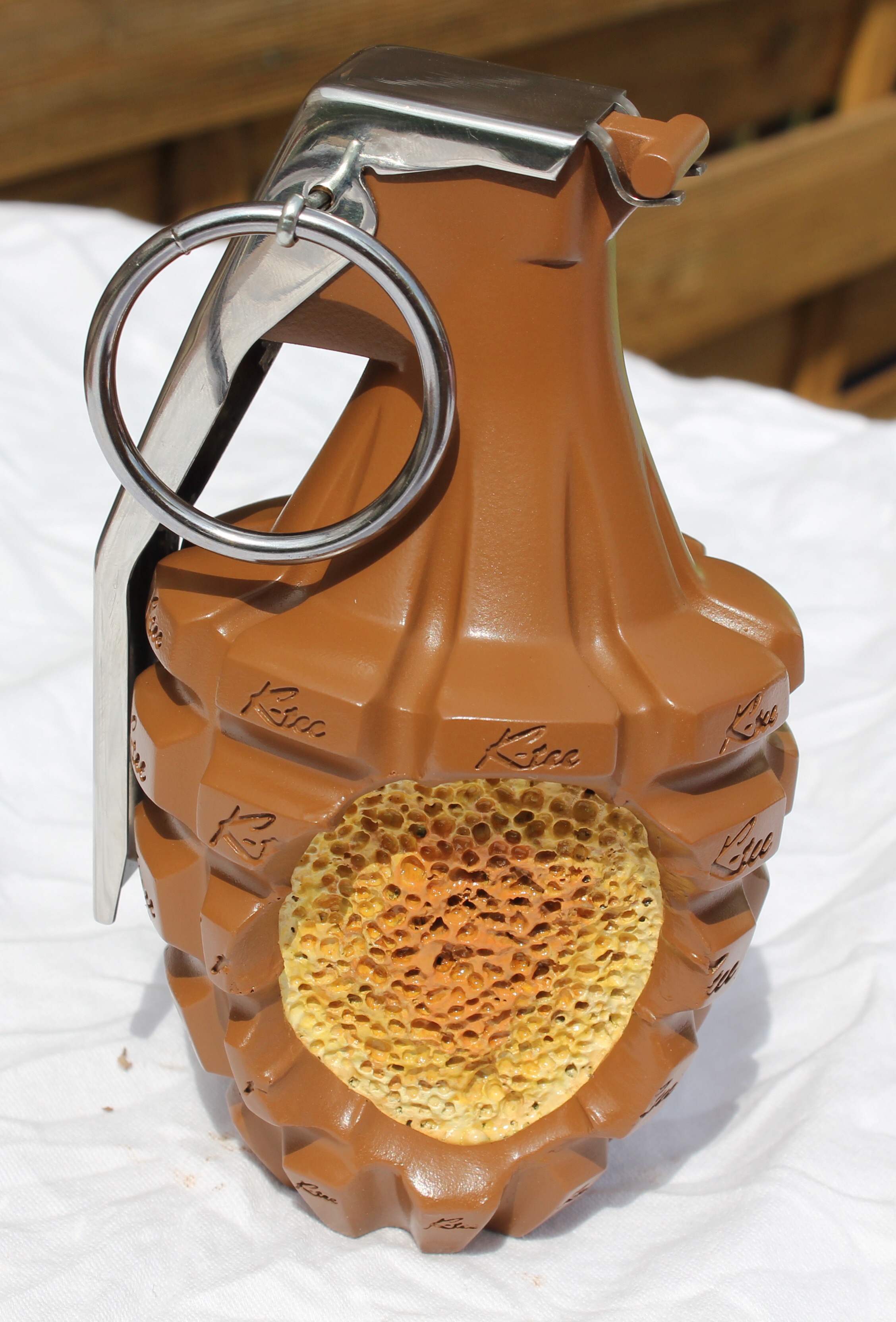 K-tee, Honeycomb, 2016 © K-tee. Courtesy the artist and CNB Gallery
K-tee first made her name as a prop designer, working on major Hollywood films like the Harry Potter and James Bond franchises. For this this show 'Bitter Sweet' she has created a series of sculptures based on the MKII 'pineapple' grenade. Each of the artworks looks like it's made from milk chocolate, and is filled with a facsimile of soft-candy centres like crunchie bars and Cadbury Cream Eggs – highly appropriate (or inappropriate) given the show will run over Easter.

K-tee, Fondant Egg, 2016 © K-tee. Courtesy the artist and CNB Gallery
Of the grenades, K-tee says:
'I love the engineering aspect of weapons in general … they are deadly and nasty objects but not everyone sees them the way I do. I want the viewer to feel the same, to forget about what it does, almost to camouflage the object behind beautiful images.'
To complement the show, K-tee has teamed up with the award-winning chef Tom Kerridge and one of the world's leading patisserie chefs, Claire Clark, to produce a limited edition set of grenades made out of chocolate. These will be sold at the gallery.
Bitter Sweet 23rd March – 20th May 2016 Private View: Tuesday 22nd March, 6pm – 8.30pm
cnbgallery.com
About K-tee
After attending the Kent Institute of Art and Design, K-tee spent fifteen years working in various props departments. She has worked on over thirty films, including Harry Potter, James Bond and Captain America. Her work has been exhibited at: Decoratum; Leydon Gallery; The Lulu Guinness store; Brick Lane Gallery; Beautiful Crime Gallery and Westbank Gallery.
About Tom Kerridge:
Tom Kerridge is a professional English chef who has worked at a variety of British restaurants. With his wife Beth, he opened the gastropub The Hand & Flowers in 2005 and within a year gained his first Michelin star. He won a second Michelin star – the first time a pub had done so – 7 years later. As a chef he has appeared on the Great British Menu, MasterChef and Saturday Kitchen. Since 2015, he has presented Food and Drink on BBC Two.
About CNB Gallery:
CNB Gallery was established by the restaurateur and author Mark Hix in 2012. It is located in the basement of Tramshed on Rivington Street in Shoreditch, London, and is run by Director Rebecca Lidert. It stages up to eight exhibitions annually, and its curatorial programme embraces a wide range of artists, from the established to the undiscovered.
About Mark Westall