There are lots of art events happening in London; talks, workshops, tours, discussions and many many more! To help you with the choice Jenny Judova from Art Map London has picked 'The Best Art Events' to see in London this week.
---
TUESDAY 1st OF MARCH
Preview: Tilson 'The Stones of Venice'
6:00 PM – 8:00 PM @ Marlborough Fine Art, 6 Albemarle Street, London, W1S 4BY
www.marlboroughlondon.com
Marlborough Fine Art is pleased to present The Stones of Venice, an exhibition of new works by Joe Tilson. The artist's first major exhibition took place at Marlborough in 1962, and this is his seventh solo show with the gallery.
WEDNESDAY  2nd of MARCH
Preview: Bandits live comfortably in the ruins
6:30 PM – 8:30 PM @ Flat Time House, 210 Bellenden Road London SE15 4BW
Flat Time House presents Bandits Live Comfortably in The Ruins, curated by Irish artist Sean Lynch. The exhibition broadly explores the attitudes that underpin human relationships to the environment.
THURSDAY 3rd of MARCH
Preview: Nostalgia for the body by Sue McDougall
7:00 PM – 9:00 PM @ Tom's Etching Studio, Unit 9/F, Queens Yard, White Post Ln, Hackney Wick
https://www.facebook.com/events/227782020897354/
Do you think of sculpture as solid, heavy, possibly carved in stone or cast in bronze? Your preconceptions will be upended at the latest exhibition at Tom's Etching Studio. In Nostalgia for the Body, Sue McDougall has made floating sculptures which literally hover in mid-air and move in the air currents.
FRIDAY 4th od MARCH
Preview: School of the Damned 'End of Year'
6:30 PM – 9:00 PM @ School of the Damned, Lewisham Arthouse, 140 Lewisham Way, London SE14 6PD
http://www.lewishamarthouse.org.uk/project-space/school-of-the-damned-end-of-year/
ZOE ANSPACH | ROBERT CARTER | MELANIE COLES | MICHAEL CROWE | PENELOPE DIAZ | JACK FISHER |
VICTORIA FORNIELES | ROBERT FUNG | KYLE GALLOWAY | JAKE KENT | KATE MAHONY | PHILLIP REEVES |
ANASTASIA SHIN | REBECCA TOWNROW | MATT WELCH | MITT WHEELDON | ELISE WORTLEY
The School of the Damned is a free postgraduate art course run by, and for, its students. It provides participants with the critical space to develop and reassess their art practice. We operate without money, without a bank account, without financial obligation.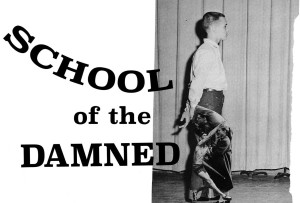 Categories
Tags