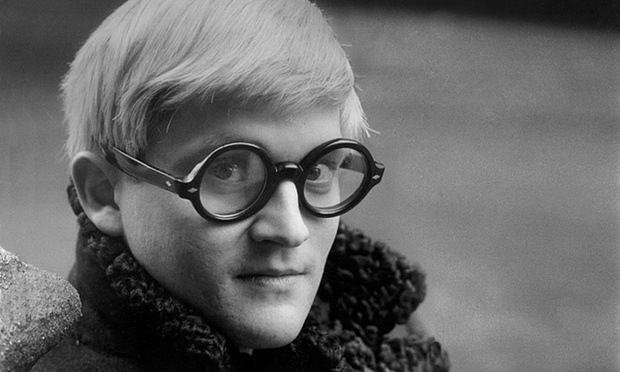 David Hockney photographed in London in 1966. Photograph: Jane Bown
This article titled "David Hockney show will be one of Tate Britain's biggest ever" was written by Mark Brown Arts correspondent, for The Guardian on Monday 22nd February 2016 00.31 UTC
Tate Britain is to stage one of the biggest shows it has ever organised – an extensive retrospective of the work of David Hockney, one of the most recognisable and popular artists active today.
Details of the show, which will cover six decades of Hockney's work, will be announced on Monday. It will open in London in 2017 before travelling to the Centre Pompidou in Paris and the Metropolitan Museum of Art in New York.
Hockney, who turns 80 next year, is involved but it is very much Tate's show. "David, more than most other artists, is particularly engaged with what he's going to do next rather than what he did in the past," said the exhibition's co-curator Chris Stephens, the head of displays at Tate Britain.
"We've shaped the show and made a selection and then he's made suggestions and we've shifted the emphasis a bit and there are some works he's asked us to think about."
Hockney said he had enjoyed revisiting works he made decades ago. "Many of them seem like old friends to me now.
"We're looking over a lifetime with this exhibition, and I hope, like me, people will enjoy seeing how the roots of my new and recent work can be seen in the developments over the years."
The show will offer a full overview of his career from very early work, such as the proudly homoerotic Love paintings of 1960-61; to his many portraits of family, friends and himself; his love affair with the boys and swimming pools of Los Angeles; to the Yorkshire Wolds landscapes of the 2000s and the work he has been making since he returned to California in 2013.
There are many reasons why Tate Britain is the obvious institution to organise the Hockney retrospective, including the fact it was the scene for a life-changing moment.
In 1960 the gallery on Millbank was the place where Hockney, a Bradford-born first year art student, saw the sensational Picasso retrospective. He went eight times, his eyes opened to the possibility of working in many different styles and media.
Tate also owns two of Hockney's most famous works, A Bigger Splash and Mr and Mrs Clark and Percy – both of which are among the gallery's most popular works.
Not that his relationship with Tate has always been sweetness and light. In the late 1970s the then Tate director, Sir Norman Reid, had a run-in with the artist after turning down the opportunity to buy, at a reduced price, a double-sized portrait of Gregory Evans diving into a swimming pool. The work instead became a jewel in Bradford council's collection.
According to the Hockney biographer Christopher Simon Sykes, the artist was so peeved that he decided to investigate Tate's acquisitions policy and discovered a bias towards the abstract.
"I went to see them," Hockney recalls. "I told Norman Reid he's just a pathetic little shit. I said it to his face actually, and I found myself enjoying it!"
Stephens said the relationship between Tate and Hockney had, thankfully, been more up than down in recent years and curators had been out to Los Angeles to discuss the show last July and were due to go again soon.
"David comes from a great tradition of non-conventional protest, he has never kept quiet if there are things going on he disagrees with."
Hockney's last retrospective was organised by the Los Angeles County Museum of Art in 1988, travelling to Tate in London and New York.
That means there is 30 years of subsequent work which needs fitting in to the longer story, said Stephens.
"With Hockney so often he seems to produce a body of work which seems like a complete departure and then when you look back over his career you can see there is a logic."
Stephens added there will be familiar works in the show but lots of surprises, stressing it would be more than a celebration of an incredibly popular artist.
"We also want to make the point that behind all of it, there is a very serious and inquiring intelligence at work from the very beginning. Everything he does is about engaging with and questioning what art is about, how can you capture the real world and time and space in a flat picture.
"In different ways and different periods you see him constantly challenging the orthodoxies of picturemaking and challenging the idea of signature styles."
More than 160 works are expected to be included, from enormous five-metre oil paintings to smaller experiments with his iPad.
Stephens said: "It is going to be an amazing show and it is exciting for us … it is a major show, one of the biggest shows we have done at Tate Britain."
• David Hockney opens at Tate Britain on 9 February 2017.
guardian.co.uk © Guardian News & Media Limited 2010
Published via the Guardian News Feed plugin for WordPress.
Categories
Tags