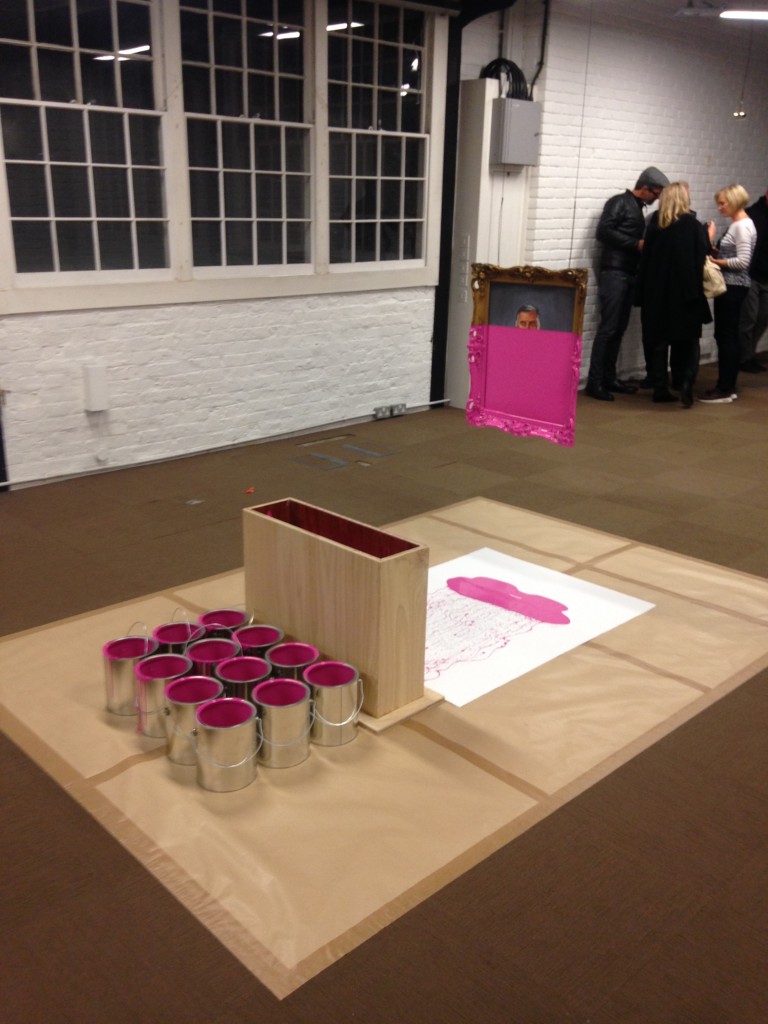 This article titled "Invite only: step into Oliver Jeffers' secret art society" was written by Hannah Ellis-Petersen, for theguardian.com on Wednesday 18th November 2015 18.15 UTC
"Nothing is permanent," says Oliver Jeffers solemnly. The bestselling illustrator, author and U2 collaborator has invited me to a clandestine meeting at a Covent Garden warehouse, which in its time has been a tailors, mechanics and a gay brothel.
Dressed in paint-splattered overalls, he gestures silently to the centre of the room where two works are suspended from the ceiling. The first is a handwritten text, the other a frame shrouded entirely by white cloth.
We are here to watch the first London instalment of Dipped Paintings, a project that Jeffers started in 2012 to explore the traditions and power of portraiture, and the malleability of the human memory.
The act itself is simple – Jeffers paints a portrait of someone who has suffered loss, then in a small, secret ceremony, half submerges the picture in a vat of enamel paint so most of it is concealed forever. No photographs or records of the portrait are taken; the only people who ever see it in its entirety are the small audience invited to the ceremony. After it is dipped, it exists only in their memories.
Jeffers is best known for his bestselling picture books, including The Incredible Book Eating Boy, and for his art work on U2's latest world tour – yet he is as much a painter as a writer and illustrator. The idea came to him after he began meeting up with a quantum physicist called Dr Morrison, who had bought one of his paintings. The pair would sit and discuss the relationship between the certainties and uncertainties of arts and physics.
"I was fascinated by this idea of hidden variables – when scientists and mathematicians take into account forces at work that they have no idea about," says Jeffers. "Dr Morrison once said that, at its highest level, quantum physics is the equivalent of that riddle: 'If a tree falls in the forest and there's no one there to hear it, does it make a noise?'
"I became really fascinated by that – so I started making art then hiding it in some ways, to push this idea that if people couldn't see it, was it still a piece of art? That led to the start of the hidden paintings."
His idea to paint people who had encountered death came from his own experiences of grief, after losing his mother in 2000. He decided that as well as painting their portrait, he would interview each subject about their memories of those they had lost, and their experiences with death.
The gathering in London is the 11th in the series (most have been in Brooklyn where Jeffers lives) and he plans to continue until he has made 25. An excerpt of the interview with his most recent subject is hung in the middle of the warehouse and before the portrait is unveiled, the audience are invited to read the verbatim text. "I've been in London for 19 years," it begins. "I was brought up in Newcastle upon Tyne in the north of England. I am always mystified when people talk about them remembering when they were a baby … it's weird what your brain chooses to remember and not, isn't it?"
The performance itself lasts just a few minutes. Whipping the cloth away, Jeffers reveals the face of an Asian man with a thick grey beard and a beige jacket, a small pink flower tucked into his pocket. As 12 tins of fuchsia paint are poured into a wooden bucket, the 30-strong audience are encouraged to take a final, long look. Then, holding the gilt-framed picture aloft, Jeffers submerges his work, till only the eyes and forehead aren't doused in pink.
"That was gone in a flash," says Jeffers as he lifts it back up, paint dripping on to the floor, the portrait transformed forever. "This is a moment we have all shared, a death of sorts but also a birth. Destruction and creation."
Standing at the back of the crowd is Sanky, the subject of the painting. He met Jeffers four years ago at a conference in India and the pair struck up a friendship. Last year, he agreed to sit for Jeffers.
"On this beautiful sunny day in his studio in Willamsburg, we had this fairly harrowing interview then I sat twice for him," recalls Sanky. "I was adopted at six weeks, which he knew, then my mother died of cancer when I was 21 so I'd sort of grown up with death. All my grandparents were dead by the time I was 12, so death has always shrouded me … I had never really realised how that had affected me, and that's what Oliver and I started speaking about. For me, reading the transcript of the interview was as powerful as the portrait being dipped."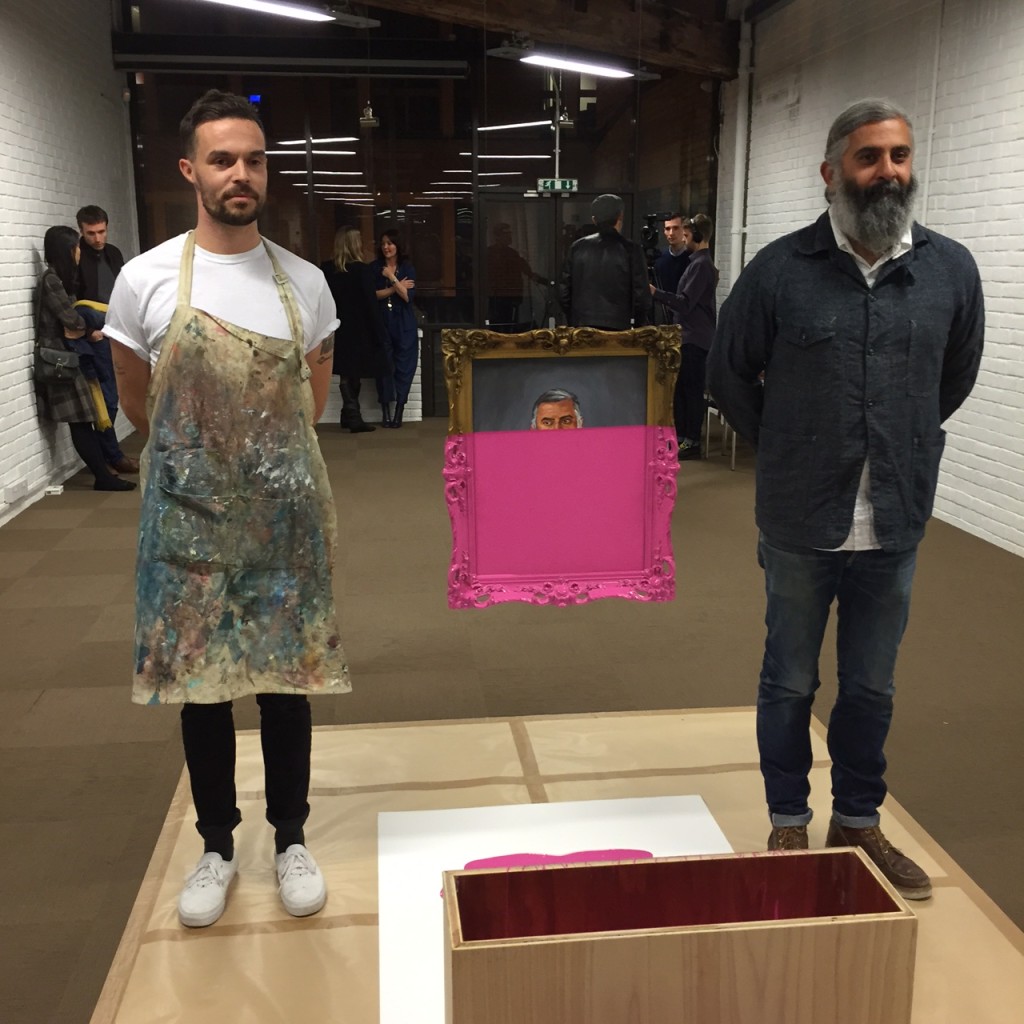 Jeffers admits the project has affected his own approach to life more than any of his other artworks.
"Since doing this I seem not to hang on to stuff as much," he says. "It's been liberating in a lot of ways. I was interested in finding out about the science behind memory and how storytelling informs identity. Though at this point I feel less than I know when I started."
He plans to take the dipping performances around the world, to Los Angeles and to his home town of Belfast, so as to involve "as wide a cross-section of humanity as possible, both in terms of the people who sit and the audience members, who I'm depending on to remember". Once he has completed the 25 paintings by 2017, he hopes to make an accompanying film of his interviews about grief.
As the dipping ceremony comes to a close, Jeffers raises a toast, as each person in the audience is handed a shot of whiskey in celebration. "What's done is done, what's yet before you is yet to come.
"It is only through your eyes and your ears that the whole painting is recorded," he says. "Its future is up to you."
guardian.co.uk © Guardian News & Media Limited 2010
Published via the Guardian News Feed plugin for WordPress.
Categories
Tags