In light of the breadth of Hockney's own work, across art and design disciplines, UK and EU students from the Painting and Printmaking programmes were considered for the David Hockney Scholarship. In addition to covering tuition fees, the £20,000 per annum scholarship also provides an annual living stipend for the duration of the two-year MA programme. The final selection was based on academic merit, established through interviews and portfolio submissions, with the decision taking account of the financial situation of shortlisted students.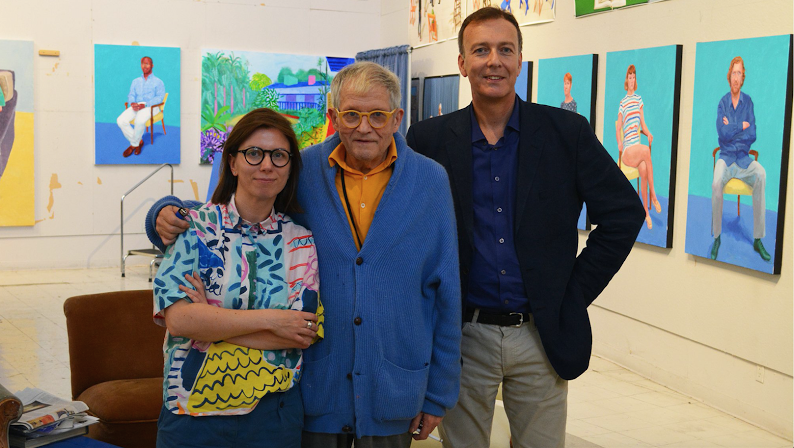 The first David Hockney Scholarship has been conferred on first-year MA Painting student Egle Jauncems. The David Hockney Scholarship is intended to support an MA student with particular drawing and painting abilities. The selected student was also invited to meet Hockney at his studio.
Egle Jauncems works with a wide variety of media, including painting, weaving, printmaking and performance. Her canvases are hand woven using very rough strings together with fine organic silk. The finished woven cloth is cut into pieces and painted using layers of acrylics, metallics, pastels and crayons. Stitching them back together is a great struggle, as the needle has to go through thick layers of cloth and paint.
Born and educated in Lithuania, Egle Jauncems graduated from Vilnius University with a BA in Sinology having spent a year studying at the National Taiwan University. She later moved to London, where she completed a second BA in Weaving at Chelsea College of Art and Design in 2013. Recent shows include Khobs at the Marrakech Biennial, Reproduction Failure curated by Slate Projects at Maybe a Vole Gallery (London), and Multiplied Art Fair presented by London Print Studio. In February 2015, she was a participant on the Reykjavik Association of Icelandic Visual Arts residency.
After being selected for the bursary, Jauncems travelled to California to meet David Hockney in his Los Angeles studio, and says, 'When I saw David in his studio I was speechless… I was just observing the space, and this confident and curious man who was sitting next to me. I must admit my visit to LA was one of the most memorable things I have done in my life so far.'
Professor Juan Cruz, Dean of Fine Art at the RCA, describes Jauncems recent work:
'Egle uses drawing to work through her fascination with paintings of powerful men that she observes, principally at the National Gallery in London. The drawings both celebrate and lampoon what she observes to be the sexually charged politics inherent in the images – there's an interesting resemblance to De Kooning's Woman series paintings here. In some instances, the drawings are translated into inventive material constructions, but they are also worthy of attention in their own right.'
About The Artist
Hockney moved from his hometown, Bradford, to study at the RCA between 1959 and 1962. While at the College, he built up a considerable reputation and was featured in the seminal 1961 Young Contemporaries exhibition at the Whitechapel Gallery, which also included works by Derek Boshier, R B Kitaj and Allen Jones. Describing his experiences at the RCA, Hockney accounts drawing a 'serious activity' – one that helped him find a way back to artistic practice after two years of National Service. Widely regarded as the UK's greatest living artist, David Hockney is amongst the College's most celebrated alumni, working across painting, printmaking, graphics, photography and set design. Gaining international success by his mid-20s, Hockney has gone become an iconic figure in post-war art, and is the recipient of numerous prizes and awards, the focus of countless scholarly monographs and the subject of major retrospectives, including recent solo exhibitions at the Royal Academy, London; Guggenheim, Bilbao (both 2012); and Galerie Lelong, Paris (2013).
Categories
Tags