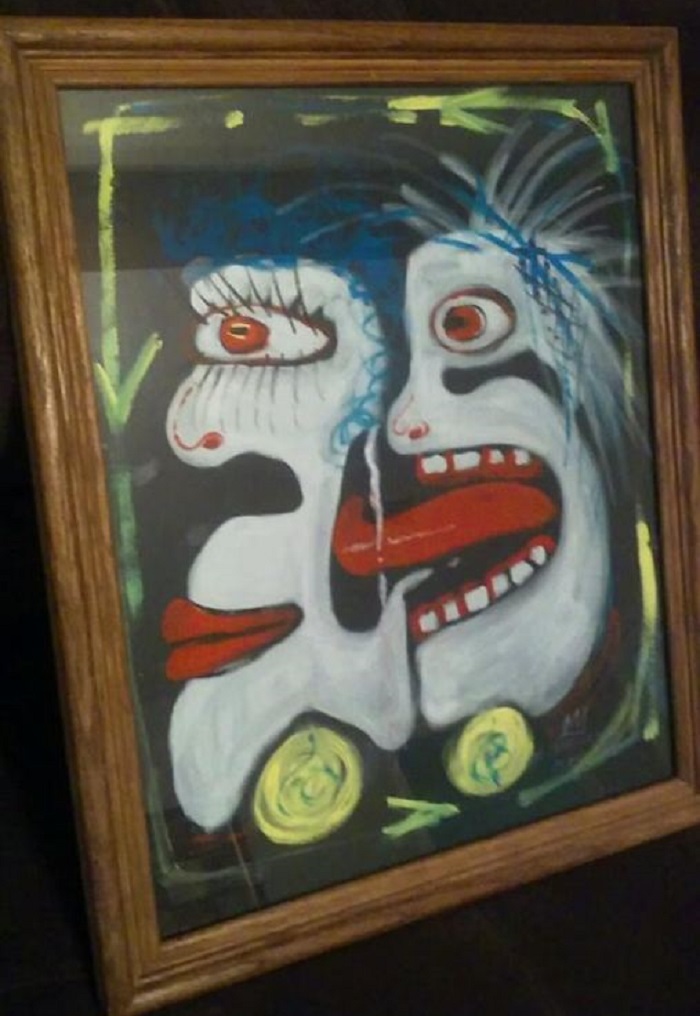 A mystery Basquiat has appeared in Nashville, Tennessee. An untitled, unknown Basquiat was just gathering dust somewhere until Stevens auction house plucked it from obscurity. The picture, which looks so remarkably unlike Basquiat that it could be a revelation, was consigned for sale by the grandson of a Dallas art collector who died in 2011. It is either the art historical find of the century, or it is a scam.
The picture carries an estimate of 'upwards of $2million' but has not yet been authenticated. Stevens, the auction house handling the sale, has consulted its lawyers, who agree that in all likelihood it is a genuine Basquiat. Although the Basquiat authentication committee disbanded in 2012, an unnamed former member says of the picture, 'This is not by Basquiat. Nothing in the picture says Basquiat. It's not similar to anything the artist did'. Stevens is pushing ahead with the sale regardless, insisting that in the absence of authentication the word of its lawyers is final, even though the collector from whose estate it originates – who has not been named – cannot be traced by the Art Dealers Association of Canada even though it is claimed the work was acquired with assistance of Canadian art dealer Frank Hamilton.
It sounds profoundly suspect. An entirely new, never before seen Basquiat has just floated on to the market in Nashville, nobody can authenticate it, the experts have their grave misgivings, the dealer cannot be traced and even if they believe it to be genuine they have consigned to a small-time Mississippi-based auction house rather than to Sotheby's. Now look at that picture and visualise all the Basquiats you have ever seen – it's not right, not one iota. .
If this sounds eerily familiar, then I refer you back to a story I wrote a couple of months ago about an alleged Warhol portrait of Coco Chanel. The same auction house offered a work that looked nothing like a Warhol, in spite of expert opinion, purely on the advice of its lawyers, with a preposterous estimate. And that 'Warhol' original oil on canvas work (just imagine!), which eventually sold for a measly $247,000, also originates from the same mystery collection of a dead collector with no name. Stevens auction house is up to something here. After all, has history taught us nothing? When Van Meegeean keeps coming back with Vermeers, eventually you have to stop and say 'hang on, Vermeer didn't make that much work'. Or, more recently, when Glafira Rosales seems to be harvesting Rothkos and Pollocks from the streets of New York like they're wheat, alarm bells start to ring.
Judging by the Warhol debacle and now this Basquiat business, Stevens are either crooks or nutters. Put it this way: that you have a brand spanking new Basquiat on your hands, which, before you can sell it, needs a little authentication puts you in a quandary, although not a rare one, which every auction house worth even a dime knows how to deal with. Do you damn the formalities of art history and practically give it away for $2million, or do you assume you have an exceptional example of Basquiat's work and sit tight until the paperwork is done so that you can sell it for its true value somewhere in the region of $10-20million?
On the one hand, Stevens has taken consignment of a dodgy art collection, but on the other it is systematically failing in its duties as a purveyor of fine art and displaying a shocking disregard for good business sense. It simply does not make sense to push ahead with the sale when a higher price can be realised after authentication, nor does it do justice to the texture of art history to allow suspect or dubious works to circulate. Everything is wrong here, from the reliance on lawyers to the lack of expert opinions and back to the picture itself. Obviously Stevens does not specialise in art, but it clearly does not specialise in doing things right either.
Words: Daniel Barnes
Categories
Tags