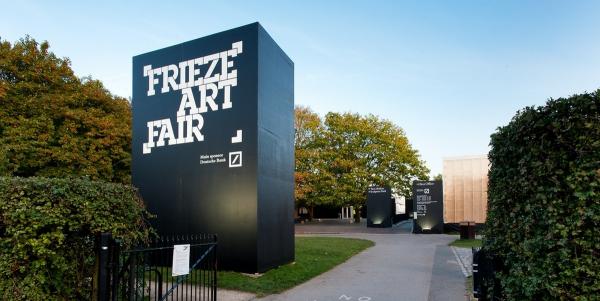 The art fair that put London back on the international art map is bigger than ever. Find your way around with this quick introduction to the key attractions.
In just 13 short years the annual Frieze Art Fair in London has become not only an essential visit for art lovers and a key part of the new social calendar, but so influential that a whole host of satellite fairs and events now take place during what's widely known as #FriezeWeek. Within Frieze London itself there is a raft of fascinating initiatives that will satisfy even the hungriest culture vulture, from Contemporary Art to Old Masters, performance art to sculpture.
Frieze Art Fair is the mothership. The large tent at the southern end of Regent's Park is where it all began and continues to be one of the most exciting places to discover contemporary art from around the world. This year there are 160 of the world's most influential galleries, with established and new galleries making special presentations of mostly new art. If that sounds daunting, then it's easy to join a tour, either as part of a larger group, or if you're serious about your collecting, commission a bespoke tour at Frieze Bespoke created and curated around your interests and led by an art world professional.
Within the main fair Frieze Focus is the area dedicated to young galleries and emerging artists. It's well known as a place to spot future stars, so expect to rub shoulders with some of the savviest collectors around. The seven galleries chosen for inclusion sit alongside presentations by individual emerging artists making for an exciting scene.
If you've always wondered about the weird and wonderful world of performance art, it's worth looking out for the Frieze Live programme. A relatively new addition to the fair, Frieze Live presents a range of performance and participatory pieces with this year's programme promising a procession piece by Brazilian artist Tunga, featuring 2 teenage twins parading the fair with their ankle-length hair intertwined by a mutual braid, and an 'intimate encounter' with Instagram-based artist Amalia Ulman.
Frieze Projects is a body that commissions new work from artists, which is then shown a the fair, and this year's theme takes inspiration from Frieze London's temporary structure in the Regent's Park and explores propositions for mobile architecture and alternative realities. Look out especially for Asad Raza's evolving exhibition inspired by caves of worship of the Greek god Pan which you'll find hidden through a door at the back of the fair bookshop. Hidden jewels are something of a Frieze trademark – previous fairs have included hidden darkrooms and once an entire Icelandic pub.
Frieze Masters is now in its fourth edition, sited in it's own tented structure at the northern end of Regent's Park and housing 131 of the world's leading modern and historical galleries offering carefully vetted antiquities, Asian art, ethnographic art, illuminated manuscripts, Medieval, modern and post-war art, Old Masters and 19th-century art, photography and sculpture. It's a more sedate experience than Frieze Art Fair but hugely rewarding, offering a chance to get up close and personal to museum quality works and covetable collectables. This year there's a new initiative, Collections, a series of 8 presentations of objects by Sir Normal Rosenthal, the former Exhibitions Secretary of the Royal Academy, designed to spark new ideas about the way objects can be brought together for exhibitions.
Between the two fairs is the Frieze Sculpture Park, located in the English Gardens in the Regent's Park. Selected by Clare Lilley and featuring new and historical works from both Frieze London and Frieze Masters galleries this is always a treat, and one that can be enjoyed without a ticket to either fair.
Frieze is an incredibly popular event, busy across all four days, so while there are good restaurants and cafes throughout the space, it's seems likely that you'll need to make a reservations if you want a table at the Petersham Nurseries pop-up restaurant.
Frieze Art Fair and Frieze Masters take place 14 – 17 October 2015 in the Regent's Park, London, UK. Tickets should be bought in advance to avoid queues, on www.friezelondon.com
This article first appeared in the October issue of The City Magazine. @TheCityMag
Categories
Tags