What's the answer? Well its Bill Viola this #FriezeWeek Blain|Southern is presenting rarely exhibited works from Bill Viola's early career at Blain|Southern (The Mayfair Gallery) opening this Monday 11th October + at Vinyl Factory Space at Brewer Street Car Park (The Soho Carpark) you can check out Bill's early experiments with experimental sound composition more info here. At Blain|Southern they will be showcasing just one monumental installation Moving Stillness (Mt.Rainer), 1979 which has not been shown since its creation. The private view will also feature the gallery's first exhibition with one of Japan's leading contemporary artists and a key figure in the Mono-ha (School of Things) movement – Kishio Suga. Also happening is the most extensive exhibition in the UK by Bill Viola for over 10 years at YSP (The park in Yorkshire) the immersive exhibition in YSP's Chapel and Underground Gallery features installations from the last 20 years of Viola's career and premieres a new work, The Trial.

Bill Viola, Mt Rainier coffee shop, WA, August 1979 Photo: Kira Perov
Bill Viola at Yorkshire Sculpture Park YSP 10th October 2015 – 10th April 2016 Yorkshire Sculpture Park
West Bretton Wakefield WF4 4LG Underground Gallery and Chapel www.ysp.co.uk
Bill Viola: Moving Stillness (Mt. Rainer), 1979 13th October – 21st November 4 Hanover Square
London W1S 1BP www.blainsouthern.com
The Vinyl Factory presents an immersive sound installation by Bill Viola at Brewer Street Car Park 13th October – 7th November at The Vinyl Factory Space at Brewer Street Car Park, London, W1F 0LA www.thevinylfactory.com
About The Artist
Bill Viola (b. 1951) is internationally recognised as one of today's leading artists. He has been instrumental in the establishment of video as a vital form of contemporary art, and in so doing has helped to greatly expand its scope in terms of technology, content, and historical reach. For over 40 years he has created architectural video installations, video films, sound environments, electronic music performances, flat panel video pieces, as well as works for television broadcast, concerts, opera, and sacred spaces. Viola's video installations—total environments that envelop the viewer in image and sound—employ state-of-the-art technologies and are distinguished by their precision and direct simplicity. They are shown in museums and galleries worldwide and are found in many distinguished collections. His single channel videotapes have been widely broadcast and presented cinematically, while his writings have been extensively published and translated for international readers. Viola uses video to explore the phenomena of sense perception as an avenue to self-knowledge. His works focus on universal human experiences—birth, death, the unfolding of consciousness—and have roots in both Eastern and Western art as well as spiritual traditions, including Zen Buddhism, Islamic Sufism, and Christian mysticism. Using the inner language of subjective thoughts and collective memories, his videos communicate to a wide audience, allowing viewers to experience the work directly, and in their own personal way.
Bill Viola received his BFA in Experimental Studios from Syracuse University in 1973 where he studied visual art with Jack Nelson and electronic music with Franklin Morris. During the 1970s he lived for 18 months in Florence, Italy, as technical director of production for art/tapes/22, one of the first video art studios in Europe, and then travelled widely to study and record traditional performing arts in the Solomon Islands, Java, Bali, and Japan. Viola was invited to be artist-in-residence at the WNET Channel 13 Television Laboratory in New York from 1976-1980 where he created a series of works that were premiered on television. In 1977 Viola was invited to show his videotapes at La Trobe University (Melbourne, Australia) by cultural arts director Kira Perov who, a year later, joined him in New York. They married in 1980 and began a lifelong collaboration working and travelling together.
In 1979 Viola and Perov travelled to the Sahara desert, Tunisia to record mirages. From 1980 they lived in Japan for a year and a half where they studied Zen Buddhism with Master Daien Tanaka, and Viola became the first artist-in-residence at Sony Corporation's Atsugi research laboratories. At the end of 1981 Viola and Perov settled in Long Beach, California, initiating projects to create art works based on medical imaging technologies of the human body at a local hospital, animal consciousness at the San Diego Zoo, and fire walking rituals among the Hindu communities in Fiji. In 1987 they travelled for five months throughout the American Southwest photographing Native American rock art sites, and recording nocturnal desert landscapes with a series of specialised video cameras. At the end of 2005, they journeyed with their two sons to Dharamsala, India to record a prayer blessing with the Dalai Lama.
Music has always been an important part of Viola's life and work. From 1973-1980 he performed with avant-garde composer David Tudor as a member of his Rainforest ensemble, later called Composers Inside Electronics. Viola has also created videos to accompany music compositions including 20th century composer Edgard Varèse' Déserts in 1994 with the Ensemble Modern, and, in 2000, a three-song video suite for the rock group Nine Inch Nails' world tour. In 2004 Viola began collaborating with director Peter Sellars and conductor Esa-Pekka Salonen to create a new production of Richard Wagner's opera, Tristan und Isolde, which was presented in project form by the Los Angeles Philharmonic in December 2004, and later at the Lincoln Center for the Performing Arts, New York (2007). The complete opera received its world premiere at the Opéra National de Paris, Bastille in April 2005.
Since the early 1970s Viola's video art works have been seen all over the world. Exhibitions include "Bill Viola: Installations and Videotapes," Museum of Modern Art, New York, 1987; "Bill Viola: Unseen Images," touring six venues in Europe, 1992-1994, organised by the Kunsthalle Düsseldorf and Kira Perov; U.S. Pavilion exhibition at the 46th Venice Biennale in 1995, "Buried Secrets," a series of five new installation works. In 1997 the Whitney Museum of American Art organised "Bill Viola: A 25-Year Survey" travelling for two years to five other museums in the United States and Europe. "Bill Viola: The Passions," a new series inspired by late medieval and early Renaissance art, was exhibited at the J. Paul Getty Museum, Los Angeles in 2003 then travelled to the National Gallery, London, the Fondación "La Caixa" in Madrid and the National Gallery of Australia, Canberra. "Bill Viola: Hatsu-Yume (First Dream)" (2006-2007), drew over 340,000 visitors to the Mori Art Museum in Tokyo. In 2007 nine installations were shown at the Zahenta National Gallery of Art, Warsaw; and Ocean Without a Shore was created for the 15th century Church of San Gallo during the Venice Biennale. In 2008 "Bill Viola: Visioni interiori," a survey exhibition organised by Kira Perov, was presented in Rome at the Palazzo delle Esposizioni and in 2009 "Bill Viola: The Intimate Work," was held at the De Pont Museum of Contemporary Art in Tilburg, Netherlands.
Viola holds honorary doctorates from Syracuse University (1995), The School of the Art Institute of Chicago (1997), California Institute of the Arts (2000), and Royal College of Art, London (2004) among others. He is the recipient of numerous awards and honors including a John D. and Catherine T. MacArthur Foundation Fellowship in 1989. He was inducted into the American Academy of Arts and Sciences in 2000 and in 2006 he was awarded Commander of the Order of Arts and Letters by the French Government. In 2009 he received the XXI Catalonia International Prize in Barcelona, Spain. Viola was awarded the Praemium Imperiale art award in the category of painting in 2011.
Bill Viola and Kira Perov, his wife and long-time collaborator, live and work in Long Beach, California.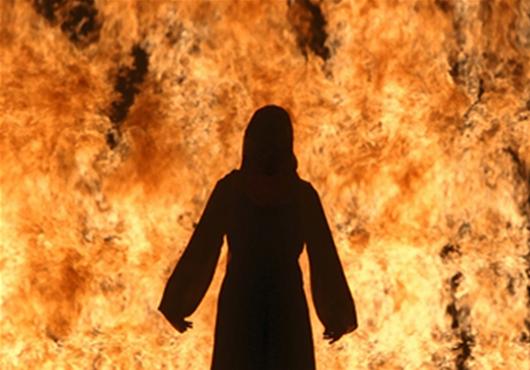 Bill Viola, Firewoman, 2005 © the artist
Categories
Tags