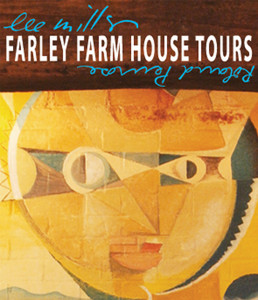 "Art as a subject is in danger of being persecuted out of the curriculum in schools by those who want to turn children into techno robots."
This is the strong view of artist Antony Penrose, co-director, along with his daughter Ami, of the Lee Miller Archives and The Penrose Collection at Farley Farm House at Chiddingly in East Sussex. In this exclusive Interview for Pure Fine Art, John Bird and Vincent Matthews SGFA speak exclusively to Antony about art and the part it plays in society today.
Antony feels art is a very important part of society and it is vital that it should be part of the school curriculum.
" Most of the key inventors and thinkers recognise art as the component that encourages free thinking in other disciplines" says Antony, who does not blame teachers most of whom he thinks are "brilliant."
Mr. Penrose, and his late wife Suzanna, created the Lee Miller Archives shortly after she died and they discovered her work. "That was more than 35 years ago and in that time we have gone from being literally a kitchen table enterprise to one that sends exhibitions all over the world, creates books and contributes to television documentaries, says Antony who employs eight people directly in the archives and about fifteen others connected to their seasonal activities.
''Detail of Dining room Fireplace and Antony Penrose, Living Room, Farley Farm House, Sussex, England" by Tony Tree
Farley Farm House is much the way it was during the time of his parents, surrealist artists Sir Roland Penrose and Lee Miller, and is open to visitors every Sunday in the summer. Also in the Farley's Barn Gallery they show the work of local artists, in any media, alongside an exhibition of Lee Miller photographs. Every two years – and this is one – they have a Farley Arts Awards competition for local schools and are constantly working with schools on projects. Bexhill College students show their sculpture in the garden for a month every summer. They also have work by local sculptor Alan MacKenizie and Jim Roseveare's installation "Field" which resulted from Antony seeing his work at the Pure Arts annual autumn Art Fair in Battle.
When asked what qualities he would bring as a Pure Arts selector he said
"a lifetime of personal involvement in the arts and the last 25 years as a curator"
The criteria he will use in selecting artists?
"I want the work to be honest and original. I want it to engage me and touch me. More objectively, I don't care what the medium is. It is the message and if it is heartfelt that is the artist I am looking for. I want the work to be substantial and have many layers that go back a long way."
Tony is also scathing about what he calls
" the commodification of art by dealers"
and says "the sort of hollow rubbish that is currently cranked out, and anything else where style is more dominant than substance" drives him mad.
Describing himself as a curator who does a little bit of his own art, his advice to artists starting out is  "do it, but only if you have something burning to be said." Who better to give this advice than a man who grew up among such illustrious names as Picasso, Miro, Man Ray and, Max Ernst who were personal friends of his parents. "There was always something exciting about being with them. It was about them as people, not their status." He says Man Ray for objects and Picasso for making things out of junk were what inspired and influenced his work.
Images © Courtesy Lee Miller Archives, England 2015.  All rights reserved. www.leemiller.co.uk   
www.pureartsgroup.co.uk
About Lesley Samms