1 Lee Ufan: From Point, From Line, From Wind at PACE gallery

Lee Ufan From Line, 1982 Oil on Canvas courtesy PACE gallery
Abstract art from the Korean born artist, his first solo show for PACE in London which follows on from his solo exhibition at the Château de Versailles.
Private View Monday 14th September PACE London 6 Burlington Gardens
London W1S 3ET www.pacegallery.com
2 Judy Chicago: Star Cunts and Other Attractions at RifleMaker

Judy Chicago at work in her china painting studio in-1974. Courtesy of Through the Flower Archives
A full on title for an exhibition by pioneering feminist artist Judy Chicago which will be exhibiting unseen archival work. Judy Chicago has helped shape women's art over the last five decades. Judy Chicago's work is also featured in The World Goes Pop opening at The Tate gallery this week as well.
Private View Monday 14th September RifleMaker 79 Beak St Soho, London W1F 9SU www.riflemaker.org
3 Jerwood Drawing Prize at Jerwood Visual Arts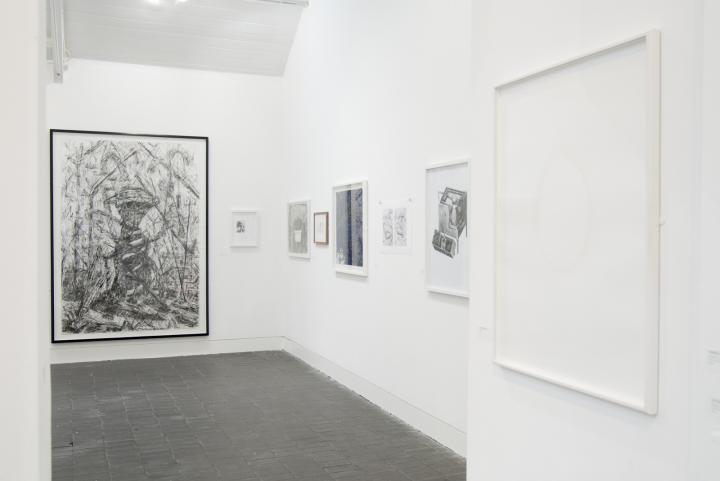 The Jerwood Drawing Prize is the largest and longest running annual open exhibition for drawing in the UK. A total of 60 works by 58 artists, including one collaboration, have been selected for exhibition by the panel; Dexter Dalwood, artist; Salima Hashmi, artist, curator and writer; and John-Paul Stonard, art historian. Private View RSVP Tuesday 15th September 2014 Jerwood Space, 171 Union Street, London SE1 0LN
www.jerwoodvisualarts.org
4 Jacky Tsai Future Past at The Fine Art Society
Jacky Tsai: Future Past. 18th September – 2nd October 2015 from The Fine Art Society on Vimeo.
FAD favourite Jacky Tsai has his first solo exhibition at the Fine Art Society.
Tsai's work explores the relationship between Eastern and Western cultures and the ways in which they feed and enrich one another, through a range of materials and techniques. A western pop art aesthetic is expertly blended with eastern artistry and the emblems of Chinese mythology
Private View RSVP Thursday 17th September 2015 Fine Art Society 148 New Bond Street London faslondon.com/fasc
5 Bridget Riley: Learning from Seurat at The Courtauld Gallery

Bridget Riley Pink Landscape, 1960 Oil on canvas © Bridget Riley 2015. All rights reserved,
courtesy Karsten Schubert, London.
Bridget Riley: Learning from Seurat, is an exploration of Bridget Riley's early breakthrough encounter with Georges Seurat's Bridge at Courbevoie, a highlight of The Courtauld's collection
For the first time, it brings together the copy that Riley made of Bridge at Courbevoie in 1959 with Seurat's original painting to consider this remarkable moment of artistic connection and inspiration. The focused display presents a small group of Riley's seminal paintings to chart how her understanding of Seurat's art has led her to create some of the most radical and original abstract works of the past five decades.
Opening Thursday 17th September The Courtauld Gallery Somerset House, Strand, London WC2R 0RN courtauld.ac.uk
6 Jumana Manna at Chisenhale Gallery
Chisenhale Gallery presents the first UK solo exhibition by the Berlin and Jerusalem based artist, Jumana Manna. The exhibition comprises a newly commissioned feature-length film, A magical substance flows into me (2015), presented alongside an installation of sculptures.
Private view Thursday 17th September Chisenhale Gallery, 64 Chisenhale Road London E3 5QZ chisenhale.org.uk
7 Ai Weiwei at Royal Academy of Arts
This is the biggest opening of the week hopefully you all know who Ai Weiwei is! The exhibition will be the biggest survey of his work ever in the UK. Ai Weiwei has created new, site-specific installations and interventions throughout the Royal Academy's spaces.
Ai Weiwei said:
"I'm honored to have the chance to exhibit at the Royal Academy of Arts. Tim Marlow and the rest of the exhibition team have a history of producing outstanding exhibitions. I'm very happy to be a part of it. This exhibition is my first major survey in London, a city I greatly admire. The selected artworks reflect my practice in recent years, and also include new works made specifically for this show."
Ai Weiwei virtually navigated the spaces at the RA from his studio in Beijing, through video footage of the galleries and architectural plans. The curators have also made regular visits to his studio. Ai Weiwei regained his passport in July 2015 and will be travelling to London for the Royal Academy's exhibition.
Opening to the public Saturday 19th September 2014 Royal Academy Burlington House, Piccadilly London W1J 0BD www.royalacademy.org.uk
Categories
Tags