Allyson McIntyre has been pronounced winner of HIX Award 2015. She applied whilst in the final year of her MFA in Fine Art at Goldsmiths College. Set up in 2013 by Restauranteur Mark HIX and Gallery Director Rebecca Lidert, the HIX Award is designed to give aspiring artists a platform to showcase their work in their first step toward life beyond university. Hundreds of applicants applied from all over the UK, with some submitting entries from further afield. Whittled down to just 19 finalists, almost every one of the 22 judges awarded Allyson with full marks.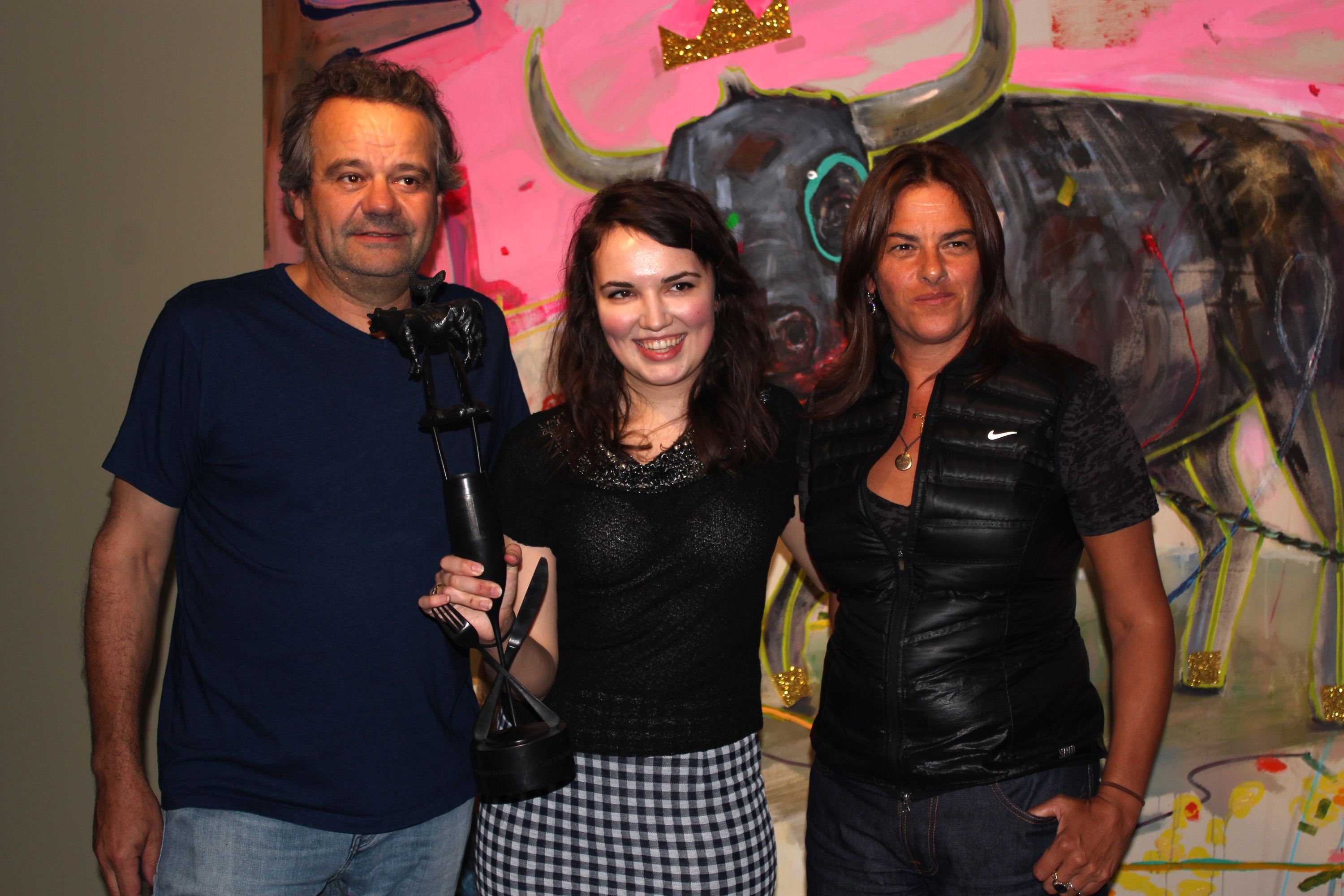 LtoR Mark Hix, Allyson Mc Intyre and Tracey Emin
'This work was a massive surprise, I was really impressed with the confidence'
Tracy Emin
This year's applicants have been of the highest caliber yet. Each finalist representing a different style and point of view. To choose a winner the judges dined in the gallery discussing, debating and pulling apart each piece whilst enjoying a delicious Tramshed lunch. The judges comprised of heroes of the art world, established critics and professionals including Tracey Emin, Dylan Jones, Liz Murdoch and Ivan Massow. After deliberating, the judges scored each piece out of 5 and when the scores were added up Allyson was the clear winner.
Her piece Moon Cries for Ferdinand commanded the attention of the judges straight away. Hung at the far end of the gallery taking up almost an entire wall a glittered but bloodied bull looks out at the viewer surrounded by a group of spectators. Allyson portrays the bull as a martyr, giving importance to a subject which historically was only allowed to be painted by women. Through her work, Allyson reconfigures the climate of representation through the feminisation of deities, where the marginalized becomes the main focus.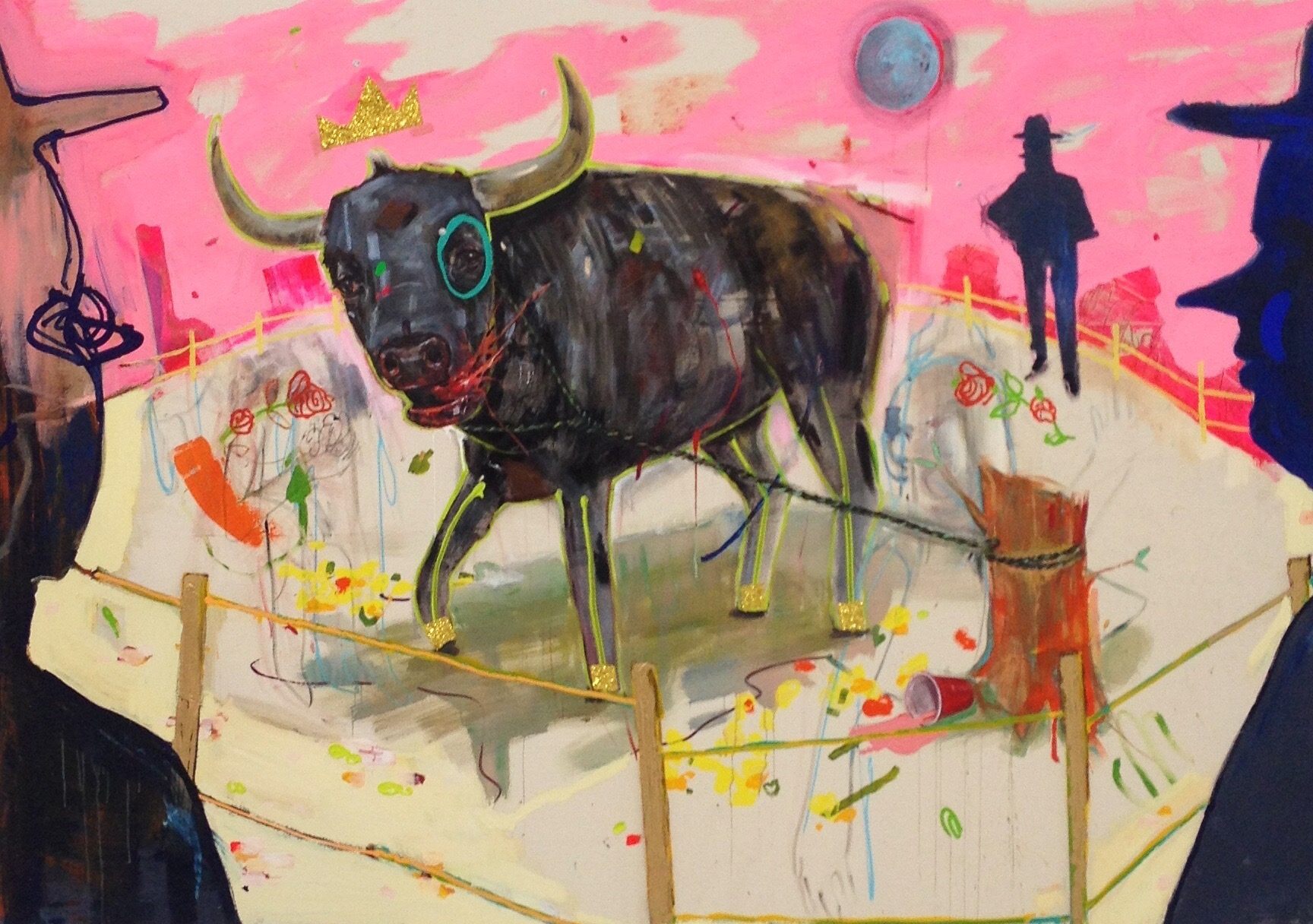 'It's won! An absolute deserved winner, can't wait to see what she does next'
Mark Hix
Allyson has not only received the HIX Award prizes of £500 worth of HIX restaurant vouchers, a stay in HIX Town House in Lyme Regis and £500 worth of Cass Art supplies but has also been offered a solo exhibition in CNB Gallery to take place next year.
Last year's winner Felix Treadwell recently sold out his first solo show in CNB Gallery this summer. With so much potential, Allyson is bound to take the art world by storm, she is just at the beginning.
About The Artist
Allyson McIntyre – (b. 1991) is a Canadian artist currently based in London, UK. She obtained her BFA from the University of Alberta in 2013, majoring in painting and sculpture. Then in the summer of 2013, she exhibited at Latitude53, NEXTFEST Emerging Artists Festival, and the Works international Art and Design Festival with a major sculptural installation in Edmonton's City Hall. Afterwards, she headed to Goldsmiths University of London, to further her education as a visual artist in 2013. In 2014, she collaborated with Gabriel Molina on a commissioned 440 ft2 mural for her hometown.
CNB GALLERY
CNB Gallery is located in the basement of Mark Hix's Tramshed on Rivington Street, Shoreditch. Tramshed displays a permanent collection of work by some of Britain's leading artists including Damien Hirst, Tim Noble and Sue Webster, Henry Hudson and Jake and Dinos Chapman. A wide range of artists, from the established to the undiscovered are given the opportunity to showcase their work in the gallery with exhibitions changing frequently.
32 Rivington Street London EC2A 3LX www.cnbgallery.com
Categories
Tags